David Mackenzie recreates medieval Scotland for this violent Netflix-funded historical epic.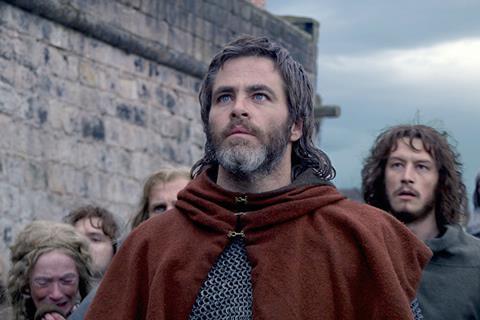 Dir. David Mackenzie. US, UK. 2018. 137 mins
Had the 2014 Scottish independence referendum campaign been able to deploy David Mackenzie's blood-stirring Outlaw King as its secret weapon, the result might have been rather different. A historical epic, which follows an eventful year in the life of Robert the Bruce (Chris Pine) which culminated in his being crowned King of Scots and defeating the mighty English army at Loudoun Hill, the film also works as a clarion call for Scottish nationalism. A fair bit of historical scene-setting at the beginning means that the picture takes a while to hit its stride. But once it does, there is much to enjoy in this big, brawling ruck of an action movie.
It's a superb piece of action cinema, which doesn't pull its punches - or its swords and axes - in its depiction of the frenzy of conflict.
The backing of SVOD platform Netflix has permitted Mackenzie to approach the story on an ambitious scale which makes use of every available inch of the big screen. Each frame is packed with detail – be it errant geese and goats or peasants puking in the undergrowth. Most audiences, however, will encounter the film on a small screen. Following the picture's world premiere as Toronto's opener, Outlaw King will play at London followed by a limited release in some territories to coincide with the film's debut on the streaming service on November 9. As series such as Game of Thrones and Vikings, with a similarly gung ho approach to sword-based violence, have demonstrated, Outlaw King should have no problem connecting with an audience on a small screen.
The English – as represented by Stephen Dillane's jaded King Edward I and his hot-headed son, Edward, Prince Of Wales (Billy Howle) – don't come out of this period of history looking particularly good. This is at least partly to do with their hair. While the Scots sport flowing locks, the better to stream behind as they gallop in slow motion, the English have their hair topiaried into angry little mushroom cuts. The uncompromising authenticity which resulted in these singularly unflattering haircuts is evident elsewhere in the film. Production design emphasises the fetid filth of a time in which people were forced to live in close proximity to their own waste. There is so much casual urination on display, it's like the set doubled as a giant latrine.
We join the story in 1304, with Robert forced to swear allegiance to Edward I. As part of the ongoing peace accord, he finds himself betrothed to an English woman, Elizabeth (Florence Pugh, terrific). Their cautious courtship, and a will-they, won't-they consummate subplot is one of the unexpected joys of a film which is otherwise almost entirely crafted from testosterone.
The killing of William Wallace (the character played by Mel Gibson in Braveheart) prompts Robert to reappraise his decision to submit to the will of the English. He amasses a small band of loyal supporters – of them, Aaron Taylor-Johnson's James Douglas, with his crazed eyes and bared teeth in a mask of blood, is enjoyably demented.
Barry Ackroyd's cinematography makes striking use of the Scottish locations through which Robert and his men are constantly pursued. But it's at the moment when they finally stop running and stand their ground that the film reaches it's bravura climax, with the kinetically edited, visceral blood and mud and guts depiction of battle of Loudoun Hill. It's a superb piece of action cinema, which doesn't pull its punches - or its swords and axes - in its depiction of the frenzy of conflict.
Production company: Sigma films
Worldwide distribution: Netflix Inc
Producers: Gilliam Berrie, Richard Brown, Steve Golin
Screenplay: Mark Bomback, Bathsheba Doran, David Harrower, James MacInnes, David Mackenzie
Production Design: Donald Graham Burt
Editing: Jake Roberts
Cinematography: Barry Ackroyd
Music: Jim Sutherland
Cast: Chris Pine, Florence Pugh, Aaron Taylor-Johnson, Billy Howle, Stephen Dillane, Tony Curran, James Cosmo