Favela-set drama is the deserving winner of the Golden Shell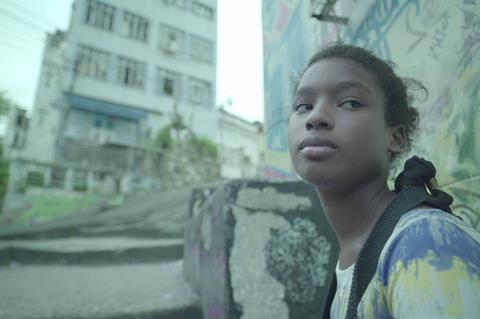 Dir. Paxton Winters. Brazil. 2019. 120 mins
American director Paxton Winters breathes fresh air into the 'favela film' with this thoughtful consideration of the lives of impoverished Brazilians that relegates the sort of violence you might expect in the tradition of City Of God or Elite Squad in favour of charting a complex set of community relationships. After deservedly winning the Golden Shell at this year's San Sebastian Film Festival - along with the acting Silver Shell for star Bukassa Kabengele and cinematography award for Laura Merians - the film is set to be released by 20th Century Fox and is likely to garner additional audience attention thanks to its producer Darren Aronofsky, a Fox stalwart.
The title refers to the "pacification" initiative by the country's government to clamp down on gangs in the favelas during the 2016 Rio Olympics
Winters, whose background also includes a wealth of news reporting, has lived in a favela for years and it shows in the depth of compassion and understanding he and his co-writers Wellington Magalhães and Joseph Carter bring to the story of a young girl and her relationship with her estranged father on his release from prison. There is an avoidance of sensationalism as they, instead, show the build up of smaller pressures on those who live on the margins.
The title refers to the "pacification" initiative by the country's government to clamp down on gangs in the favelas during the 2016 Rio Olympics. Things might be quieter, but the social problems remain. For youngsters like 13-year-old Tati (Cassia Gil) and her friend Leticia (Rayane Santos) the Games might as well be on the moon. As the event draws to a close, they've been chiefly notable for the uptick in tourists - which Tati's drug addict mum Andrea (Débora Nascimento) insists she hawks cigarettes and sweets to.
More intriguing for Tati is the return to the favela of former kingpin Jaca (Kabengele), after a 14-year stretch in jail. Jaca is the father she has never met and now wants nothing more than a quiet life with pans to set up a pizza business. In the time-honoured fashion of ex-criminals trying to go straight, however, the only way he might achieve peace is by going to war with new drug chief Nelson (José Loreto). At the same time, he finds himself thrust into a protective role with both Tati and his mentally ill brother Dudu (Raphael Logan).
Jaca is being as much pulled back towards crime by those looking for his wisdom to sort out their domestic disputes and by a desire to help his brother as he is by the criminal fraternity, while Leticia shows how one false move can put you on the receiving end of violence. There's sympathy too for the addicted Andrea, as her desperation puts her daughter in danger - along with some barbed commentary on the attitudes of the police, whose abuse of power is shown to be just as brutal as that of the drug lords.
Gil, who was cast from the favelas, proves a real find, showing both the spirited youthfulness of Tati and more guarded, watchful concerns, while Kabengele anchors the film with a soulful performance. Merians captures the labyrinthine favelas in all their vibrancy, with memorable moments including an initial circling of Jaca when he is released from jail and a masterful climbing camera shot - presumably shot with a drone - that captures his long slog up a flight of stairs that seems as though it might stretch on to the heavens.
Despite the large cast, which also features Black Orpheus star Léa Garcia as Jaca's mother, the film never feels sprawling. The tight network of inter-relationships allows our emotions to be drawn in different directions, like those of the protagonists. Problems may multiply as the film progresses but Winters also shows a community that also offers his characters hope.
Production company/international sales: Reagent Media, info@reagentmedia.com.br
Producer: Paula Linhares, Marcos Tellechea, Lisa Muskat, Darren Aronofsky and Paxton Winters
Screenplay: Paxton Winters, Wellington Magalhães and Joseph Carter
Cinematography: Laura Merians
Production design: Ricardo Van Steen
Editing: Aylin Zoi Tinel
Music: Beto Villares
Main cast: Bukassa Kabengele, Cassia Gil, Débora Nascimento, José Loreto, Léa Garcia, José Loreto, Raphael Logan, Jefferson Brasil