A bold and brave story of a family man at the mercy of small town corruption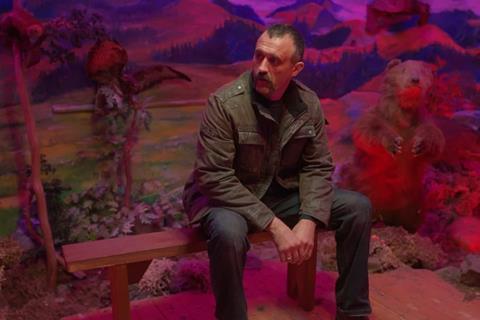 Dir/scr. Dmytro Sukholytkyy-Sobchuk. Ukraine/France/Poland/Chile. 2022. 106 mins.
From the ruins of Ukraine – and the expectation that all films made there must now somehow deal with the conflict – blazes the brightest of cinematic talents with Dmytro Sukholytkyy-Sobchuk making a stop-in-your-tracks debut at Directors' Fortnight in Cannes. This is a primal, genre-infused drama set in the border region of Chernivtsi, a forest area swirled in mist and danger, ruled by grotesque corruption (the type of place Sergei Losnitza's fictional characters often populate). The central village is in preparation for the visually arresting 'Malanka' festival — a wild, pagan ritual populated by men of straw with wooden, garish faces. Bold and brave, like its protagonist, Pamfir gorges on its imagery, with the final visual marker sending shivers down the spine.
Pamfir gives us an elemental, unvarnished Ukraine
There's an appetite to know more about Ukraine, and Pamfir — which means 'stone' – will almost certainly provoke sustained international interest following its Directors' Fortnight premiere. It's the story of a decent family man who returns home, only for the claws of small town corruption to tear him asunder, but Pamfir has, alongside some outstanding imagery, genre elements and certainly a taste for violence which could see it reach wider markets in the current climate.
In this border village, crime is the only way to make a living — smuggling cigarettes and other contraband into Romania through a tunnel system run by the local strongman (in a wonderfully ironic twist, he's a government apparatchik responsible for eco-forestry) and enforced by the chief of police. Pamfir (an excellent Oleksandr Yatsentyuk, bringing to mind a mix of Louis Tosar and the Jean Reno of Léon), returns from work in Poland for the Malanka festival and to see his wife Olena (Solomiya Kyrylova) and teenage son Nazar (Stanislav Potyak) after a lengthy separation. Once a smuggler himself, he gave it up at the insistence of Olena seven years ago after some unspecified event which saw him take his own father's eye out. Now they don't speak.
Teenage Nazar has missed his father, who immediately sorts out fixing his return papers to Poland through the favour of digging a well for the local church (corruption does indeed run wide and high here). In a misguided bid to keep his dad at home, Nazar sets a fire in the church, burning his dad's papers in the process — and, unfortunately, the entire building itself — to the ground. The trouble is, it's owned by the mob. Now Pamfir must take on the stereotypical 'one last job' to pay his bills. It's clearly not going to work out, no matter how many steroid tablets he pops (which have the unfortunate side effect of making him priapic). But how Sukholytkyy-Sobchuk's screenplay gets us there is another matter entirely. Pamfir is raw and bloody, but it can also be warm and occasionally funny – what runs through it is a vein of wildness, of defiance, a rebel yell from Pamfir and his creator.
The heady colours and textures here enhance some beautiful framing and imaginative scenarios (a bucolic diorama at the crime boss's home actually provokes laughter, but it's just one of many tableaux which speak eloquently for themselves). The forest could be a fairytale setting, as its inhabitants use horses and carts and the odd bicycle to get around (only the baddies have cars), while the fog can obscure motives (pretty much everyone here is a crook, dear old mum included). It's a reminder of how many fairytales are frightening at their core: the wolf always lurking in the shadows. Pamfir gives us an elemental, unvarnished Ukraine and we might not see its like for a while: but, like this film, it seems clear it will endure, with the good and bad Dmytro Sukholytkyy-Sobchuk so eloquently evokes here.
Production companies: Bosonfilm
International sales: Indiesales, cchautant@indiesales.eu
Producers: Aleksandra Kostina, Laura Briand, Bogna Szewczyk, Klaudia Smieja-Rostworowska, Giancarlo Nasi
Screenplay: Dmytro Sukholytkyy-Sobchuk
Cinematography: Nikita Kuzmenko
Production design: Ivan Mykhailov
Editing: Nikodem Chabior
Music: Laetitia Pansanel-Garric
Main cast: Oleksandr Yatsentyuk, Stanislav Potyak, Solomiya Kyrylova , Olena Khokhlatkina, Myroslav Makoviychuk, Ivan Sharan