Dir: Joe Wright. UK/US. 2015. 111 mins.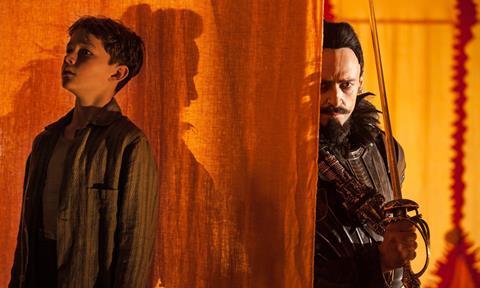 The boy who never grows up once again graces a tale that studios seem to think never gets old, although Pan searches for a different spin on J.M. Barrie's creation. Given that Peter's adult years have been covered, plus the author's crafting of the beloved work that brought him to life, director Joe Wright and screenwriter Jason Fuchs dive into his introduction to Neverland. Bright production design and a keen sense of movement make the movie a pleasant-enough watch, but can't mask the obvious: this is an origin story to a familiar narrative, with all the world-building and nods and winks that follow.
Beyond the contemporary music and continual acknowledgements to the original text, this is a standard youth-centric, self-empowerment-focused fantasy-adventure
With the evolution of comic book figures begetting big screen visions of the genesis of their characters, it was only a matter of time before literary classics such as Peter Pan started receiving the same treatment. That this version is squarely aimed at children and families, featuring first-time lead Levi Miller holding his own against the high-profile likes of Hugh Jackman, Rooney Mara and Garrett Hedlund, helps differentiate it from the bleak approach seen in superhero films and the darker retellings of Disney fairytales, but may restrict it commercially.
Pan starts with some scene-setting narration which justifies the movie's existence by advising that to understand the end of the story you have to go back to the beginning. The titular boy is then introduced, first as a baby abandoned on the steps of a London boys' home with a pan flute necklace as his only possession, and then as an twelve-year-old (Miller) residing in the same establishment and certain that his mother will return. Alas, smugglers in cahoots with the orphanage's head nun (Kathy Burke) prove to be the only people who want Peter, whisking him and many of his fellow urchins away in flying boats. Their destination isn't difficult to guess.
Upon Peter's arrival in the magical realm of Neverland, more hardship is in store under the reign of fearsome, flamboyant pirate Blackbeard (Jackman), who burdens the populace with the arduous task of mining fairy dust. This earns him the ire of local tribes, their princess, Tiger Lily (Mara), the most vocal among them. When Peter stumbles into their midst after escaping his imprisoner with fellow captive James Hook (Hedlund) his necklace awakens hope about a prophecy to defeat Blackbeard; however the ruthless pirate will do whatever it takes to stop that destiny from taking place.
As well as trying to reignite big-screen interest in character last seen in live-action form in 2003's Peter Pan, Pan aims to match a century-old story with modern sensibilities, as a chorus of kids slaving away while singing Nirvana's Smells Like Teen Spirit makes clear. The film also seeks to include knowing references to the original text, witnessed in snapping crocodiles and heard in snippets of dialogue about lost boys. Beyond the contemporary music and continual acknowledgements, this is a standard youth-centric, self-empowerment-focused fantasy-adventure.
Thankfully, Wright may be saddled with an overused narrative — in revisiting the central character and inventing a broader background — but he doesn't let that lessen the feature's verve. He displays all the colour, choreography and kinetics as demonstrated in Anna Karenina and Hanna. Much of his Neverland bursts with vitality, captured by Johan Mathieson and Seamus McGarvey's swooping and gliding cameras. Indeed, even when the movie feels stretched at 111 minutes, it is never wearying to look at.
Miller and his better-known fellow players mimic the film's spirit rather than its story, and the young thespian proves up to the task of shouldering the lead and offering up a more nuanced turn than his co-stars. That Jackman and Hedlund come across as theatrical and cartoonish fits the prevailing mood, the former conveyed with sly menace and the latter with wry glee. And despite the controversy surrounding her casting, Mara acquits herself well as the fiercely determined Tiger Lily, though the character has a mixed impact. There, she reflects the fate of Pan itself: deftly made and diverting for young audiences but unlikely to linger, with any vibrancy tempered by the familiarity of the tune.
Production companies: Berlanti Productions, Dune Entertainment
Contact: Warner Bros.
Producers: Greg Berlanti, Sarah Schechter, Paul Webster
Screenplay: Jason Fuchs
Cinematography: John Mathieson, Seamus McGarvey
Editors: William Hoy, Paul Tothill
Production design: Aline Bonetto
Main cast: Levi Miller, Garret Hedlund, Rooney Mara, Hugh Jackman.