A Sicilian man develops surprising new friendships while enrolled in witness protection in the Alps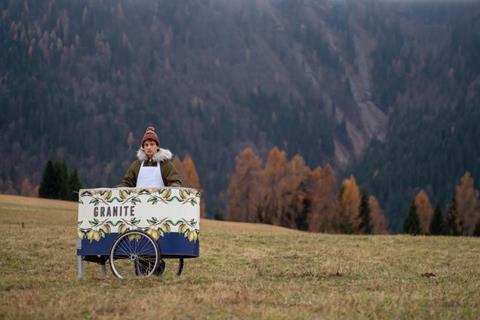 Dir: Davide Del Degan. Italy-Slovenia. 2019. 85 mins
Doing the right thing carries painful sacrifices and unexpected rewards in Paradise. Director Davide Del Degan's fictional feature debut has a fish-out-of-water premise that promises farce, but the reality is a more measured, melancholy work with an appealing central performance from rising Italian star Vincenzo Nemolato. It may have a becoming modesty, but Paradise could create a few ripples on its domestic release and should attract the attention of Italian-focused festivals internationally.
Warmhearted and commendably compact, Paradise is a film of fond smiles
Recently seen in Martin Eden and 5 Is The Perfect Number, Nemolato confidently handles his first starring role as Sicilian slushie vendor Calogero, who witnesses a Mafia shooting. Willing to act as a formal witness, he is subsequently enrolled in a protection programme, separated from his pregnant wife and sent into hiding in a tiny Alpine village.
Del Degan uses the beauty of the snow dusted Alpine peaks, shimmering lakes and misty mornings to emphasise that Calogero is far from home. There is a ready visual comedy in his forlorn appearance trundling through ice and snow with his slushie van in search of non-existent customers. His fondness for comfy, multicoloured knitwear seem to go against any urgency to remain inconspicuous, although he is the sole resident of the Paradise inn.
The arrival of a fellow Sicilian in the village prompts Calogero to take drastic measures, including dying his frizzy hair blonde which makes him look even more like Harpo Marx. This threatening, husky-voiced stranger – who looks like Eric Cantona – introduces himself as Calogero (Giovanni Calcagno), making the amazing coincidence of their meeting even harder harder to swallow. Deciding that his cover has been rumbled, Calogero decides to bump off the newcomer but an odd couple relationship ensues in which both men discover that Paradise might be the ideal location for a little personal reinvention.
Calogero strikes up a friendship with local barmaid and single mother Klaudia (Katarina Cas) but the more Paradise strays from the unexpected, the more engaging it becomes. The second Calogero is full of surprises, and Calcagno's glowering, deadpan performance ably captures the sense of a gentle giant who finally has the chance to be true to himself. His moments of unpredictable behaviour are like chinks of light on a threatening horizon.
The film also has a welcome strain of whimsicality, from a snowball fight to a wall-mounted jigsaw of Sicily that seems to reflect Calogero's loosening attachment to his homeland. More humour is injected from the antics of a local all-male team of Schuhplattier dancers, whose rehearsals consist of much choreographed thigh slapping and buttock striking. The two Calogeros' subsequent impromptu canter around a camp fire has shades of Stan and Ollie.
Warmhearted and commendably compact, Paradise is a film of fond smiles rather than helpless laughter but it works effectively and Vincenzo Nemolato's soulful, sympathetic performance should ensure that his star continues to rise.
Production companies: Pilgrim Film, Atalante Film, Rai Cinema
International sales: Fandango sales@fandango.it
Producers: Stefano Basso, Gianpaolo Smiraglia, Andrea Magnani, Branislave Brana Srdic
Screenplay: Andrea Magnani
Production design: Niko Novak, Polonca Valentincic
Editing: Luigi Mearelli
Cinematography: Debora Vrizzi
Music: Luca Ciut
Main cast: Vincenzo Nemolato, Giovanni Calcagno, Katarina Cas, Selene Caramazza