Dir: Andrei Konchalovsky. Russia/Germany, 2016. 130 mins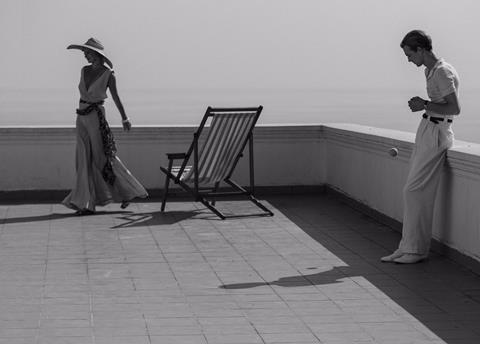 The Holocaust has undergone some awkward treatments on screen before, but one of the most ungainly recent examples must be Andrei Konchalovsky's Paradise, a well-intentioned but very soft-edged mess of romance, metaphysics and historical theorising.
The central theme of paradise is harped on so repetitively in the often prolix dialogue that it finally comes to mean very little
With dialogue in German, Russian and French, this is essentially a three-hander about very different people whose paths cross in horrific circumstances. But Konchalovsky's eccentrically-structured film comes across as all the more nebulous and old-fashioned at a time when the uncompromisingly serious Son of Saul has reset the agenda for depicting the Shoah cinematically. His melodrama is persuasively acted, elegantly shot in black and white and altogether a handsome prestige period production – all of which which only adds to the overall queasiness. Subject matter and the director's pedigree will pique festival interest, but commercial prospects look limited.
The veteran Russian director – known among other things for his 1980s American period– recently stepped back into the art-house spotlight with his much-esteemed The Postman's White Nights, but Paradise is unlikely to boost his standing.
It begins in France in 1942, where a young woman, Olga (Julia Vysotskaya) is placed in prison; she's a Russian aristocrat, until recently the fashion editor of Vogue, who's now a member of the French Resistance, arrested for trying to save the lives of Jewish children. She's taken to the office of police official Jules (Philippe Duqesne), an affable, tweedy chap and a devoted family man, seen at home with his wife and his young son; however, Jules is also a hardened collaborationist who thinks nothing of having his chief interrogator use vicious methods. Jules strikes a deal with the alluring Olga – after all, he has never slept with a noblewoman – but their liaison is not to be, and she is shipped off to a prison camp.
Enter the film's third key player, German nobleman and SS officer Helmut (Clauss), an enthusiastic devotee of Hitler's ideology, which he sees as representing paradise on earth. Helmut is summoned to a meeting with Heinrich Himmler, no less (an unlikely but commanding turn by one-time Alexei Balabanov regular Victor Sukhorukov), who basically tells Helmut that tomorrow belongs to him. Assigned to stamp out corruption in the running of the Nazi concentration camps, Helmut finds himself stationed where Olga is a prisoner – and wouldn't you know, they have some unfinished emotional business from before the war.
As the war creeps towards an ugly end, things do not go well for Helmut, although there's a deliciously absurd shot as he smokes a cigar while the world explodes around him (you'd really love to hear the theme from the Hamlet cigars commercial here). Olga, however, pulls off a redemptive act of noble sacrifice that takes us neatly to the film's preposterous closing images and a gratingly incongruous closing-credits ballad.
The most inventive touch in Paradise is that the events seen are interspersed with first-person to-camera narrations by the three lead characters, each in what looks like prison garb, with Olga's lustrous locks shorn camp-style. It's not long before we realise that these narrations, apparently addressing some interrogator, are actually given by the characters in some sort of afterlife, as alluded to in the title. These sections certainly contain some of the film's best acting, although Vysotskaya's rather more stagey mode is overshadowed by the naturalness of the two men, both excellent.
What takes the edge badly off these sequences, however, is Konchalovsky's distracting decision to present them like rough celluloid footage, spiked with jump cuts, film grain and overexposure effects. It's not the film's worst misstep, however: that comes in sequences showing the merry lives of Europe's aristocrats before the war, a kitsch sunkissed paradise of white suits, straw hats and carefree dancing that, resembling nothing so much as a set of out-takes from Ken Russell's The Boy Friend.
Paradise is a film not without ideas, most intriguing being the decision to depict events partly from the point of view of a charming fanatic of the Nazi cause, who nevertheless comes to see that the Hitlerian utopia is a corrupt sham. However, the central theme of paradise is harped on so repetitively in the often prolix dialogue that it finally comes to mean very little. Despite more than conscientious production design, the horror of the camps never feels remotely convincing – Vysotskaya is not the only character to remain looking hale and fresh – and the atmospheric beauty of Alexander Simonov's photography only adds to the impression that we're seeing an artefact so elegantly glazed that it finally seems downright improper.
Production company: Andrei Konchalovsky Studios, DRIFE Filmproduktion
International sales: ARRI Media International, worldsales@arri.de
Producers: Andrei Konchalovsky, Florian Deyle
Screenplay: Andrei Konchalovsky, Elena Kiseleva
Cinematography: Alexander Simonov
Editor: Ekaterina Vesheva
Production design: Irina Ochina, Josef Sankjohanser
Music: Sergei Shustitsky
Main cast: Julia Vysotskaya, Christian Clauss, Philippe Duquesne, Victor Sukhorukov