Rebecca Hall impresses with her directorial debut, set in 1929 Harlem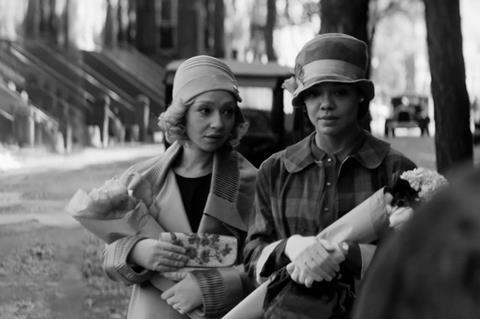 Dir: Rebecca Hall. US. 2020. 98mins.
A psychologically rich character study that slowly builds in tension until it becomes nearly unbearable, Passing is the assured feature debut of BAFTA-winning actress Rebecca Hall, who crafts a story about two women who see in each other something they want for themselves. This adaptation of Nella Larsen's 1929 novel focuses on the issue of "passing" — where a person classified as a member of one racial group is accepted ("passes") as a member of another. That becomes the crux of the tension between Tessa Thompson and her light-skinned childhood friend, played by Ruth Negga when, reunited in adulthood, they discover that they now exist in very different spheres.
Passing is storybook beautiful but ugly underneath as Irene navigates a racist world
The muted elegance of Passing's design proves to be a deft feint for a film full of passion and profound longing, highlighted by two controlled but devastating performances. Screening in Sundance's US Dramatic Competition, Passing should resonate at a moment when Black Lives Matter has helped expose the simmering racial divides within American society. With a sterling supporting cast that includes Andre Holland and Alexander Skarsgard, the picture seems a possible 2022 awards contender.

The story takes place in 1929, as Harlem resident Irene (Thompson) carefully makes her way through New York City, a large hat covering her face so that her black skin isn't as evident to the white locals. Feeling self-conscious about being out of place, she's shocked to run into Clare (Negga), a school friend she had lost contact with who is now married to a wealthy (and racist) white man, John (Skarsgard), who has no idea that she's black. Clare "passes" for white, which has allowed her entree into upper-crust American society that shuns people of colour.
Deciding she wants to reconnect with her black Harlem upbringing, Clare begins insinuating herself into the life of Irene and her overworked doctor husband Brian (Holland).

Hall, whose mother is biracial and grandfather was black, has crafted Passing in an intentionally old-fashioned style. Shot in a boxy 4:3 aspect ratio by cinematographer Edu Grau, the film is presented in shimmering black and white, often with static camera placements and occasionally accented by Devonte Hynes' tinkling piano score. But Passing's deceptively nostalgic look and feel is actually a bitter commentary: we're observing a bygone America not nearly as romantic as classic Hollywood would have us believe. Whether it's John's casual use of racial epithets or the random mentions of lynchings in the news, Passing is storybook beautiful but ugly underneath as Irene navigates a racist world.

That cruel reality isn't a concern for Clare, though, who has happily taken advantage of her light skin to enjoy the finer things in white society. So when Clare starts spending time in Harlem, quickly becoming a hit in social circles because of her flirty manner, the more reserved Irene feels indignant about her old friend's hypocrisy — while at the same time envying how Clare can come and go through different societies. (And when Brian starts taking a fancy to Clare, it only exacerbates Irene's jealousy. Clare gets access to so much — must she also take Irene's husband?)

The two lead performances are a study in restraint, as the actresses almost subliminally communicate their characters' competitiveness and lingering childhood resentments. We don't learn much about Irene and Clare's past, but we get a sense that there's always been an unspoken conflict between them. (The brainy Irene has always been moodier, while Clare radiated self-assurance.) The characters never say directly what's on their mind, but as Clare starts becoming a fixture in Irene's life, Irene's wounded expression hints at her deep-seated dissatisfaction — with her marriage, with the bigotry around her, with how easy everything seems to be for Clare. And with that anger comes paranoia: does Clare want to reconnect with her black identity, or does she actually want Irene's life?
With the same sober intelligence she brings to her acting, Hall lets the tension between the two women course through every scene, quietly suggesting where this story is going but never telegraphing it. Negga brilliantly depicts a charming socialite who, by "passing," has lost something fundamental within herself, while Thompson is a marvel as a dutiful wife and mother who has done everything properly and yet can't find contentment. The rare times Hall incorporates a slow camera move, it feels momentous, an indication of the brewing storm that's about to be unleashed. When lightning finally does strike, Hall and her actresses give the deluge a stunning power.
Production companies: Significant Productions, Picture Films, Flat Five
International sales: Endeavor Content, dkelley@endeavorcontent.com
Producers: Nina Yang Bongiovi, Forest Whitaker, Margot Hand, Rebecca Hall
Screenplay: Rebecca Hall, based on the novel by Nella Larsen
Production design: Nora Mendis
Editing: Sabine Hoffman
Cinematography: Edu Grau
Music: Devonte Hynes
Main cast: Tessa Thompson, Ruth Negga, Andre Holland, Bill Camp, Gbenga Akinnagbe, Antoinette Crowe-Legacy, Alexander Skarsgard