A dog's dinner from the makers of 'Absolutely Fabulous: The Movie'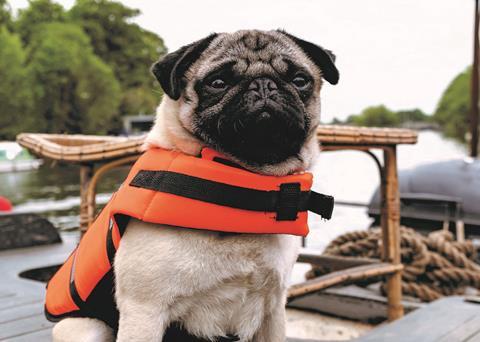 Dir. Mandie Fletcher. UK, 2018. 94 mins.

The pug phenomenon squares up to the big screen with Patrick, but, like the pet at its centre, this is a small-size offering with a face somewhat squished by the effort of compressing every British comedy trope into one 94-minute film. A cast of UK faces (in fact, almost every UK 'face', from Meera Syal to Bernard Cribbins and Jennifer Saunders on down) supports singleton and reluctant dog owner Sarah (Beattie Edmonson) as she searches for love and validation, a tension-free journey which takes us from Bridget Jones to 101 Dalmations in permanent-sunshine vistas which look suspiciously look like offcuts from last year's similarly pale and stale Hampstead.
Patrick is like having your face licked a little too eagerly by a clumsy puppy; many will enjoy the sensation and those who don't will politely long for it to end.
Set for theatrical release in the UK through Disney on June 29 in the middle of a nationwide heatwave, Patrick should retire panting from cinemas having made less of a mark than director Mandie Fletcher and team's previous feature, Absolutely Fabulous: The Movie. It's reminscent in tone of the UK-made, -set and -seen Nativity, which mined the cuteness of small children, as opposed to pugs. But the jaunty children's TV score gives the best clue as to Patrick's ultimate kennel, and there's no reason to believe he won't be heavily petted on VOD.
Almost airlessly white and middle-class, Patrick is set in leafy Richmond where the recently-dumped Sarah finds that granny has bequeathed her the pampered titular pug. Sarah, who is set apart from her affluent family by her decision to teach in "high school" (state secondary), nevertheless manages to run a car, always finding a parking spot, and afford the rent by herself on what most Londoners would describe as an extremely roomy apartment. A la Bridget Jones, she has trouble maintaining a relationship, talks to herself, and has problems getting her dress on the right way around.
The forcefully good-natured drama in Patrick is derived from the fact that Sarah's building doesn't accept pets; she doesn't have a boyfriend (Ed Skrein and Tom Bennett make an appearance); and she has signed up to run a 5K but is unfit. As Patrick the pug makes his presence felt in her life, they will go on a journey of self-discovery together in which the sun always shines in their chocolate-box world of canals and barges, even when Sarah finishes her first term as Head of English for Year 11 in what looks to be a December heatwave in the UK.
If all this seems on the level of children's entertainment, that's perhaps correct, but grandparents who rallied to Swallows And Amazons in much the same release slot will enjoy tagging along for some innocuous fun in Mandie Fletcher's safe, predictable world. And, as a heavily sanitised Bridget Jones, Beattie Edmonson is game for a few pratfalls and sweetly watchable as she goes over. Patrick is like having your face licked a little too eagerly by a clumsy puppy.; many will like the sensation and even those who don't will politely long for it to end.
Production companies: Wagging Tales Productions, Fred Films
Contact: info@fredfilms.co.uk
Producers: Vanessa Davies, Paul de Vos, James Spring
Sceenplay: Vanessa Davies, Mandie Fletcher, Paul de Vos, Sue Latimer
Production design: Harry Banks
Editing: Matthew Tucker
Cinematography: Chris Goodger
Music: Michael Price
Main cast: Beattie Edmonson, Ed Skrein, Tom Bennett, Peter Davison, Bernard Cribbins, Jennifer Saunders, Meera Syal, Cherie Lunghi, Gemma Jones, Emilia Jones.