This dystopian debut about aging and euthanasia in Japan is moving and understated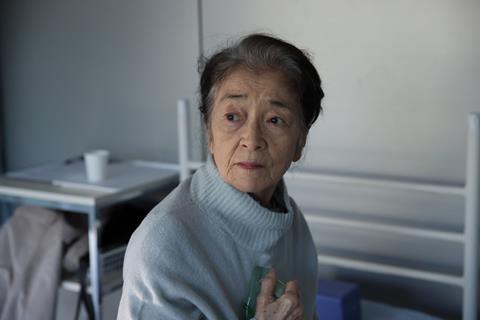 Dir: Chie Hayakawa. Japan/France/Philippines/Qatar. 2022. 112 mins.
In Plan 75, a Japan of the near-future offers its elderly citizens an opportunity to euthanise themselves, a troubling scenario that results in a meditative drama touching on regret, loneliness and soulless bureaucracy. Chie Hayakawa's feature directorial debut doesn't have the dark dystopian undertow of bygone sci-fi films such as Soylent Green, and yet beneath its gentle surface is an upsetting commentary on the way that societies toss away those they judge no longer to be valuable.
Plan 75 may seem like it's about ageing, but more accurately it is about the importance of community
Premiering in Un Certain Regard, Plan 75 will appeal more to arthouse crowds than genre fans, but anyone interested in thoughtful science fiction should seek out this modest, affecting picture. Some fine performances — especially from Chieko Baisho as an aged widow facing the end — elevate Plan 75's quiet outrage.
Baisho plays Michi, who works as a hotel housekeeper before being terminated, fearful that she may not be able to support herself and need to sign up for Japan's Plan 75, which allows those 75 and older to be euthanised, receiving a small payment for volunteering. But Plan 75 also looks at two other characters: Hiromu (Hayato Isomura), a Plan 75 salesman facing a crisis of conscience; and Maria (Stefanie Arianne), a young mother who takes a low-level job at the company to help pay for her daughter's lifesaving surgery.
Hayakawa expands her 2018 short to question the societal repercussions that would occur from such a policy, which in the film has been in place for about three years. Plan 75 eventually reveals some disturbing secrets about the program, but those prove less insidious than the day-to-day realities that Hayakawa's calm camera captures. Indeed, each of the film's three leads will, in their own way, be impacted by the intolerant attitude of the culture toward the aged.
These parallel storylines are often moving in understated ways. Michi, who has no family, finds herself turning to Yoko (Yuumi Kawai), a Plan 75 customer-service phone agent who becomes emotionally involved in the older woman's life. Meanwhile, Hiromu, who wholeheartedly believes in Plan 75's compassionate termination of life, rethinks that stance once his estranged uncle (Taka Takao) visits his office to seek to end his life. As for Maria, the ghoulishness of the job that awaits her shouldn't be spoiled, but it speaks to the callous disregard of the dead that occurs in even so-called civilised societies.
Plan 75 never pities its aged characters, and Baisho is superb at playing a woman whose growing sense of worthlessness starts to sap her life force. Poignant static shots of Michi from behind, staring out her full-length apartment window, contemplating the futility of everything — or possibly even jumping to her death — convey so much about the terror and isolation of old age. Baisho's weary expressions bring forceful anguish to the role.
Isomura and Arianne aren't quite as effective, in part because their characters aren't as deeply developed, but these younger perspectives are crucial to juxtapose with Michi's ordeal. The fact that Maria has an ailing daughter brings a bitter irony to the proceedings: death is a reality all must face, no matter one's age.
Hayakawa doesn't get hung up on the logistics of her dystopian premise — nor does she worry about indulging thriller conventions as we reach the final reels. Instead, this is a muted, resigned story about the way that countries and corporations follow their own self-interests rather than helping those most in need. Plan 75 may seem like it's about ageing, but more accurately it is about the importance of community — the hope that someone will remember us after we're gone.
Production companies: Loaded Films, Urban Factory, Happinet-Phantom Studios, Dongyu Club, WOWOW, Fusee
International sales: Urban Sales, sales@urbangroup.biz
Producers: Eiko Mizuno-Gray, Jason Gray, Frédéric Corvez, Maéva Savinien
Screenplay: Chie Hayakawa, based on a story by Chie Hayakawa & Jason Gray
Art direction: Setsuko Shiokawa
Editing: Anne Klotz
Cinematography: Hideho Urata
Music: Remi Boubal
Main cast: Chieko Baisho, Hayato Isomura, Stefanie Arianne