Rigorously-researched drama about a Swedish girl who wants to make it big in LA's porn business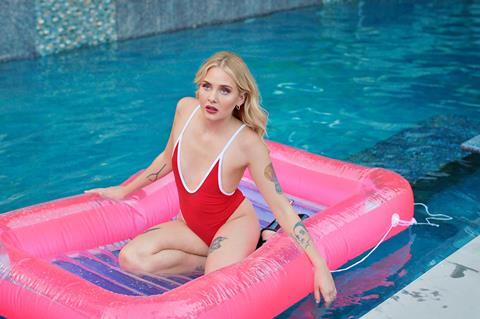 Dir: Ninja Thyberg. Sweden, Benelux. 2020. 115 mins
A teenager from a small town in Sweden arrives in Los Angeles with dreams of being the next big thing in adult movies. "Business or pleasure?" barks the imigration officer. "Pleasure", she purrs, trying out her throaty porn drawl. But the industry that Bella Cherry (Sofia Kappel) has chosen for herself is a cut-throat business, its pleasures are as artificial as Bella's fake nails and false eyelashes. This impressive, unflinching debut from Ninja Thyberg eschews the victim narrative which tends to shadow stories focussing on women in the porn industry, instead following Bella's cool-headed navigation of this treacherous and frequently exploitative world. It's a world, the film suggests, in which a smart, ambitious young woman can quickly rise to prominence, but where success can come at considerable personal cost.
It is through Bella's watchful, rather calculating eyes that we view the porn industry
This rigorously researched feature follows a short film set in the porn industry, also titled Pleasure, which screened at Cannes 2013, where it won the Canal + Award. Thyberg has also explored gender roles and sexual commodification with other shorts which have won prizes at festivals including Tribeca and Stockholm. Pleasure screens at Sundance 2021, having been selected as a Cannes Label title in 2020; further festival screenings seem likely for this talking point title. There are parallels with Isabelle Eklof's Holiday – both focus on young women negotiating the power structures of a male-dominated world, both feature extremely disturbing scenes of sexual violence, both represent an uncompromising female directorial vision. And like Holiday, Pleasure might present a marketing challenge but could find a home with a daring arthouse distributor.
There's an authenticity to the film's depiction of the adult film business which is partly, but not entirely, due to Thyberg's decision to cast actual porn industry insiders in many of the supporting roles. Porn agent Mark Spiegler appears as himself; adult performer Evelyn Claire plays the uber-bitch rising star on the porn circuit who becomes Bella's rival, and in one scene, co-star. Kendra Spade, Dana DeArmond and Chris Cock also appear in minor roles. But Thyberg's attention to detail goes beyond the casting. The design of the film, from the sterile banality of the hotel room porn sets to the girls' costumes: all scorching pinks and throbbing purples. And the slightly heightened sound design – the wince-inducing scrape of the razor as Bella shaves herself in preparation for her first explicit film scene.
In the role of Bella, newcomer Kappel gives a committed, self-possessed performance as a character who is prepared to go to extreme lengths in order to make her mark on the industry. Her ambition puts her in a vulnerable position in at least one instance – a particularly unpleasant rough sex scene which leaves her weeping and traumatised. But for the most part, Bella has agency over her decisions, even if the choices she makes could be viewed as questionable. It is through Bella's watchful, rather calculating eyes that we view the industry.
She is not a character who invites pity, nor is she always an easy person to like. But we warm to her as she lets down her guard and forms a close friendship with Joy (Revika Reustle), her roommate in a ramshackle shared house full of porn actresses. And of all the sacrifices that Bella makes on her way to the top, the sidelining of this friendship is the one which cuts the deepest. There's a mounting sense of conflict in Bella, who finds herself torn between her ambition and her loyalty to her friend. It's a friction which is evocatively reflected in the score – a disconcerting collision between crystalline choral music and grinding X-rated rap.
Production company: Plattform Produktion, Lemming Film, Film i Väst
International Sales: Versatile Films sales@versatile-films.com
Producers: Erik Hemmendorff, Eliza Jones, Markus Walta
Screenplay: Ninja Thyberg, Peter Modestij
Cinematography: Sophie Winqvist
Editing: Olivia Neergaard-Holm, Amalie Westerlin Tjellesen
Production design: Paula Loos
Music: Karl Frid
Main cast: Sofia Kappel, Revika Reustle, Kendra Spade, Dana DeArmond, Evelyn Claire, Jason Toler, Mark Spiegler, Chris Cock