Emma Stone is a freshly minted woman of the world in Yorgos Lanthimos's rich slice of period futurism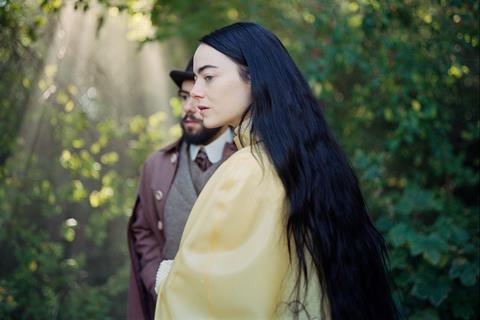 Dir. Yorgos Lanthimos. UK. 2023. 141mins
Anyone who has followed Yorgos Lanthimos's career since his early low-budget Greek features can only marvel over the strange route that has led to the wildly exotic realms of his recent work. He vaults into farther realms of invention and audacity with Poor Things; a piece of ultra-baroque period futurism that must count as the most lavishly produced work in recent years which can also be classified as a full-blown art film. Even as the film sails insouciantly into a rarefied imaginative stratosphere of its own, it's anchored to emotional reality by a dazzling performance by Emma Stone – if anything, outdoing her revelatory turn in The Favourite.
Yorgos Lanthimos vaults into farther realms of invention and audacity
Stone is a mesmerising presence at the centre of an outré feminist fable that – despite its mock-Victorian setting – is a film for our times, bound to captivate adventurous mainstream audiences while maintaining a longer-term status as a cult movie in the genuine hardcore sense. The latest film from the director of Dogtooth and The Favourite is based on the 1992 novel by Alisdair Gray, originally set in Glasgow and very Scottish in flavour and content – although the only remaining Scottish element here is Willem Dafoe's accent, playing an eccentric surgeon. Even so, in its playful way, Lanthimos's film is true to Gray's extremely larky pastiche of Victorian fiction.
The film begins with a prelude in lush velvety blue, as a woman leaps off a bridge. It then cuts to charcoal-textured black-and-white, to a medical school where gauche student Max McCandles (Ramy Youssef) attends a lecture by the eminent and mis-shapen surgeon Godwin Baxter (Dafoe).
The imperiously cranky medic enlists McCandles to assist him in his current work and the young man reports to Baxter's house, where freakish composite animals (dog/duck, pig/goose) roam free, and where he is introduced to a young woman named Bella (Stone). The carefree but apparently mentally troubled Bella is Baxter's ward, but she is also his experiment – in reality she is the young woman from the bridge, who Baxter has artificially brought back from the dead with the addition of a new brain.
Essentially a wilful, unpredictable child in a woman's body, Bella is nevertheless learning fast, her understanding of the world, language and her own body advancing at a formidable place – which means that Stone's virtuoso performance undergoes a finely-calibrated progression throughout the film, an evocation of a woman who, over two hours, is indeed multitudes.
Under the watchful eye of Godwin – whose name she shortens to 'God' – Bella and the infatuated McCandles seem to be on the verge of betrothal, but she is seduced by caddish lawyer Duncan Wedderburn, a classic moustache-twirling rake played with swaggering loucheness by a very game Mark Ruffalo, his accent veering bizarrely between Leslie Phillips and what can only be described as English equivalent of Inspector Clouseau. As Bella discovers the pleasures of her own body, Wedderburn takes advantage by whisking her off on a world tour which proves highly beneficial to her, and eventually less so for him, driven to distraction by her unschooled attitude to the world – and her exhausting libido. (The film's sex scenes, it should be said, are unrestrained and varied.)
The duo's journey takes them – on lavishly crafted sets and in lusciously artificial colour – from Lisbon to a very nightmarish Alexandria, scene of Bella's most eye-opening lesson in harsh social reality, to Paris, where she raises funds by working in a brothel run by a Cockney madame (the great Kathryn Hunter, in impeccably salty form). Eventually, Bella must return home, where another lesson awaits; this time about the cruelties of British high society privilege.
Poor Things faithfully captures the sweep of Gray's picaresque yarn, and keeps the essence of its political drive albeit to less explicit effect. But this is a film that cannot easily be reduced to its narrative complexities, however ingeniously they are reworked by Tony McNamara's screenplay, which also adds much richly-seasoned and ribald quasi-period dialogue.
Robbie Ryan's celluloid-shot images draw surprises and subtle depths out of the visual inventions in a film of extraordinary texture, in which every conceivable surface and property in the design, by James Price and Shona Heath, has its own arresting aesthetic finish. Baxter alone is a surgical anomaly whose physical strangeness is signalled by a face made of parts, like a hastily-solved human Rubik's cube (prosthetics and make-up by Nadia Stacey).
The texture extends to the score by UK musician Jerskin Fendrix: the sounds here range from eerie string shrieks and toy room staccato rhythms to a lusher style that evokes a hyper-distorted variation on Michael Nyman.
In its themes, and in the varied and provocative way it explores them, Poor Things is an intensely serious film – a tale of hard-won female emancipation that may be cinema's most perverse examination yet of the Pygmalion myth. But it is also a hugely entertaining film, from bits of ghoulish mischief such as the chimera-like menagerie of Baxter's domain to the small but drolly unsettling turn by Margaret Qualley as, essentially, a less intellectually promising Bella 2.0. It's also rich in performances across the board, with Stone and an imposing weird Dafoe – his all-too-human anti-deity monstrous yet touchingly vulnerable – well supported by a sweetly-downplayed Ramy Youssef (from TV comedy showcase Ramy) as the bemused representative of gentle but clueless normality
Production company: Element Pictures
Worldwide distribution: Disney
Producers: Ed Guiney, Andrew Lowe, Yorgos Lanthimos, Emma Stone
Screenplay: Tony McNamara, adapted from the novel by Alisdair Gray
Cinematography: Robbie Ryan
Editing: Yorgos Mavropsaridis
Production design: James Price, Shona Heath
Music: Jerskin Fendrix
Main cast: Emma Stone, Mark Ruffalo, Willem Dafoe, Ramy Youssef