Dir/scr. Kirsten Tan. Singapore/Thailand, 2017, 101 mins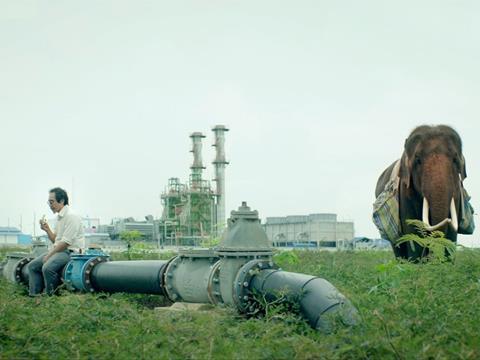 Thailand-set, Singapore-backed drama Pop Aye is a charming tall tale about a disillusioned big city dweller who reunites for a road trip with his family's elderly elephant. Soft and sweet, Kirsten Tan's bright and airy debut is also quietly eloquent, speaking of a loss and regret which is by nature very specifically Thai but should find wider play.
Pop Eye is a large, equanimous symbol of a past which haunts the guilt-ridden Thana.
Assisted at various stages by the Cannes Cinefondation, Torino and the Berlinale Talents programme and executive produced by Anthony Chen (Ilo Ilo) before world premiering at Sundance where it opened the World Cinema Dramatic Competitive section, Pop Aye attempts an ambitious blend of metaphor, humour, and stone-cold reality in a tropical climate. While it doesn't always avoid contrivance, Tan's crowdpleasing film seems certain to lumber on to further festival play at the very least, and should eye up the audience-friendly space previously occupied by titles such as The Lunchbox. (In fact, with its pachyderm hero Pop Eye - played by Bong - and focus on the costs of rampaging "new economy" development, Pop Aye could also find an enthusiastic reception in India.)
Pop Aye is essentially an archetypal road trip, a Straight Story undertaken by a man and elephant played out as a series of vignettes. One lengthy strand involving the police, a "ladyboy" and some amusingly vigorous fellatio in a roadside girlie bar would, by itself, make the 101-minute running time worthwhile, but Tan is also holding some fire for a perceptive final act. Yet elements involving a wild-haired bum called Dee and his former girlfriend see the first-time writer/director over-reach, while the self-centred wife and floundering career of pot-bellied middle-aged architect Thana (Taneth Warakulnukroh) are given very wide brush strokes indeed.
Tan is much more successful when it comes a clear-eyed commentary on the developing world's rush for progress and what has been left behind: symbolised by Pop Eye, whose lumbering stillness anchors this film, and a way of life that has vanished, more completely as the film goes on and Thana finds that there is literally no place like home. In a land where Monks accept Visa cards and most characters seem happy to sell their bodies and souls in the name of progress, Pop Eye is a large, equanimous symbol of a past which haunts the guilt-ridden Thana.
Successfully leavening her social commentary with dry humour, Tan muddies the narrative line, starting her film when Thana and Pop Eye are already on the road, an unlikely pair of hitchikers outside Bangkok. Audience curiosity is immediately engaged as Pop Eye nimbly clambers aboard a truck, and Tan slowly pieces her narrative together. Thana, it transpires, is a one-time idealist who may have lost his soul, and Pop Eye is the rather large manifestation of that loss. He's the family elephant who Thana has found on the street and bought on a whim, much to the disapproval of his pinch-faced wife whose only concern is the waiting list for designer handbags.
Thana decides to bring Pop Eye back home to Loei in Northeast Thailand, on foot - the elephant walks at a surprising clip - and finds unlikely help along the way. While Tan's film is conventional in this regard, the unfamiliar millieu leads to a few surprise twists, and the poignant moments can be stabbing as well as wistful.
Bright and airy and wreathed in particularly apt sound design, which stretches to musical choices, Pop Aye is about an an elephant who has had "many owners". Yet, famously, Thailand is the only Southeast Asian country never to be colonised, and Tan - who hauls from Singapore - certainly isn't blaming any outsiders for the country's losses. A famous song from the Bangkok girlie bars in the days when American GIs made the country a R&R playground from the traumas of Vietnam is the most memorable of a terrific soundtrack from Matthew James Kelly. "Oh John you make me cry," goes the refrain, as the singer laments a situation that is "so much sadder than sad movies". Pop Eye looks on at all of this, says Tan, and never forgets, and neither should audiences, wherever they finds him.
Production companies: Giraffe Pictures, E&W Films, New Influence Century Films
International sales: Ceramon, sebastien@cercamon.biz
Producers: Lai Weijie, Deng Li, Zhang Jianbin, Huang Wenhong
Executive producer: Anthony Chen
Screenplay: Kirsten Tan
Cinematography: Chananun Chotrungroj
Production design: Rasiguet Sookkarn
Editor: Lee Chatametikool
Music: Matthew James Kelly
Main cast: Thaneth Warakulnukroh, Penpak Sirikul, Bong, chaiwat Khumdee, Yukontorn Sukkijja, Narong Pongpab