Wim Wenders presents an interesting, if glossy, portrait of Pope Francis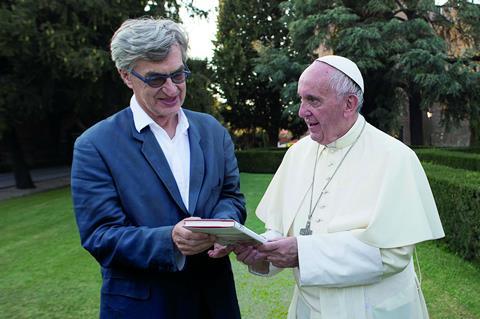 Dir: Wim Wenders. France. 2018. 96mins
Whether in fiction or documentary, it can be challenging to depict uncommon, uncomplicated goodness. That's a hurdle Wim Wenders' well-intentioned Pope Francis – A Man Of His Word never fully overcomes, presenting us with a pontiff whose modesty belies a radical, inspiring message of empathy and social change that has sought to remake the world and the Catholic Church. More a gloss than an insightful dissection, this documentary frustrates by sticking to the man's surface, reducing his words to commendable sound-bites rather than deeply exploring them.
There's ample material for a fascinating portrait, but Wenders is simply too reverential
Premiering at Cannes before opening in the US on May 18, this Focus Features release will appeal to Catholics, but Francis' progressive leanings should cater to secular liberals as well. And the film's optimistic tone might be a balm for viewers troubled by recent political turmoil across Europe and the States.
Wenders has constructed Pope Francis around a series of straight-to-camera interviews, as the now-81-year-old Jorge Mario Bergoglio speaks directly to the audience about his views on everything from poverty to the environment. Incorporating footage from the pope's visits across the globe — as well as unconvincing fictionalized scenes of the life of Saint Francis of Assisi, the early 13th century preacher who inspired this pontiff's name — Pope Francis creates an intimate platform to hear the man's message of peace, compassion and tolerance.
The filmmaker provides occasional melodramatic, impassioned narration that voices his concerns about our ever-coarsening society and his hope that Francis can help stem the tide of anger and cynicism. Wenders' subject is an effortlessly engaging presence — kindly, thoughtful, even funny — but Pope Francis doesn't show much interest in the forces that shaped such a remarkable individual. Offering very little biographical information and avoiding anything resembling personal information in the interviews, the documentary too often plays as an advertisement for Francis and his worldview, providing almost no context or perspective on his pronouncements.
Pope Francis includes clips of rapt audiences either hanging on his every word or feverishly waving at his motorcade, which underline the magnetic hold he has on the faithful. But Wenders fails to capture what's so revelatory about this pope — how he risked controversy by forcefully condemning the Church's practice of shielding predatory priests and by demonstrating far more acceptance of homosexuality than previous pontiffs. By trying to bring Catholicism into the 21st century, not to mention embracing climate change and other religions, Francis became something of an internet rock star, resonating with younger people who felt alienated by the Church's conservative, patriarchal attitudes.
That's ample material for a fascinating portrait, but Wenders is simply too reverential to give us a sense of the flesh-and-blood person beneath the robes. Occasionally, a teasing glimpse is revealed — as when Francis vaguely references a near-death experience that shaped his philosophy on mortality — and no doubt some viewers will be happy enough to simply celebrate a holy man who stands as a symbol of quiet decency in an age when war, terrorism and xenophobia dominate the news. But as much as Wenders wants to make Francis a humble hero, even saints need to feel a little more human.
Production companies: The Palindrome, CTV-Centro Televisivo Vaticano, Célestes Images, Solares Fondazione delle Arti, Neue Road Movies, Decia Films, Fondazione Solares Suisse, PTS Art's Factory
Worldwide distribution: Focus Features
Producers: Samanta Gandolfi Branca, Alessandro Lo Monaco, Andrea Gambetta, Wim Wenders, David Rosier
Screenplay: Wim Wenders and David Rosier
Editing: Maxine Goedicke
Cinematography: Lisa Rinzler
Music: Laurent Petitgand
Featuring: Pope Francis