A gay police officer in Romania is trapped in a personal and professional struggle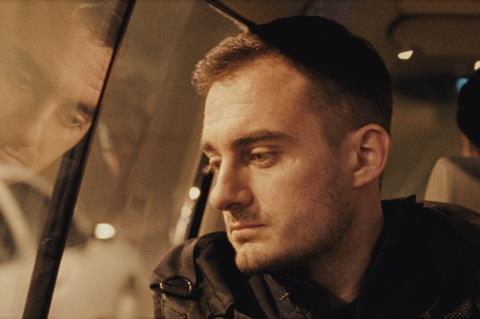 Dir. Eugen Jebeleanu. Romania. 2020. 82 mins
Life for Cristi (Conrad Mericoffer) is a delicate balance between the macho swagger of his job as a Romanian police officer, and his personal life as a closeted gay man in a long-term, long-distance relationship with Hadi (Radouan Leflahi). It's a balance which is threatened when Cristi and his colleagues are called to intervene at a cinema where group of homophobes brandishing an assortment of religious iconography is protesting the screening of a queer film. Among the audience is one of Cristi's former lovers, who recognises him and confronts him. After a hesitant start, this adept first feature quickly gathers momentum, delivering a knotty portrait of a man who, like the culture in which he lives, is still wrestling with the very idea of homosexuality.
A knotty portrait of a man who, like the culture in which he lives, is still wrestling with the very idea of homosexuality
Poppy Field is inspired by protests at a Bucharest cinema against Ivana Mladenovic's drama Soldiers: A Story From Ferentari and Robin Campillo's BPM. It's the first feature from director Eugen Jebeleanu, who has an established profile as a theatre writer and director working in Romania, France and Germany. A notable contribution comes from cinematographer Marius Panduru, a stalwart of the Romanian New Wave who has previously collaborated with Corneliu Porumboiu, Florin Serban and Radu Jude. The picture sold to German-speaking territories in advance of its premiere in Tallinn and should be a title of interest for festival programmers and for LGBTQ-themed events and specialist distributors.
Cristi's reunion with his French boyfriend Hadi is a physically-charged tumble of lust which sees them locked in an embrace as soon as the lift doors have shut behind them. But conversationally and emotionally, they are less convincingly in tune. Without a shared language, they are forced to converse in slightly stilted English. And it becomes clear that they are at odds when it comes to expectations of their time together.
Hadi lobbies for an overnight trip to the mountains; Cristi backtracks and builds a wall of excuses. The tension between them mounts when Cristi's sister Catalina drops by unexpectedly. The whole point of this opening act is to emphasise the fact that what makes perfect sense sexually for Cristi is also something he struggles with ideologically. Not that he can articulate this dissonance – he is more likely to slam shut, wary of what he sees as emasculating openness.
The stilted quality of the interactions between Cristi and Hadi is, no doubt, deliberate. But it's also a slightly abortive start to a film which only really begins to gather momentum when Cristi is settling back into his role as one of the blokes, bantering with his colleagues on the way to the cinema where the protest is already well underway.
His discomfort, caught between the film's audience and the protestors, leads Cristi to hang back while, in a series of ambitious, weaving single shots, the viewer is buffeted by the mounting anger on both sides. We become aware of the man whose eyes follow Cristi even before he does. But when he approaches, Cristi panics and lashes out, making an enemy and escalating an already tense situation. Banished from the frontline of conflict, Cristi must sit and stew, second guessing whether his secret is safe and just how much his colleagues now know.
Do they suspect? There's certainly a seed of doubt, evident in the quizzical glances that are thrown his way. But then there's a terrific scene in which Cristi's friend and colleague Mircea (a superb Alexandru Potocean) regales him with a rambling anecdote about a lost dog. Nothing is overtly said, but it feels that, simply by sitting and talking, Mircea is, in some small way, offering his support.
Production companies: Icon Production
International sales: Patra Spanou film@patraspanou.biz
Producer: Velvet Moraru
Screenplay: Ioana Moraru
Cinematographer: Marius Panduru
Editing: Catalin Cristutiu
Art director: Velica Panduru
Main cast: Conrad Mericoffer, Alexandru Potocean, Radouan Leflahi, Cendana Trifan, Ionut Niculae, Alex CAlin, Rolando Matsangos, George Pistereanu