Dir. Philip Yung. Hong Kong, 2015, 120 mins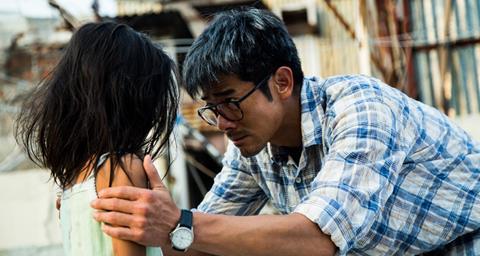 Based on real events, Philip Yung's latest exploration into Hong Kong's disaffected youth details the grisly murder of a teenage prostitute and the efforts of an eccentric police detective (played by Aaron Kwok) to understand the motives of both the victim and her killer. Blending social commentary with police procedural, Port of Call – which was shot by Christopher Doyle - is an absorbing and at times grisly portrayal of modern Chinese society and adolescent apathy that hits enough genre beats to ensure it a life beyond local audiences.
There are no righteous citizens or positive role models to emulate in Yung's world, only drugs, sex and other more pathological vices to dull the pain of everyday existence
The winner of the 2011 Hong Kong Asia Film Financing Forum prize, Port of Call closed the Hong Kong International Film Festival in a director's cut which is longer and possibly more explicit than the version which distributor Mei Ah intends to eventually release.
In it, Aaron Kwok (The Detective, Floating City, Cold War) is all but unrecognisable in it as Officer Chong, buried under grey rug, patchy beard and oversized spectacles. An estranged father and husband, Chong investigates particularly grisly murder cases for the Regional Crimes Bureau. Eschewing traditional police work for a more psychological approach, he attempts to get inside the minds of his suspects and victims in his quest for truth and justice. It is Kwok's playfully oddball approach to the character that offers a beacon of levity in a film otherwise rooted firmly in a horrific netherworld.
When Ting (Michael Ning), a 24-year-old delivery man-turned-ketamine addic,t turns himself in, confessing to having murdered Jiamei (Jessie Li), a 16-year-old prostitute, Chong needs a body to corroborate Ting's confession. Ting admits to dismembering and disposing of Jiamei's body in various locations all over town, but insists that she wanted to die. When Jiamei's decapitated head surfaces in Victoria Harbour, Chong turns to her mother (Elaine Jin) for answers, as he delves deep into the pasts of killer and victim in the hopes of closing the case.
Using a fractured timeline, Yung jumps back and forth between 1998, 2008 and the film's "present" in 2009, shedding more light on the origins of Ting, Jiamei and Chong. Exploring the empty, listless lives of adolescents in the region, Port of Call continues to play on themes the writer-director touched on in Glamorous Youth (2009) and May We Chat (2013). There are no righteous citizens or positive role models to emulate in Yung's world, only drugs, sex and other more pathological vices to dull the pain of everyday existence. As with his last film, Yung presents his female lead as an adolescent looking to escape her impoverished home life, only to fall for the instant gratification of compensated dating rather than fight for a modelling career
Newcomer Jessie Li captures the perpetual sadness in Jiamei beautifully, conveying fragility, desperation and, ultimately, resignation. We believe her inner pain, the product of a fractured upbringing, displaced time and again on both sides of the Hong Kong/China border, where her emptiness and loneliness eventually become overbearing.
Stage actor Michael Ning, bearing an uncanny resemblance to a young Lam Suet, is effectively chilling as the stone-faced Ting. The deadpan matter-of-factness of his behaviour, whether at work, pining for his first love Mo-yung (Jacky Cai), or hacking human flesh into disposable pieces, is unnerving. What at first appears monosyllabic and oafish makes way for an all together more creepy performance.
Yung employs cinematographer Christopher Doyle to cast his much-celebrated eye over proceedings, and the results are typically effective. Doyle's lens refuses to find anything glamorous or even clean about the setting, enshrouding every shot in shadow, dirt, damp and blood, shattering the mythos of a sterile, ultra-modern Hong Kong. This aesthetic is in tune with Yung's reading of the city - a slum populated by broken dreams, scattered families and little hope for a prosperous future.
Yung seems to genuinely despair about his community's future, but also allows Port of Call to tip into sickening exploitation territory. The version of Port of Call which is eventually released may well lose some of the more explicit moments of body horror, however, and certainly the film's pace could well be tightened throughout Yung's four-act structure.
Unwieldy pacing aside, Port Of Call has the potential to play to arthouse-inflected genre crowds in a number of international markets, thanks to its sturdy investigation structure and flashes of delightfully nasty gore. Aaron Kwok furthers his case as a serious dramatic performer, while Yung's talents take a confident step forward, shoring up his position as one of the most distinctive voices in Hong Kong cinema today.
Production company: Golden Gate Productions
International sales: Meih Ah Film Production Limited, sara@meiah.com
Producers: Julia Chu, Kingman Cho,Esther Koo
Executive Producer: Patrick Tong
Director/ Screenplay: Philip Yung
Cinematography: Christopher Doyle
Editors: Philip Yung and Chu Ka Yat
Sound: Du Chih Tu
Production designer: Cyrus Ho
Main cast: Aaron Kwok Fu Sing, Jessie Li, Michael Ning, Elaine Jin, Patrick Tam, Jacky Cai, Maggie Siu, Tai Bo