Eugene Jarecki follows Elvis's trail across America for a cultural and political road trip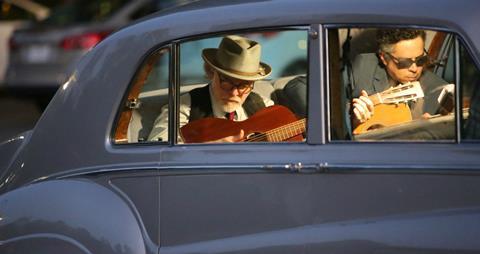 Dir/scr. Eugene Jarecki. USA/Germany/France. 2017. 117 mins
With Promised Land using the rise and fall of Elvis to look at the comparable fate of America since his death, framing its thesis through his lyrics is simple: what was once a hunk of burning love is now nothing but a hound dog. Indeed, were his point not so pertinent director Eugene Jarecki could be accused of brandishing a suspicious mind in his latest polemic against the current US societal reality. America is caught in a trap, he posits, and can't get out.
Promised Land deftly flits from biography to impact study to cinematic essay
Unsurprisingly in a documentary which follows Jareck driving Elvis' Rolls Royce across the country before the 2016 election, metaphors flow freely; however this Cannes title possesses an intellectual hit rate on par with its subject's musical successes. Jarecki's piercing ideas on fame, power, money and corruption should help it swagger towards an audience beyond its assured future festival berths.
High-profile talking heads including Alec Baldwin, Ethan Hawke, Chuck D, Emmylou Harris, David Simon, Mike Myers and Dan Rather should also assist in broadening the film's appeal; this isn't just an effort for Elvis fans and American politics aficionados.
As Jarecki rolls from Elvis's birthplace of Tulepo, Mississippi through Memphis, New York, Hollywood and Las Vegas, many of his passengers show affection to the singer, but the film delves deeper — and film bites harder. Snappy soundbites dubbing America "the bloated, white jumpsuit Elvis who forgets the words to the song, shoots out the TV, and pops a bunch of Percocets" make an impression, as do tearful remembrances of the man rather than the legend, but the film has more than attention-grabbing on its mind.
With credit due to its quartet of editors and the array of clips they assemble in support, Promised Land deftly flits from biography to impact study to cinematic essay on the boom and bust of happiness-peddling myths, drawing a clear line from the music king to the current US leader. Boasting historical weight and modern-day relevance, it's an account of a democratic country all-too-eager to embrace its versions of royalty, and an exploration of cultural appropriation.
It's an engaging, informative and impassioned journey and, while Jarecki poses questions rather than presents answers, he has a solution to what could have been the documentary's flattest note: its penchant for slathering its central point across the screen as thickly as the peanut butter in one of Elvis' beloved sandwiches (which rate a mention, of course). When other musicians climb in — to pay tribute and to sing tunes from the genres he favoured or influenced — their entertaining interludes offer a break from the bleak but crucial underlying message. But, in shaking his hips, flicking his hair and embodying the American dream to the masses, didn't Elvis do the same thing?
Production companies: Ghost in the Machine, Charlotte Street Films, Backup Studio
International sales: United Talent Agency, ShumakerN@unitedtalent.com
Producers: Christopher St. John, David Kuhn, Eugene Jarecki
Co-producer: Manuel Chiche
Executive producers: Barbara Biemann, David Atlan Jackson, Jean-Baptiste Babin, Joel Thibout
Cinematographers: Etienne Sauret, Tom Bergmann
Editors: Simon Barker, Elia Gasull Balada, Alex Bingham, Laura Israel
Music: Robert Miller, Antony Genn, Martin Slattery