Dir. Erik Skjoldbjaerg. Norway, 2016. 97mins.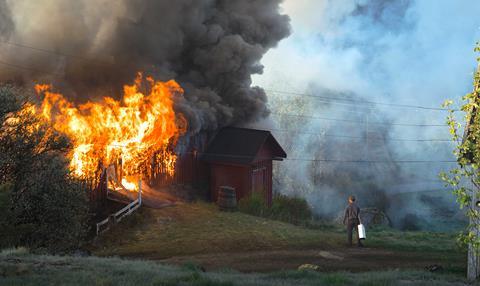 The rural idyll of a small town in southern Norway is violently shattered by the increasingly incendiary rampage of a young pyromaniac in this slow-moving character study from director Erik Skjoldbjaerg. The filmmaker is perhaps best known to English-language audiences as the director of the Stellan Skarsgard-starring Insomnia (remade by Christopher Nolan in 2002) and Prozac Nation, but his latest, while sharing similar psychological themes, is a more contemplative and meandering affair that may frustrate rather than beguile.
Dag remains always just out of reach, a wilfully vague cipher for the monstrous desires that can lie within any blond-haired, blue-eyed boy
Having already been released in its native Norway and having played Toronto and Reykjavik before London, Pyromaniac's languid pace and cultural specificity may see it struggle to break out of the festival circuit. Knowledge that it's based on a true story, along with the current appetite for anything Scandinavian, could see it being sought out by an art-house crowd, and it may well enjoy some small-screen success on specialist platforms.
A dream-like establishing shot, in which a car winds down a forest road, immediately gives us a powerful sense of place; indeed, Gosta Reiland's masterful, evocative lensing of a landscape that is both stunning and foreboding is one of the film's greatest pleasures. This, we learn, is Finsland, an isolated, place where the local fire chief Ingemann (Per Frisch) is a respected pillar of the community and his 19-year-old son Dag (Trond Nilssen) is expected to follow in his footsteps. While Dag seems to enjoy fighting blazes - particularly, in a somewhat pointed sequence, manning the hose - he seems in no rush to take over from his ailing father, and we alone are soon privy to the fact that he prefers starting fires to battling them.
While he begins by setting small woodland pyres, which quickly rage out of control, Dag soon graduates to barns, abandoned buildings and then occupied houses. As his actions strike fear into the community, and local police investigate the case, Dag's compulsion is imbued with a seemingly fatalistic inevitability that maintains a sense of intrigue, even if the film is determinedly non-committal as to his motives.
Based on the novel Before I Burn by Guate Heivoll, who was an infant when his hometown of Finsland was terrorised by an arsonist in 1978, Bjorn Olaf Johannessen's screenplay captures the creeping suspicion that descends over the town; not least that of Dag's perceptive mother Alma (Liv Bernhoft Osa). Yet it is not interested in plumbing the depths of Dag's psychology, presenting mere wisps of possible reasons for his behaviour; at turns he seems driven by an erotic impulse, boredom, rebellion, rage, rejection or simply a desire to make a mark in a town where opportunities to do so are limited.
Dag is a loner with an inability to make any real connections and, given that he lives before the distractions of the internet and social media, this is likely enough to lead him in such an extreme search for emotional validation.
Amidst the narrative inscrutability, there are a handful of sequences which offer something approaching traditional insight. Dag goes swimming with two former school friends, both girls, only for them to disappear when he is trying to impress them; his disappointment and anger is unspoken, but palpable. His uncomfortably intense behaviour towards a fellow firefighter's wife who once paid him a compliment is also telling, as is his pride when an investigating police officer tells him it would take a clever mind to commit such an arsonistic rampage.
But, despite such moments, both Skjoldbjaerg's detached direction and Nilssen's internalised performance ensures Dag remains always just out of reach, a wilfully vague cipher for the monstrous desires that can lie within any blond-haired, blue-eyed boy.
Production company: Glor Films AS, Neue Road Movies, ZDF/Arte
International sales: TrustNordisk info@trustnordisk.com
Producers: Aage Aaberge, Edward A Dreyer
Executive producer: John Einar Hagen,
Screenplay: Bjorn Olaf Johannessen
Cinematography: Gosta Reiland
Editors: Sverrir Kristjnsson
Main cast: Tron Nilssen, Per Frisch, Liv Bernhoft Osa, Agnes Kittelsen, Henrik Rafaelsen