Fascinating, colourful portrait of the Greece-born New York porn matriarch Chelly Wilson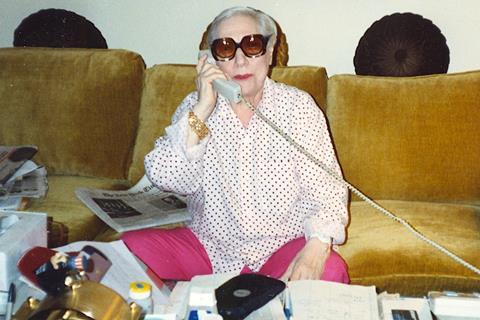 Dir: Valerie Kontakos. Greece/Canada. 2022. 78mins
Often it's those people you have never heard of who prove the most entertaining subjects for documentary and that's certainly true of the late Chelly Wilson – the titular 'Queen of The Deuce'. This offbeat film about the indomitable Greek-born matriarch takes us on a decades-spanning journey while offering a tale of the two lives she lived at home and in Manhattan. Valerie Kontakos maps out a quirky story of love – both of family and of the pornographic kind – but also of great loss due to the Holocaust.
Kontakos' film has the feel of an engrossing photo album
Wilson became famous in New York for running a porn cinema empire from the 1960s to the 80s, and Kontakos rewinds the clock to her upbringing in Greece to chart her remarkable life while also giving due consideration to that of her children. The documentary, Kontakos' fourth film, offers a rich mix of personal testimony, archive material and animation and is likely to generate wide appeal far from the streets of both New York and Greece.
"She was Jewish and celebrated Christmas in a porn theatre. It doesn't get any weirder than that," notes Wilson's grandson David Bourla. The theatre in question was the Eros, situated in Manhattan's edgy 42nd street area then known as 'The Deuce'. Eros showed gay male porn round the clock while, up a set of steep flight of stairs, Wilson generally held court from her gold-coloured sofa in her kitschy but cosy apartment that was always filled with people.
While those who remember her paint a vivid verbal picture of the place, Kontakos goes one better, taking us there via humorous animated segments drawn by Abhilasha Dewan. Although the documentarian uses talking heads, she also makes the wise decision to place one of these, Kosmas Skilfas, who was once an errand runner for Wilson, on the street outside Wilson's former home to add welcome variation to the backdrops and give a sense of the modern city.
Kontakos also has the benefit of some first-person testimony from Wilson herself, cannily recorded by a family member in the 80s and animated by Dewan, so that Wilson, who died in 1994, has a real presence at the heart of her own story. It's just as well because generally, for Wilson, everything was "on a need to know basis", which means her youngest daughter Bondi (who executive produces this documentary with her husband Don) did not know that she had a sister, or that she was Jewish, for years.
This is just a small corner of Wilson's remarkable story as we hear her recollections of childhood in pre- Second World War Salonika – now Thessaloniki, where the film had its European premiere at the International Documentary Film Festival. There, Wilson was born Rachel Serrero and raised by her Jewish family with Ladino, a Judeo-Spanish language, as her mother tongue. The film whisks us back to the period via archive and some animation to show how Wilson ended up in a marriage she despised, with war and the Nazi anhiliation of all but five percent of the city's Jewish population on the way.
As her by-then ex-husband took their son to Palestine, she left her daughter, Paulette, with a non-Jewish family away from Thessaloniki for the girl's protection, and caught the last boat to New York, arriving with five bucks in her pocket. This is where her second story begins, as Kontakos shows how Wilson managed to broker her way up from that via a small concessions stand to ultimately owning a handful of cinemas, as well as producing some of the films that screened there.
Kontakos' film has the feel of an engrossing photo album, with snapshots offered of wartime Greece, the porn scene in New York and the heyday of The Deuce as well as of Wilson's descendants. Despite the sheer amount of story in Wilson's life, the documentarian has a strong hand on the material, pacily edited together by Rob Ruzic, so that we're transported from one place and revelation to the next without losing the flow.
Production companies: Exile Films and Storyline Entertainment
International sales: Cinephil, οlivier@cinephil.com
Producers: Valerie Kontakos, Ed Barreveld, Despina Pavlaki
Screenplay: Valerie Kontakos, Despina Pavlaki
Cinematography: Patrick McGowan, Martina Radwan
Editing: Rob Ruzic
Music: Ken Myhr