Dir: Julia Ducornau. France-Belgium. 2016. 98 mins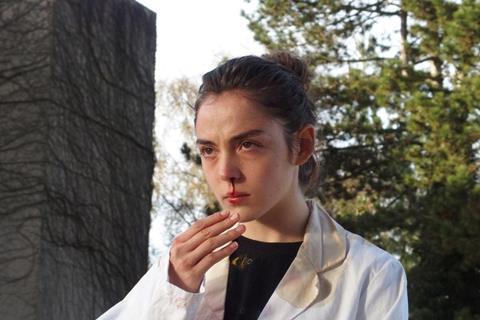 Cannibalism – it shouldn't happen to a vet. Raw proves a bang-on title for the previously-named Grave, the inventively grisly (or gristly) genre debut by French up-and-comer Julia Ducornau. That's because fresh meat, of various kinds, is at the centre of this femme-horror cannibal coming-of-ager. But it's also apt due to the young heroine's own affecting gaucheness and the authentic red-blooded freshness of this stylistically rich, super-macabre piece from a French director who made her mark with the 2011 short Junior.
Raw's feminist take on body horror is unfailingly confrontational, and it also passes the Bechdel Test with flying colours.
That film also starred up-and-coming actress Garance Marillier, whose ferociously uninhibited performance here is one of Raw's several aces. The theme itself might not seem brand new – cannibalism with an arty twist has been the focus of recent films such as remade Mexican feature We Are What We Are – but feminist and youth culture angles, plus distinctive visual flamboyance, give Raw a fresh flavour. Genre buffs and fests will gobble it up, and this prime cut should be the plat du jour on cult theatrical menus worldwide.
The film begins with a slyly presented whammy, a slow burn leading up to a mystery occurrence that doesn't get explained till much later. Then we meet Justine (Marillier), a shy young woman being driven by her parents (Joanna Preiss, Laurent Lucas) to her first year at veterinary college. Life there seems to be a permanent hazing ritual, mixing brutally coercive stunts – 'rookies' being forced to serve the whims of older students - with orgiastic party nights. Luckily, Justine has two friends there: her new roommate, gay muscle boy Adrien (Rabah Naït Oufella) and her older punky sister Alex (Ella Rumpf). A confirmed vegetarian, Justine balks at being made to eat rabbit kidney for social acceptance, but does so anyway, with drastic effects on her skin. And things get weirder still as she breaks the taboo barrier big time, following what can only be described as a bizarre depilation accident.
Raw's feminist take on body horror is unfailingly confrontational, and it also passes the Bechdel Test with flying colours. Currently urgent themes of young women's body image and the violence of peer pressure are interwoven to smartly provocative effect. As female body horror, this would make a terrific double bill with 2002's Dans Ma Peau, the more artily glacial flesh-eater pic from Marina De Van (in which Lucas also appeared).
Once Justine has decisively given up on her veggie ethic she also embarks on a sexual apprenticeship, while getting some drastic tutoring on college survival from big sis. Her new appetites are predictably hazardous to potential lovers, however, and one outré scene involving blue and yellow body paint ends up with a little red mixed in too.
The film's power stems partly from the disconnect between Justine's feral inner fury and her ostensible vulnerability – there's a significant streak of Carrie in here from the start. The young cast, from the newbie leads to an army of go-for-it extras, are terrific, and Marillier is something else – ferociously expressive in a performance that's no-holds-barred on every front.
Ruben Impens's photography, featuring a string of eerily spacious wide shots, makes the most of the imposingly odd brutalist architecture of the vets' college and the make-up, by Laura Ozier and SFX specialist Olivier Afonso, is at times quite hair-raisingly juicy. All in all, a classily savorous fright tartare.
Production companies: Petit Film, Rouge International, Frakas
International sales: Wild Bunch, ndevide@wildbunch.eu
Producers: Jean des Forêts, Julie Gayet, Nadia Turincev
Screenplay: Julia Ducornau
Cinematography: Ruben Impens
Editor: Jean-Christophe Bouzy
Production design: Laurie Colson
Music: Jim Williams
Main cast: Garance Marillier, Ella Rumpf, Rabah Naït Oufella, Joanna Preiss, Laurent Lucas