Simon Rex plays a conniving former porn star in a showcase role for director Sean Baker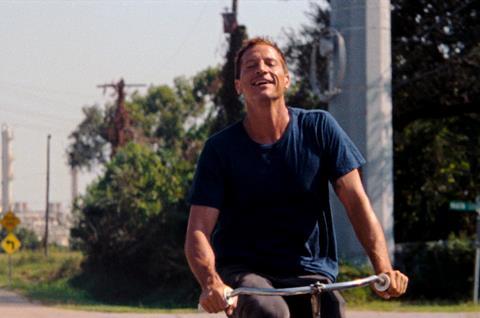 Dir: Sean Baker. US. 2020. 128 mins.
For Red Rocket protagonist Mikey Saber, there are only two types of people: the ones he's used and the ones he's going to use. Simon Rex is terrifically oily as a washed-up Los Angeles porn star who returns to his small-town Texas haunts, not so much to lick his wounds as to plot his comeback. Building off the scrappy beauty of Tangerine and The Florida Project, director Sean Baker again trains his sights on a vivid milieu and a fascinatingly singular character, and much of this well-observed gem's pleasures derive from watching what scheme Mikey will concoct next — and whether he can get away with it.
Keeps the audience glued to the screen
Baker makes his Cannes Competition debut with Red Rocket, which will be released in the US through A24, the home of another recent film about a fast-talking loser, Uncut Gems. The picture doesn't boast big names, but expect Rex, an actor and former MTV VJ, to receive plenty of acclaim for a star-making role that could spark a career renaissance.
Barging back into the life of his estranged wife Lexi (Bree Elrod), Mikey (Rex) announces that he has left Hollywood behind to re-establish roots in his hometown of Texas City. Lexi is none too happy to see him, but Mikey promises to pay rent and help around her rundown home, scoring a job as a pot dealer to earn money. But once Mikey locks eyes on a local donut-shop clerk who goes by Strawberry (Suzanna Son), he believes this 17-year-old could be his ticket back into the porn industry.
Shot during the pandemic on 16mm by cinematographer Drew Daniels, who gives the images a faded glow, Red Rocket evokes the searching spirit of New Hollywood, right down to the inclusion of an anti-conformist lead at war with the establishment. But quickly the audience recognises we shouldn't sympathise with Mikey: underneath his constant patter and ingratiating smile, he's a snake, working every situation to his advantage. Early on, Mikey worms his way back into Lexi's affections, not because he still loves her but because he hopes that by sleeping with her she'll let him share her bed, which is far comfier than crashing on the couch. Throughout, Red Rocket stands in awe of his manipulations — and his shamelessness.
Baker has often focused on impoverished corners of America — never with condescension or scorn — and in Red Rocket he gives us an economically blighted part of Texas that's seemingly been left behind. It's perhaps a little too politically loaded that the film is set in the summer of 2016 — we hear clips from Donald Trump's and Hillary Clinton's campaign speeches — but nonetheless Baker draws a connection between the cynicism and desperation that helped propel Trump to the White House and the small-time deceit that Mikey practices.
Mikey meets his match, though, when he starts spending time with Strawberry, played with just the right amount of coy calculation by Son in her first feature role. Initially, Mikey's interest appears to be purely hormonal, but soon it becomes clear that he sees a business opportunity in this attractive, sexually bold teen. Convinced he can lure her away to LA, where he'll market her as his porn-star protege, Mikey becomes her boyfriend — although he'll learn there's nothing naive about this small-town girl. Mikey and Strawberry have dynamite chemistry, with the added edge that we're never entirely sure who is using the other more to get what they want.
Through the relationship between these two characters, Baker subverts romantic notions of the American Dream, and Mikey in particular is a marvellous portrait of the kind of two-bit conman perpetually trying to sell others on his vision of himself. Whether it's bragging to local burnout Lonnie (Ethan Darbone), who happily drives him around because he thinks it's cool Mikey was in porn, or exaggerating his stardom to Strawberry, Mikey sports the same bluster and petty resentments that Warren Beatty's gambler in McCabe & Mrs. Miller would have appreciated. And like Uncut Gems' Howard Ratner, Mikey keeps compounding his lies, certain that he'll receive his well-earned triumph before his house of cards collapses in on him.
The stakes in Red Rocket aren't as high as they were in Uncut Gems, but Baker craftily builds the suspense as his has-been gets closer to fleeing Texas City. The film becomes convoluted in its final stretches, losing the effortless sweep which that preceded, but even then Rex's masterful turn keeps us glued to the screen. Mikey talks a very good game, which is why it's poetic justice that the film's last shot finds him speechless.
Production company: Cre Film
International sales: FilmNation, nyoffice@filmnation.com
Producers: Sean Baker, Alex Coco, Samantha Quan, Alex Saks, Shih-Ching Tsou
Screenplay: Sean Baker & Chris Bergoch
Production design: Stephonik
Editing: Sean Baker
Cinematography: Drew Daniels
Main cast: Simon Rex, Bree Elrod, Suzanna Son