Anne Fontaine returns with an implausibly true-life story starring a riveting Finnegan Oldfield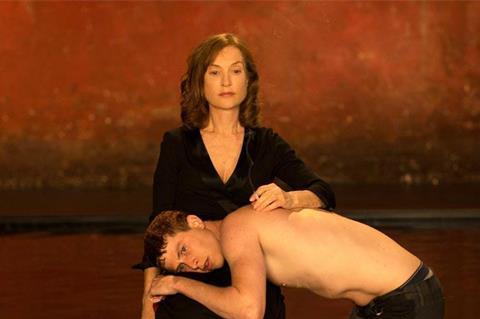 Dir: Anne Fontaine. France. 2017. 113mins
In her 15th film as writer/director, Anne Fontaine (Coco Before Chanel, Perfect Mothers, The Innocents) jumps feet-first into a cascade of clichés made palatable and cumulatively touching by a very fine cast. Finnegan Oldfield is riveting in an ethereal way as the title character, a sensitive soul (wonderfully played as a youngster by Jules Poirier ) born into a sub-poverty-level working class family in a culturally vacant village where smoking, drinking, watching TV, spouting casually racist and homophobic remarks and badmouthing vegetables to defiantly eat fries with every meal are the main pastimes. How Marvin extricates himself from his dead-end origins to connect with his sexuality in Paris circles where he can forge an It-Boy career in the theatre is the creatively told, worthwhile but still hackneyed tale on display in Reinventing Marvin (Marvin).
Nothing is strictly chronological but the thoughtfully crafted puzzle pieces fall into place
French viewers will more easily 'buy' the accumulation of stereotypes as they'll recognise that the film's template has been lifted from the apparently fact-based but controversial autobiographical novel 'The End of Eddy' by the now 24-year-old literary sensation Edouard Louis. Louis legally changed his name from the punchline-ready Eddy Bellegueule (which translates as Eddy Handsome, Eddy being anything but French-sounding). Marvin isn't a French name either and this character's last name, Bijou, translates as Jewels. (It's extremely difficult to legally change one's name in France so the burden of a silly name looms large in Marvin Bijou's transformation into Martin Clement.)
LGBT line-ups and adventurous distribs will take this Jewel for a gem but – however well depicted – just because something comparable really happened doesn't mean it's easy to suspend disbelief before such a surfeit of overly fortuitous twists of fate.
Marvin is a textbook outsider; you want to find and slap the stork who obviously delivered him to not only the wrong address but the most detrimental-to-his-true-nature household in all of France. He is mercilessly bullied at school for being effeminate. When an experienced female classmate takes an interest in him, he fantasises about his male tormentors. He doesn't say much but observes everything around him: from his father Dany (classically trained Gregory Gadebois, touchingly doughy and intellectually inert in full-blown white trash mode) and Marvin's array of siblings – all had too young by his mother (Catherine Salée) who does her best with meagre resources, both financial and emotional.
At the outset Oldfield is brushing his eyebrows in close-up in a mirror in preparation to go onstage. Only later will we understand how Marvin's culturally deprived childhood, ironically, will fuel his rise as a cultural figure to be reckoned with.
Nothing is strictly chronological but the thoughtfully crafted puzzle pieces fall into place. DP Yves Angelo's use of vintage lenses pays off with an otherworldly sheen. New principal Mme Clement (Catherine Mouchet, marvellous) has a hunch that young Marvin might enjoy an after school drama class. Asked to improvise based on a personal experience, usually reserved Marvin proceeds to act out, verbatim, a particularly traumatic scene from his home life. It's a eureka moment. A regional drama academy comes next.
The next decisive piece of Marvin's trajectory is when Abel (Vincent Macaigne), a visiting professor from a similar background gives a guest lecture to Marvin's class. Abel ran away to Paris to reinvent himself and Marvin senses that he might be able to forge a meaningful creative life, to "make a difference out of your difference," as Abel suggests.
A wealthy gay man (Charles Berling, aces) who spots Marvin in a Paris bar is a crucial encounter for the still fumbling taciturn youth from the provinces. Of course, not every gay young man hears his rich older lover say "Marvin, I'd like you to meet Isabelle Huppert" – but this one does and the story ricochets in interesting directions from there.
The message is that if you're true to yourself – and really really lucky – you needn't be hampered by financial or intellectual poverty. Like the young David Bowie in The Man Who Fell to Earth Oldfield (Nocturama, Bang Gang, The Cowboys) brings his near-alien grace to the story.
Fontaine may be the most diligent female director hardly anybody talks about. Her most original films remain the three sweet comedies in her otherwise serious filmography: Augustin (1995), Augustin King of Kung Fu (1999) and Nouvelle Chance (2006). Nathalie (2003) was remade by Atom Egoyan as Chloe in 2010.
Production companies: Ciné@, P.A.S. Productions, F Comme Film
International sales: TF1 Studio sales@tf1.fr
Producers: Philippe Carcassone, Pierre-Alexandre Schwab, Jean-Louis Livi
Screenplay: Anne Fontaine, Pierre Trividic
Cinematography: Yves Angelo
Editor: Annette Dutertre
Production design: Emmanuel de Cauvigny
Main cast: Finnegan Oldfield, Jules Porier, Gregory Gadebois, Catherine Salée, Vincent Macaigne, Isabelle Huppert, Charles Berling, Catherine Mouchet