Jennifer Hudson tries on the role of the Queen of Soul in Locarno's closing film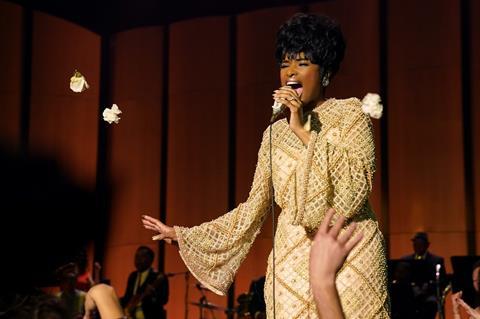 Dir: Liesl Tommy. US. 2021. 144 mins.
The complexity of Aretha Franklin's life and the enormity of her talent would be difficult to synopsise in any one film, but it's especially true in the case of Respect, an overstuffed but undernourished portrait of the Queen of Soul. There's no question that director Liesl Tommy and star Jennifer Hudson have approached this project with reverence, hoping to highlight the late singer's importance both as a cultural figure and a symbol of her era. But the cliches that usually attend such biopics — specifically, the need to simplify an individual's demons and traumas into easily digestible dramatic beats — are especially frustrating here, leaving this overly earnest picture lacking the vibrancy of its dynamic subject.
A highlight-reel approach that reduces meaningful moments to mere stops along her biography
The closing film at Locarno, Respect will open in the US on August 13, with a September 10 release planned for the UK. This is the second major Franklin project this year — a National Geographic series starring Cynthia Erivo premiered in March — but her fans may be interested in a biopic that features plenty of hits and a supporting cast including Forest Whitaker, Marlon Wayans and Audra McDonald. While Hudson's role is the sort that usually prompts Oscar buzz — she previously won Best Supporting Actress for Dreamgirls — the performance may not be large enough to go the distance.
Spanning about two decades, the story follows Aretha from childhood to the beginnings of her chart reign. (Skye Dakota Turner plays her as a girl, with Hudson taking over as an adult.) Grappling with her domineering Baptist minister father CL (Whitaker), Aretha struggles to assert herself, eventually marrying the shady Ted White (Wayans), who becomes her manager but also tries to control her much like her father did. But after years of failing to land a hit record, she takes a chance on working with hungry record executive Jerry Wexler (Marc Maron), who encourages her transition from singing genteel standards to more emotional, soul-infused numbers.
Making her feature debut, Tony-nominated theatre director Tommy envisions Franklin's story as a self-empowerment tale, pinpointing the many obstacles along her path to finding her artistic voice, including losing her beloved mother Barbara (McDonald) right before her 10th birthday and having her first child at the age of 12. Both Franklin's father and first husband had violent tempers — White physically abused her — and she battled alcoholism and depression. Add to that her growing desire to participate in the divisive civil rights movement alongside her good friend Martin Luther King Jr, and it's clear that Franklin wasn't simply a musical force but also a champion for racial and gender equality.
Unfortunately, Respect unsuccessfully interweaves Franklin's personal, political and professional lives, resorting to a highlight-reel approach that reduces meaningful moments to mere stops along her biography. Whether it's watching her come up with a new arrangement for Otis Redding's 'Respect', which will transform it into her signature smash, or seeing her eulogise King in song after his murder, the film rarely digs into these crucial chapters to get a sense of the woman shaped by them.
Portraying Franklin — one of the last century's fieriest singers — is a daunting task, but although Hudson has a powerful voice, she can't come close to embodying the richness and range of Franklin's style. To be fair, perhaps no performer could, but the actress is also hindered by a screenplay that frequently views Franklin more as an inspirational figure than a multilayered person. That impulse to lionise, while laudable, flattens Franklin's fascinating quirks and sizeable ambition, stripping her of what made her such a compelling, complicated artist.
Similarly, the supporting performances are superficial, with those closest to Franklin lacking valuable nuance. Maron brings some nervous energy to his portrayal of the go-getting Wexler, and Wayans ably conveys White's loathsome misogyny, but Whitaker can't do much with CL, who comes across as just one more demeaning, disapproving father.
Tommy is deliberate in her depiction of the slow awakening that occurred for Franklin, who for much of her young life didn't believe she was good enough to succeed without a male figure guiding her. But Hudson can't make her metamorphosis feel triumphant — just like Franklin's later descent into booze feels similar to what we've seen in dozens of previous rise-than-fall biopics. At Respect's end, Tommy features footage of the real Aretha Franklin shortly before her death delivering a towering rendition of one of her greatest hits, '(You Make Me Feel Like) A Natural Woman'. The passion and command on display only further underlines everything Respect can't quite muster.
Production companies: Chislehurst Entertainment, Harvey Mason Media, Glickmania Entertainment
International distribution: Universal Pictures International
Producers: Harvey Mason Jr., Jonathan Glickman, Stacey Sher, Scott Bernstein
Screenplay: Tracey Scott Wilson, story by Callie Khouri and Tracey Scott Wilson
Production design: Ina Mayhew
Editing: Avril Beukes
Cinematography: Kramer Morgenthau
Music: Kris Bowers
Main cast: Jennifer Hudson, Forest Whitaker, Marlon Wayans, Audra McDonald, Marc Maron, Tituss Burgess, Mary J Blige