Sony pick-up centres around a young adoptee who returns to Seoul to reconnect with her roots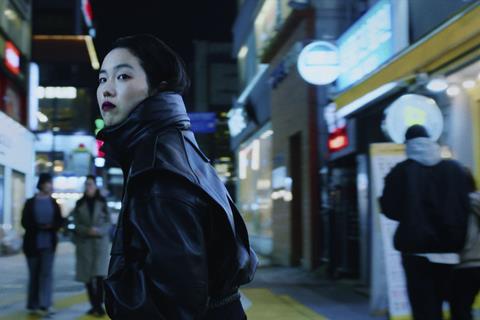 Dir/scr: Davy Chou. France/Belgium/Germany. 2022. 116 mins
Born in Korea and adopted as a baby by a French couple, 25-year-old Freddie (Park Ji-min) decides on a whim to fly to Seoul, with the half-formed idea of reconnecting with her roots in this intriguing and mercurial character study. But it soon becomes clear that Freddie's mission to learn about Korean culture is a two-way journey: she is an agent of chaos who delights in the collision between Korean propriety and her own taste for anarchy and inhibition. Over the course of nearly a decade and a series of awkward meetings with her biological father and, eventually, her mother, Freddie's complicated relationship with the country of her birth, and her adopted status, evolves, but never fully resolves.
A seductive, searching quality and a swell of melancholy which makes for an engaging, if unpredictable journey
This is French-Cambodian director Davy Chou's second feature to screen at Cannes: his first, Diamond Island, showed in Critics' Week in 2016, where it won the SACD Prize and went on to take several more awards on the festival circuit. Like its central character, this film is unconventional, and at times abrasive, but it has a seductive, searching quality and a swell of melancholy which makes for an engaging, if unpredictable journey. Further festival screenings are likely, and this is a picture which, with astute marketing, could connect with a younger arthouse audience. Sony Pictures Classics acquired all rights in North America, Latin America, Middle East, Australia, and New Zealand in advance of the film's Cannes premiere.
A lot rests on the shoulders of non-professional actress Park, who delivers in spades. She fully inhabits the skin of Freddie, a free spirit who hides her vulnerability and anger behind a derisive smile and layers of rabble-rousing provocation. She gets her own musical motif, a snaking rhythm played on bass and drums, which sounds as though it was borrowed from post punk goth rockers Bauhaus and positions Freddie as a creature who prefers to play at night. There is a magnetism to the character which attracts people, as well as mayhem – she has no sooner checked into her Seoul guest house before she has struck up a friendship with Tena (Guka Han), a demure hotel worker who speaks French fluently but struggles to understand Freddie's appetite for disorder.
Almost by accident, Freddie contacts the agency which organised her placement with her adoptive family. She learns that her original name translates, somewhat ironically, as "docile and joyous" and that her father (Oh Kwang-rok) and his family are eager to meet her. It's not an entirely harmonious encounter. Freddie simmers and sulks, her father "spews sorrow". "It's the way of Korean men," explains Tena.
The structure of the film can feel a little disjointed and disorientating, jumping forward several years at a time and finding Freddie's identity shifting markedly with each encounter. She is a twenty-something party girl, a pilled-up club kid with a tattoo artist boyfriend, a steely businesswoman in the process of being head-hunted by an arms dealership, a hiker communing with the wilder fringes of the land. But while it takes some getting used to, this interrupted timeline works rather well, capturing the false starts of Freddie's identity and a life which can't quite move past the fact of her adoption.
Production companies: Aurora Films, Vandertastic, Frakas Productions, Merecinema
International sales: MK2 Films intlsales@mk2.com
Producer: Charlotte Vincent
Cinematography: Thomas Favel
Editing: Dounia Sichov
Production design: Bo-Koung Shin, Chi-Youl Choi
Music: Jérémie Arcache, Christophe Musset
Main cast: Park Ji-min, Oh Kwang-rok, Guka Han, Kim Sun-young, Yoann Zimmer, Louis Do De Lencquesaing, Hur Ouk-sook, Emeline Briffaud, Lim Cheol-hyun, Son Seung-beom, Kim Dong-seok