Lola Quivoron's full mileage motocross movie proves she is a director with potential to burn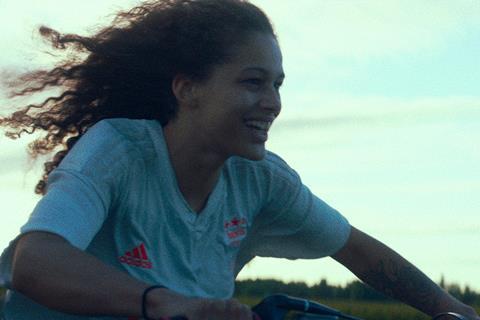 Dir: Lola Quivoron. France. 2022. 104 mins
It may not actually be a Western, but Rodeo certainly isn't short on a triumphant 'yee-haaaa!' factor. This punchy French feature debut doesn't break any formal mould as a realist working-class drama in a familiar post-Dardennes vein, but writer-director Lola Quivoron takes the form and makes it hers, infusing it with some dynamic motorbike action sequences. This, together with a take-no-bullshit feminist message and a terrific lead by newcomer Julie Ledru – fronting an impressive, mainly non-pro cast – will give Rodeo both commercial and festival traction, and place Quivoron high on this year's list of new directors with potential to burn.
Quivoron emerges as a formidably kinetic director, who could easily have a career making pedal-to-the-metal action movies
Quivoron previously made a documentary mini-feature Headshot: Roulette Russe (2020), co-directed with Antonia Buresi, who returns here as co-writer and actor; she has also made several shorts, including 2016's Au loin, Baltimore, whose motocross theme gets full mileage here. The drama kicks in furiously with a hand-held sequence in which a young woman, Julia (Ledru), defiantly faces down several young men from her banlieue housing estate, who are trying to hold her back from following her own direction. That direction involves getting herself a fancy motorbike – which she does through a smoothly-executed confidence routine which results in her blazing ecstatically down the highway on a stolen Honda. She then drops in at a 'rodeo', an illegal motocross meet in which young bike fanatics do crazed stunts – dynamically shot in restless widescreen by Raphaël Vandenbussche.
This is a very male world, and most of the guys present are hostile to a woman on wheels; exceptions are simpatico Kais (Yanis Lafki) and daredevil Abra (Dave Nsaman), who teaches Julia some key moves. The meet wins up badly for some, but Julia – riding under the name Inconnue (Unknown) - ends up hanging out with Kais's B-More crew, and moving in at the 'chop shop' garage owned by imprisoned gangster Domino.
Before long, Domino gets wind of Julia's exceptional talent for conning gullible punters out of their rides, and his patronage makes her some serious enemies among the hyper-macho clan. Meanwhile, Julia is assigned to help out Domino's wife (co-writer Buresi) and discovers that she and young son Kylian (Cody Schroeder) are essentially prisoners of the absent boss man.
Quivoron nudges us into expecting a romantic intrigue to emerge at some point, but when it does, it's not from the direction hinted at – not entirely unpredictably, given the uncompromising statement of female agency that Rodeo presents.
The big payoff is a daring heist masterminded by Julia, involving quad bikes and a speeding lorry – and, while the film could easily have made an awkward, implausible transition here into pure genre (The Fast and la Furieuse!), Quivoron pulls it off nicely. She is also judicious in using the bike action sparingly throughout: these sequences are credited to an outfit called LM Stunt, whose Mathieu Lardot has transatlantic form on movies including Spectre, Jason Bourne and Jacques Audiard's Dheepan.
Casting director Julia Allione pulls off a terrific coup recruiting the film's hard-edged young non-professionals – who, in addition to their strong on-screen characters, very much convince as the rubber-burning real thing. In the lead, Ledru registers as an abrasive force of nature, her presence – switching mercurially between mean, moody and all-out exuberant – recalling the hard-boiled charisma of Michele Rodriguez in her debut Girlfight, or Sasha Lane in Andrea Arnold's American Honey. Rodeo is also of a kind with tough-girl movies like Céline Sciamma's Girlhood (which similarly explored fluid gender identity) and Rebecca Zlotowski's own bike-themed debut Belle Epine/Dear Prudence.
The film's only serious flaw is that Julia's culminating moment of truth is so bizarre that it seems to belong to another film entirely; but what comes before is so confident and compelling that Quivoron manages not to blow her credit here. Overall, she emerges as a formidably kinetic director, who could easily have a career making pedal-to-the-metal action movies - although her way with character and deep-dive exploration of working-class subculture suggest that she is way too individual to take a straight generic path.
Production company: CG Cinéma
International sales: Films du Losange, a.lesort@filmsdulosange.fr
Producer: Charles Gillibert
Screenplay: Lola Quivoron, Antonia Buresi
Cinematography: Raphaël Vandenbussche
Editing: Rafael Torres Calderon
Production design: Gabrielle Desjean
Music: Kelman Duran
Main cast: Julie Ledru, Yanis Lafki, Antonia Buresi, Cody Schroeder, Louis Sotton