A new housemate is packing quite a lot of luggage in Michael McCartney's horror/comedy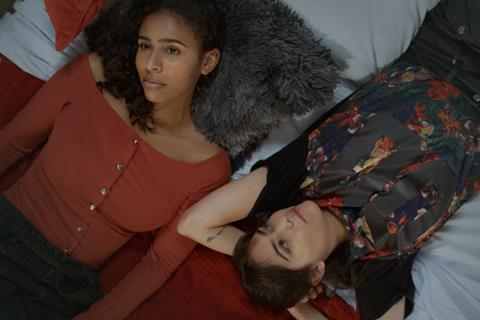 Dir: Michael McCartney. US. 2020. 90mins.
In the horror/dark comedy Roommate Wanted, a young woman brings in a sweet, unassuming tenant to help her and her friends cover the rent, only to discover that he has baggage — and multiple personalities. The feature-length debut of writer-director Michael McCartney is as much a celebration of horror tropes as it is a faithful regurgitation of them, referencing everything from Dr. Jekyll And Mr. Hyde to The Silence Of The Lambs with a noticeable playfulness. But this low-budget picture isn't particularly deft in terms of its scares or humour, resulting in a standard slasher film which lacks the killer instinct of its forebears.
McCartney seems to be constructing a commentary on the evil lurking behind the smiling face of nondescript straight white men
Now screening as part of the Bahamas International Film Festival, Roommate Wanted will hope to attract viewers thanks to its familiar roommate-from-hell premise, which might not compensate for the lack of stars. Further virtual festivals — specifically those geared to genre fans — will be the picture's best option.
Set around Halloween, McCartney's story stars Angelique Sabrina White as Maria, a closeted, insecure Californian who's in love with her friend Kate (MJ Garcia), a fact she keeps secret from her spacey roommate Ricky (Ricky Cruz) and his live-in girlfriend Lucy (Isabela Valotti). But after their other roommate is found dead under mysterious circumstances, Maria, Ricky and Lucy must find a new tenant to split the rent on their house, which is how they meet the nerdy, straight-laced Dean (Jack Shulruff), who works in tech and values his privacy. Initially, Maria thinks he'll be a great roommate … but she becomes concerned when she notices his luggage is addressed to someone named Vlad.
McCartney seems to be constructing a commentary on the evil lurking behind the smiling face of nondescript straight white men like Dean, who will eventually reveal himself to be a disturbed, enraged individual. Shulruff has a little fun rifling through Dean's various personalities — including a horny party animal who calls himself Charlie — but in comparison to the flamboyant showmanship that, for instance, James McAvoy brought to a similar villain in Split, the performance feels too superficial to be properly unnerving.
Likewise, White is sympathetic as a person trying to find herself — and be comfortable enough with her sexuality to declare her love to Kate — but that small amount of character shading isn't enough to make her a compelling dramatic figure. Serving as the film's comic relief, Cruz and Valotti play an overly affectionate couple who are a broad satire of the most hippie-ish qualities of California denizens, but McCartney's script isn't witty enough to land its jabs.
Much of Roommate Wanted is filmed during the day, an interesting twist on the usual horror movie, in which the terrors strike at night. But McCartney doesn't effectively stage his scare sequences, leaving Shulruff to stare menacingly while brandishing a knife. For all the picture's nods to horror classics — not to mention a few allusions to the loss of privacy endemic to our plugged-in, cameras-everywhere reality — it never feels particularly electrified by its genre trappings or thematic ideas.
Even when Roommate Wanted makes it obvious from the start that Dean isn't as innocent as his passive exterior suggests, the film doesn't derive much glee from teasing us with the possibilities of what's going on — or in eventually unpacking Dean's warped mind. Consequently, Roommate Wanted mostly takes up residence in other films' legacy, fearful of making itself at home or tackling any renovations.
Production company: The Group Entertainment
International sales: virtualmccartney@gmail.com
Producers: Gill Holland, Sholpan Murabuldayeva, Michael McCartney
Production design: Melissa Sullivan
Editing: Dmitry Labzin
Cinematography: Konstantin Frolov
Music: Tree Adams
Main cast: Angelique Sabrina White, Jack Shulruff, MJ Garcia, Ricky Cruz, Isabela Valotti