Impressionistic documentary collage about writer Barry Gifford and his Chicago hometown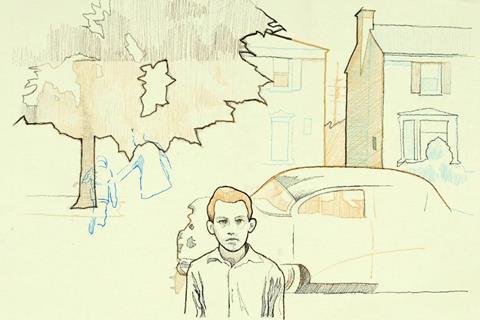 Dir: Rob Christopher. USA. 2019. 75mins
Impressionistic and slippery, this documentary collage is both a portrait of a man – the writer Barry Gifford, best known for penning the novel which was adapted into Wild At Heart and for co-writing, with David Lynch, the screenplay for Lost Highway – and of a place, Chicago. Both are filtered through a lens of outlaw exoticism. Opening with a quote from William Faulkner, "The past is never dead. It's not even past," the film brings Gifford's past to life through vivid use of neon-drenched archive footage of 50s Chicago and excerpts from his semi-autobiographical 'Roy' stories. Rather than something dead, it feels like a parallel underworld.
The personality of the city is stamped on the film through its extensive use of vintage footage
Gifford's cult status as a writer should draw further attention to the film which, with its jazzy experimental approach, is tailor-made for the festival circuit. Theatrical interest is not out of the question: the film could connect with a similar audience to that of Harry Birrell Presents: Films Of Love And War, a Glasgow Film Festival premiere from last year. Life on a streaming platform is, however, more likely.
Gifford's early childhood, spent trailing in the wake of his beauty queen mother and gangster father, unfolded in Chicago, Cuba and New Orleans. His writing draws on these experiences. The Roy Stories (2013), which form the basis for much of this film in narrated passages read by Willem Dafoe, Lili Taylor and Matt Dillon, were closely based on his own life. But, as Gifford himself cautions, they are still fictional. The fact that the kernel of truth is wrapped in a layer of mythology is appropriate: the city of Chicago is a locality which lends itself to extremes and exaggerations. In its exponential growth as a city, its weather, its swaggering lawlessness, it is a place which feels like a character in the film noirs that have influenced Gifford's writing.
The personality of the city is stamped on the film through its extensive use of vintage footage – it was produced with the cooperation of the Chicago Film Archives. Director Rob Christopher is drawn to the visual drama of Kodachrome nightscapes, saturated in turquoise shadows and tantalising, forbidden scarlets. Elsewhere, the footage takes on an almost abstract quality: the editing, by Marianna Milhorat, is sensual and expressive. Adding to the grungy, down-at-heel glamour of the visuals is a terrific jazz score, heavy on sleazy brass and vibraphone.
Roy's World also employs animated segments, to gorgeous effect. The extended sequence which accompanies a story titled 'Bad Girls' is particularly striking, and could easily work as a standalone short film. And this, perhaps, is the main issue with the film; it is episodic, a little disjointed. The individual chapters — dealing with anecdotes about a father's jealousy, a mother's shame in being a divorcee — are sharply focused little snapshots of a life, vividly realised. But they don't quite tie up into a coherent whole, the focus of the film increasingly torn between the man and the city he ultimately rejected and left as a young adult.
Production company: Arrenem Films
Contact: roysworldfilm@gmail.com
Producer: Rob Christopher, Michael Glover Smith
Editing: Marianna Milhorat
Animation: Lilli Carré, Kevin Eskew
Music: Jason Adasiewicz
Features: Willem Dafoe, Lili Taylor, Matt Dillon