Eye-popping Hungarian animation about a psychotherapist turned art thief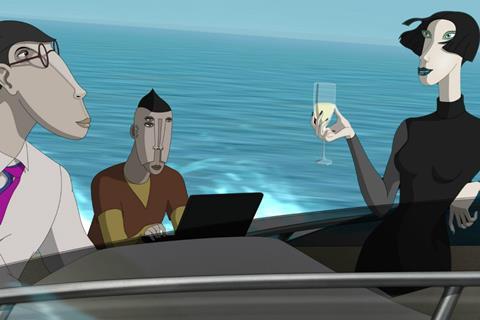 Dir: Milorad Krstić. Hungary. 2018. 94mins
The screenplay for this immensely enjoyable animation is as agile and audacious as stunt person-turned-cat burgling art thief Mimi (voiced, in a vampish purr, by Gabriella Hámori); a key character in the story. And the art direction is, if anything, even more accomplished – this is a limber circus act of a film which catapults us through a multitude of cultural references from the world of art and cinema. A first feature from painter and multimedia artist Milorad Krstić, this is a film which fizzes with originality, one which works both as a pacey thriller and a playfully surreal intellectual exercise.
This is a film which will reveal more with each subsequent viewing
Slovenian-born Krstić, who has lived and worked in Hungary since 1989, is a versatile artist working in a broad variety of disciplines. His most notable previous foray into animation was with short My Baby Left Me, which won the Silver Lion in Berlin in 1995. This strikingly distinctive feature should deftly sidestep reservations about the marketability of adult-themed animation, generating plenty of interest with arthouse distributors, and is likely to be snapped up by other festivals.
It's hard to fault the first 30 minutes or so, which introduces world famous psychotherapist Ruben Brandt (the name, culled from Rubens and Rembrandt, is just one of a multitude of playful references). A specialist in treating the artistic temperament, Brandt is himself tortured by nightmares in which he is attacked by characters from famous paintings. A brilliant opening sequence which combines aesthetic nods to Art Deco travel posters with the overheated night terrors of Luis Bunuel shows the Infanta Margarita by Velazquez sinking her teeth into his arm.
This is swiftly followed by a giddily inventive chase sequence which pits kleptomaniac art thief Mimi against private detective and movie memorabilia obsessive Mike Kowalski. The reference to Vanishing Point in the character's name gives some indication of the breathless thrills of a cross-Paris car chase; the sharp-eared will recognise an engine sound lifted from Claude Lelouch's seminal short film, C'était un rendez-vous. Every frame is crammed with sly nods to art and cinema; this is a film which will reveal more with each subsequent viewing.
Thanks to a tendency to go off-piste during theft assignments, Mimi finds herself with a price on her head. She seeks help from Ruben, whose avant garde therapy techniques we witness in a campfire chant based on the theme of Little Red Riding Hood. Light-fingered Mimi soon snatches Brandt's dictaphone, into which he recounts his nightmares. Working on the theory that you need to 'possess problems in order to conquer them', Mimi recruits three fellow patients to help Brandt. They embark on a crime spree, stealing the priceless artworks that haunt the doctor in his dreams.
The pace dips a little after the first dizzy onslaught of action, but this is not to the detriment of the picture. A modicum of space in the story allows us to appreciate more fully the seductive oddness of the Picasso-infused character design and the wit of the dialogue. The score, a combination of lush orchestral motifs and an eclectic mix of silky cover versions and 60s British beat pop standards, is as maverick in its approach as the eye-popping animation.
Production company: Ruben Brandt Production Lld
International Sales: HNFF World Sales; kati.vajda@filmalap.hu, marta.benyei@filmalap.hu
Producers: Péter Miskolczi, Hermina Roczkov, Radmila Roczkov, János Kurdy-Fehér, Milorad Krstić
Screenplay: Milorad Krstić, Radmila Roczkov
Production Design: Milorad Krstić
Editing: Milorad Krstić, László Marcell
Cinematography: Milorad Krstić, László Marcell
Music: Tibor Cári
Main voice cast: Iván Kamarás, Gabriella Hámori, Zalán Makranczi