Dir: Dominique Abel, Fiona Gordon, Bruno Romy. 2008. Belgium-France. 77mins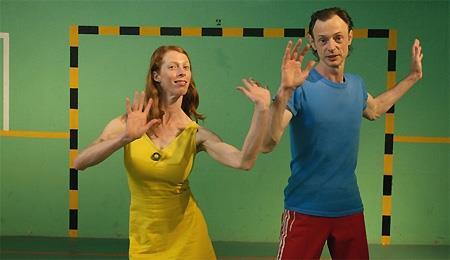 The gifted trio behind 2005's near-wordless burlesque romp L'Iceberg avoids the second film slump with excellent comic posture in Rumba. Two gangly yet graceful lovebirds with a mutual passion for latin dance find their physical complicity sorely tested after a tragic-comic car accident leaves her with one leg and him with amnesia. Adding well-placed dollops of dialogue to carefully-calibrated movement-based gags, Rumba's film-maker-performers have constructed a consistently droll, slightly surreal and entertaining universe.
This offbeat comedy, properly handled, could improve on the modest returns of its equally whimsical predecessor as the reputation of these three principals grows. They have a distinct style that's less melancholy but closely related to the slow burn of Aki Kaurismaki crossed with a taste for seemingly effortless physical humour.
Fiona (Gordon) and Dom (Abel) live a blissful life in their tiny house which is adorned with their countless dance contest trophies. The picture of contented middle-aged romance fuelled by an enduring youthful spark, they complement each other perfectly, even brushing their teeth in orchestrated tandem.
The film's mixture of childish playfulness and adult concerns is instantly established from the opening frames. Lanky, benevolent English teacher Fiona draws a dog in chalk on the blackboard and then leads her pupils through an increasingly silly deadpan litany of
sentences about the pup, while outside the window, Dom leads his students through free-wheeling calisthenics. When school is over for the day, the kids run out waving their arms and yelping for joy. A few comic beats go by - and then the faculty rushes out yelping and waving, equally relieved that school's out.
Fiona and Dom practice a sprightly dance routine and, after several amusing set-backs involving their wardrobe, make it in the nick of time to a local dance contest. Swerving their car on the way home to avoid hitting an incompetent would-be suicide (Martz), the couple awake in a hospital with their lives forever changed.
Dom has total amnesia. Eve ry experience, including being introduced to his wife, is brand new. But that isn't necessarily an impediment to love. It may, however, be an obstacle to gainful employment; Dom's lack of appropriate filters results in an unconventional school outing. Fiona's wooden leg has its own problems.
The characters show serial gumption, coping with problems and creating new ones. A fight to the death over a piece of pastry and a beach front snack stand's strict policy against several categories of snack prove instrumental. A modest genius for comic framing and a gift for conjuring expedient ellipses infuses the proceedings. And candy-coloured, amusingly dressed sets sweetly re info rce the antics.
The central protagonists as well as other tangential characters are their bodies as surely as the characters in talky French chamber dramas are their intellects. Aside from the considerable comic mileage the cast wrings from perfectly controlled muscle and sinew, the underlying message - as with pioneers Chaplin, Keaton or Jacques Tati - is that
our feelings live in our physical packages whatever shape they may be.
The film uses nifty special effects - shadows temporarily unhooked from their owners, process shots to enhance human scale against the landscape - to up the ante on fine-tuned incongruity.
Production companies
Courage Mon Amour
MK2
French distributor
MK2 Diffusion
International sales
MK2
(33) 1 44 67 30 76
Producers
Dominique Abel
Fiona Gordon
Marin Karmitz
Nathanael Karmitz
Charles Gillibert
Screenplay
Dominique Abel
Fiona Gordon
Bruno Romy
Cinematography
Claire Childeric
Production design
Nicolas Girault
Editor
Sandrine Deegen
Main cast
Dominique Abel
Fiona Gordon
Philippe Martz
Clement Morel
Bruno Romy