Toxic masculinity and its lethal consequences in a New Zealand street gang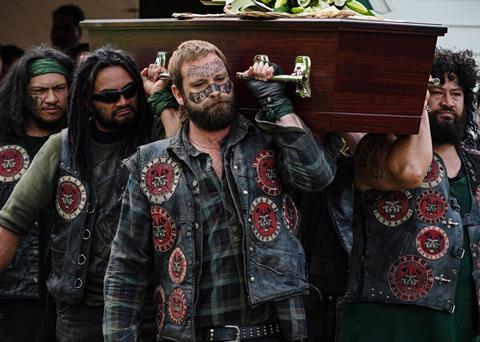 Dir/scr: Sam Kelly. New Zealand. 2019. 101 mins
The apple never falls far from the tree in Savage, a bruising exploration of a New Zealand gang member and the factors that have shaped his life. Writer/director Sam Kelly's first feature has a confident swagger but the material can feel overly familiar as he serves up a suitably grim riff on toxic masculinity and its lethal consequences. Comparisons with the ground-breaking Once Were Warriors (1994) seem inevitable but Savage isn't quite in the same league.
Kelly never entirely pulls off what feels like his attempt at a Maori excursion into Scorsese territory.
Like Kelly''s admired short Lambs (2011), Savage is inspired by true stories of New Zealand's street gangs. It begins in 1989 with a swirl of snarled expletives and macho posturing as we are introduced to Danny (Jake Ryan). A burly brute of a figure, Danny has the word 'savages' tattoed on his forehead with the Maori word 'poneke' spread over the bridge of his nose and face. He is the loyal enforcer of Moses (John Tui), the leader of a rough, tough gang who look as if they have watched the Mad Max series far too many times.
Efficient in his violence and shut down at any possibility of a relationship, Danny has a long history with Moses. Kelly subsequently unfolds lengthy flashbacks to two key moments in his life. In 1965, Danny (played as a child by Olly Presling) and his family are at the mercy of a volatile father who punishes the slightest defiance with a sound thrashing. Theft and delinquency see Danny sent to a vicious borstal where extreme physical discipline is matched by sexual abuse. Moses (Lotima Pome'e) is his one friend and ally, urging him to show no sign of weakness.
In 1972, Danny (now played by James Matamua) is one of the Savages under the leadership of Moses (Haanz Fa'avae Jackson). His loyalty is unquestioning and his future seems set until an encounter with a rival gang whose members include his brother Liam (Jack Parker).
Throughout Savage, Danny is seeking a sense of the family he has felt obliged to abandon. His identity is wrapped up in his loyalty to Moses and the legacy of his heartless father's iron rule. By the time we return to 1989, the pressure to decide who he really is and where he belongs has grown irresistible.
There are some interesting themes woven throughout Savage but the story itself never feels as raw or real as might have been expected. Danny's father is given little screen time to establish the suffocating force of his particular personality. The borstal is a predictably grim hell hole. The position of a white Danny in a predominantly Maori gang is rarely explored. The conflict between tribal loyalty and family ties tends towards the sentimental with Danny carving a notch in the fence surrounding the family home every time he makes a clandestine visit.
Kelly and cinematographer James L. Brown give Savage a gloomy look with a succession of dark interiors filled with shadowy menace. There is precious little light in Danny's world. There is style in the general execution with Kelly using slow-motion to underline a point and theviolence is jarring as lives are ended with a lethal hammer blow or a flurry of punches and kicks.
There is a good deal of promise and ambition on display here, but Kelly never entirely pulls off what feels like his attempt at a New Zealand excursion into Scorsese territory.
Production companies: Avalon Studio Productions, Park Road Post Productions, Film Constellation
International sales: Film Constellation sales@filmconstellation.com
Producer: Vicky Pope
Production design: Chris Elliott
Editing: Peter Roberts
Cinematography: James L. Brown
Music: Arli Liberman
Main cast: Jake Ryan, John Tui, Chelsie Preston Crayford