Israeli drama of a tense father-son relationship by first-timer Matan Yair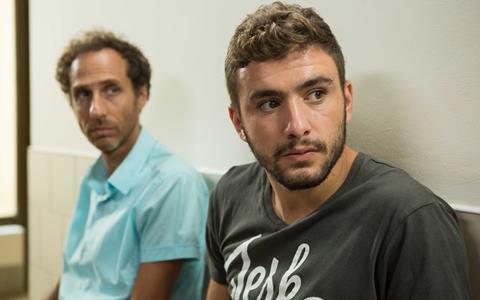 Dir/scr: Matan Yair. Israel/Poland. 2017. 93min
Israeli teacher-turned-filmmaker Matan Yair mines his own experiences for Scaffolding, bringing depth and poignancy to what could have otherwise been a familiar tale. Through the experiences of conflicted teen Asher, who finds himself caught between his own desires and those of his father, writer/director Yair says a great deal about the relationship between ambition and opportunity as well as fathers and sons.
At its core, Scaffolding is a sharply drawn study of the father-son dynamic
A small film with a big heart, Scaffolding's strong message and central performance from striking newcomer Asher Lax — one of Yair's real-life students and the inspiration for the film — should bring it more festival play following its premiere in the Association for the Diffusion of Independent Cinema (ACID) showcase at Cannes. Its limited scale may make theatrical prospects for this Hebrew-language film less straightforward outside its homeland, but audiences interested in works from the region could see it do well on other platforms.
Seventeen-year-old Asher (Lax) is, to put it kindly, a troublemaker; impulsive, smart-mouthed and prone to angry outbursts, he's coasting his way through high school. His laid back attitude is facilitated by the fact that his father, Milo (Yaacov Cohen) actively discourages Asher's scholastic pursuits, insisting instead that he take over the family's scaffolding business. When Asher comes into contact with gentle literature teacher Rami (Ami Smolarchik), however, he finds both a kinship and a chance to expand his horizons; until a sudden tragedy forces him to grow up, fast.
Comparisons with other hero-teacher narratives like Dead Poets Society are obvious, but the particular challenges of being an adolescent in a place of limited options gives Scaffolding an edge that removes any trace of sentimentality. In the small town of Herzliya, just north of Tel Aviv, there's a sense that even the teachers — particularly those who genuinely care, like Rami — know that once their students leave school, they are unlikely use their education in any meaningful way.
That's particularly true for challenging kids like Asher who are, even with the best educational will in the world, likely to fall through the cracks. There's no judgement here, though: Matai presents the reality of the situation in matter-of-fact terms, and Milo's desire for Asher to take over a successful family business is never painted as a lesser path. The real issue here is that kids like Asher are funneled into lives they don't necessarily want through lack of options.
At its core, Scaffolding is also a sharply drawn study of the father-son dynamic; highlighted by teachings of thematically appropriate Greek tragedies and works by Chekhov, the only heavy-handed moments in an otherwise impressively sensitive film. Milo's active quashing of his son's desire to learn — which runs from verbal abuse to the occasional slap — is not only an interesting twist on the usual format, but also hints at the difficult, and possibly violent, relationship the two have shared. (That Asher's mother has recently left with her new boyfriend may well be another clue).
Stylistically, Scaffolding is well constructed to represent Asher's journey to (near) enlightenment. As befits such an intimate journey, the camera remains tight on him throughout, his face filling the screen in moments both of rage and reflection. Early introductory sequences are short and punchy — we see him constantly in motion; playing football, getting drunk — vignettes of a life lived entirely in the moment. As Rami begins to get under his skin, however, sequences grow longer and Asher spends more time at rest, head in a book or discussing bigger issues with his friends. These remain punctuated by moments of unbridled aggression, leading to a confrontation of sorts between father and son that's deeply moving in its restraint.
Production company: Green Productions, Film Produkcja, United King Films
International sales: New Europe Film Sales jan@neweuropefilmsales.com
Producers: Gal Greenspan, Roi Kurland, Stanislaw Dziedzic, Moshe Edery, Leon Edery
Cinematography: Bartosz Bieniek
Production design: Nitzan Zifrut
Editor: Dov Steuer
Music: Yishai Adar
Main cast: Asher Lax, Ami Smolarchik, Yaacov Cohen