Two adult sisters struggle with changes in their relationship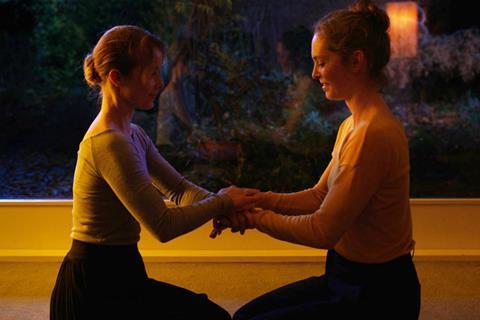 Dir/scr. Katinka Narjes. Germany. 2018. 82 mins
With images ablaze in vivid reds and moody blues, Sirens (Nixen) is a film of passion and melancholy; of the ties that bind and the feelings that can't be shaken. A sensitive drama about two grown Berlin sisters grappling not only with the usual markers of well-established adulthood, but also with the fact that their lifelong relationship is evolving, it's an almost-ethereal effort, steeped in the emotions and uncertainties of its struggling siblings. But, and not to its benefit, writer/director/editor Katinka Narjes' first feature is also feather-light.
The film's use of colour is overstated, but it relays the requisite sentiments in a resounding fashion.
Premiering in Munich's New German Cinema program, there's enough that engages while Sirens unleashes its heartfelt melody; however, the moment this brief 82-minute feature stops rolling, its tune hardly echoes. Outside of the film's home turf, interest is far from assured — although the movie's vision of female arrested development could resonate with audiences unaccustomed to more mercurial takes, even if the narrative doesn't always feel fully formed.
Like film, like characters. Ava (Odine Johne) is listless around her boyfriend Alex (Roland Bonjour), and Nene (Lucy Wirth) dotes as much on her sister as her own pre-teen daughter Sabrina (Emelie Harbrecht). Here, three is definitely a crowd, with Alex silently but obviously resentful that life with his girlfriend always comes with company. Ava and Nene also work together, in a waitressing job that their judgmental mum believes is beneath them. Moreover, the pair will also sing together if Nene gets her wish — trying to relive their younger years as a performing duo by booking them a hotel gig.
Alas, from Ava's brittle refusal to speak to their mother on the phone, to her less-than-receptive greetings when Nene meets her at their usual spot on the way to work, to her growing indifference to Alex's concerns about their romance, something clearly isn't right. And yet, Ava can't and won't convey her worries, even with Nene always on hand to help. Indeed, faced with life-changing circumstances, she decides that she literally can't move on. While Narjes' method of making this plain is a tad convenient — leaving the sisters and Sabrina in limbo in a safe space — it makes for an apt metaphor.
Still, the feature debutant's script presents Ava's state and Nene's response more than it probes them, in a symptom of the story's slightness. It's in the director's decisive eye for composition and deft sense of tone that Sirens shows its depths. The film's use of colour is overstated, but it relays the requisite sentiments in a resounding fashion. As visual symbols of the sisters' swirling emotions — of Ava's hot-and-cold reactions to both Nene and Alex over time — it's effective shorthand. And, as aesthetic flourishes in particularly meticulous frames, the hues enliven cinematographer Carmen Treichl's (another feature first-timer) otherwise light and airy images.
It's a credit to Johne and Wirth alike that viewers still feel the siblings' turmoil — or, more than that, the lure that each sister represents for the other. With quietly expressive performances, both actresses paint portraits of women on the verge of a revelation that neither really knows is coming, although it's Wirth's efforts as the increasingly overlooked party that resonates most strongly.
A deft jazz score by composer Kessler Schwarz also plays its part in fleshing out the film's emotional landscape, but it's no siren song. Rather, Sirens seduces in its mood, visuals and performances, though its allure fades slowly rather than reverberates.
Production company: Deutsche Film- und Fernsehakademie Berlin
International sales: Deutsche Film- und Fernsehakademie Berlin, info@dffb.de
Producers: Sabine Schmidt
Production design: Daina Kasperowitsch
Editing: Katinka Narjes
Cinematography: Carmen Treichl
Music: Kessler Schwarz
Cast: Odine Johne, Lucy Wirth, Roland Bonjour, Emelie Harbrecht