Dir: Pedro Aguilera. 2017, Spain/Colombia, 2017. 94 mins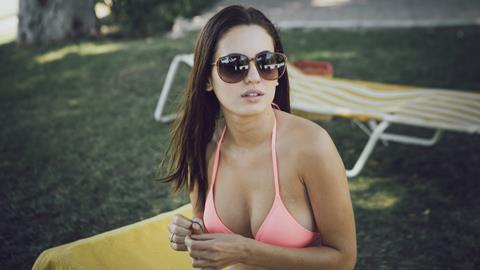 Sibling incest, camcorder voyeurism, even a splash of mud-soaked bondage - if this doesn't make for heady, riveting psychodrama, heaven knows what will. But Sister Of Mine, though confidently executed, comes across as a solemn damp squib; all the more disappointing because Spanish director Pedro Aguilera made such a striking debut with his austere Carlos Reygadas co-produced 2007 drama La Influencia.
The film doesn't have much more to offer in the way of psychological insight.
His third feature contrives to be sleekly arty with a hint of mainstream appeal, but it never quite convinces either as brainy melodrama or as an exercise in the cinema of transgression. Theatrical prospects are modest, although a thematic whiff of brimstone won't harm its festival chances.
Oliver (Julio Perrillán) is a film director who has been living in Los Angeles but is now returning to Spain with his life, apparently, in a mess - as evidenced by an opening scene on a train, in which he has a terse exchange with his bohemian girlfriend Karen (Susana Gil), while doing an improbably soul-baring interview with a journalist (an off-screen appearance by Variety scribe John Hopewell). Soon after, Oliver is watching online porn when he comes across a familiar face; his beautiful, younger half-sister, student Aurora (Pan's Labyrinth discovery Ivana Baquero).
Reunited with the sunny-natured Aurora, Oliver takes a highly inappropriate interest in her private life. Hiding a webcam in her bedroom, he spies on her, vignetted in an oval-shaped frame, as she lolls around in skimpy undies and/or cropped T-shirt (the film habitually, and uncomfortably, objectifies Aurora as a sexy nymphet).
Apparently through with sex after an intense relationship with her ex, Aurora has been giving the brush-off to boyfriend Carlos (Nicolas Coronado). But, after a night doing coke and getting most unsisterly with Oliver, Aurora sees her brother's spy footage - leading her to put on a show for his benefit, with an unwitting Carlos as co-star. Things come to a head at a picnic, during which an earnest film buff insists that Oliver make a film about "the loss of trust"; no wonder he and Aurora sneak into the woods for some familial quality time.
Sibling incest has fascinated numerous film-makers, including Bertolucci (The Dreamers) and Leos Carax (Pola X), but it can be a narrative challenge to make believable in a realistic setting. Here the problem is compounded by Aguilera's insistence on transgressiveness of all sorts, the incest becoming just another menu item alongside voyeurism, exhibitionism, webcam porn and muddy bondage (with an overt nod to Ruggero Deodato's controversial Cannibal Holocaust).
Eccentrically shot in Academy ratio, but otherwise - those 'vignette' shots notwithstanding - visually fairly functional, Sister Of Mine never shakes off a numbing gloss of lifestyle cool. Part of the problem is the somewhat self-consciously wolfish Perillán: he gives a creditable performance, yet his rockstar-like demeanor makes the persona overshadow any substance as a character.
It's always a sign that a film's trying too hard when characters sniff coke off the cover of a Knut Hamsun paperback, and Sister Of Mine never rises above a baseline of modish chic. And the script can be crushingly banal: Aurora describes her brother to a therapist as "dark" and "mysterious", but the film itself doesn't have much more to offer in the way of psychological insight.
Nevertheless, the acting is high quality, with Baquero's ingénue vigour bringing a definite energy, while Gelabert gives the film's best performance as Aurora's disapproving mother. While the Spanish Demonios tus ojos roughly translates as 'Your Demon Eyes', The Psychedelic Furs' song 'Sister Europe' supplies the English title, and is heard frequently, along with The Fall, plus The Seeds' 'Pushin' Too Hard' - which you could say about the way the film touts its own rebel credentials.
Production companies: Ciudad Lunar Producciones, Carmelita Films
International sales: Stray Dogs laura@stray-dogs.com
Producers: Pedro Aguilera, Cristina Gallego, Antonello Novellino, Jorge Manrique Behrens
Screenplay: Pedro Aguilera, Juan Carlos Sampedro
Cinematography: Miquel Prohens
Editor: Imanol Ruiz de Lara
Music: Richard Córdoba
Main cast: Ivana Baquero, Julio Perillán, Lucía Guerrero, Nicolas Coronado, Elisabet Gelabert