A young woman attempts to save the soul of her stillborn child in 1900s Italy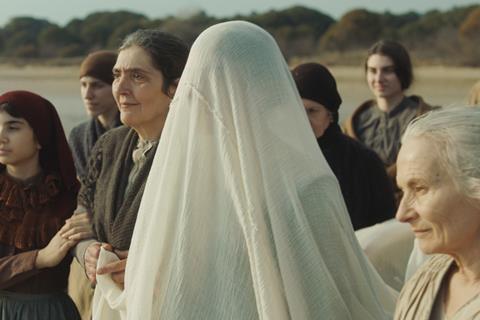 Dir: Laura Samani. Italy/France/Slovenia. 2021. 89 mins.
A young mother, bereft after her baby is stillborn, clings to the hope that she can save her child from eternity in limbo in this beguiling and mythic drama. Agata (Celeste Cescutti, captivating) lives on an island in northeast Italy in 1900. It's a community in which Catholicism, folklore and mysticism are enmeshed in a messy co-dependency. Agata grasps at a whispered rumour of a church in the mountains which can bring a stillborn child to life for a single breath, long enough for the baby to be baptised and its soul saved. During her perilous journey north, she encounters Lynx (Ondina Quadri), a wily, semi-feral boy who offers to help but casts a swift appraising eye over Agata to see how best he might benefit from assisting her. A rough-hewn fairytale unfolding against a fully realised world, this is an arresting feature debut for director Laura Samani.
Combines a vividly realised sense of place with a hint of enchantment which removes the story a few steps away from the real world
There's a kinship, in the film's roots in arcane lore and elemental magic, with the work of Alice Rohrwacher. Certainly, Samani, whose short film, The Sleeping Saint, premiered at Cannes Cinéfondation in 2016, could expect to be similarly embraced on the festival circuit. A small film but a strikingly lovely one, Piccolo Corpo could find a home with an adventurous arthouse distributor.
The picture opens with a gorgeous scene. Agata, draped in a muslim shroud, is led to the water's edge by a group of singing women (diegetic music, sung raw and unaccompanied by the largely non-professional cast and composed by Fredrika Stahl, is evocatively used throughout the film). One woman cuts Agata's hand so that "misfortune departs, grace comes in", and Agata walks serenely into the sea, dipping her bleeding palm into the water.
But misfortune is not so easily shaken off, and Agata's gruelling labour ends in the birth of a dead daughter. Her husband buries the child in unconsecrated ground while his young wife is still recovering. But Agata is unable to accept the fate of her child's unmoored soul with the glum stoicism exhibited by the rest of her people. And under cover of night she digs up the tiny wooden box that serves as a coffin and sets out alone into the unknown.
Set, and filmed, in the Friuli Venezia Giulia region of Italy, the film combines a vividly realised sense of place with a hint of enchantment which removes the story a few steps away from the real world. The mountains, Agata is warned, claim the lives of any woman bold enough to enter the mine tunnel which provides a shortcut into the next valley. And bands of brigands, led by a fearsome female bandit, roam the roads to the north. But, driven by the need to do right by her child, Agata discovers untapped strengths and resilience. Lynx too, returning after a long absence to his home region, is revealed to have a secret which prompts a deeper understanding between the two.
The film's only real issue is the clunky use of CGI at a pivotal moment – it's a jarring distraction which deflates some of the carefully crafted atmosphere. Still, for the most part, the spell of this lyrical film remains unbroken.
Production companies: Nefertiti Film, Rai Cinema
International sales: Alpha Violet info@alphaviolet.com
Producers: Nadia Trevisan, Alberto Fasulo
Screenplay: Marco Borromei, Elisa Dondi, Laura Samani
Cinematography: Mitja Ličen
Editor: Chiara Dainese
Production design: Rachele Meliadò
Music: Fredrika Stahl
Main cast: Celeste Cescutti, Ondina Quadri