Ray Romano makes his directorial debut with a wistful drama about a middle-aged father and his teenage son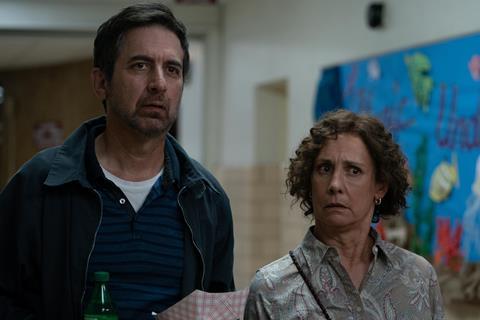 Dir: Ray Romano. US. 2022. 104 mins
Since the conclusion of his popular, Emmy-winning sitcom Everybody Loves Raymond, Ray Romano has pivoted to becoming a deft dramatic actor in everything from The Big Sick to The Irishman. But although his feature directorial debut finds him continuing to explore bittersweet, muted narrative terrain, unfortunately this potentially nervy portrait of a flummoxed middle-aged man trying to do right by his anxious teen son stumbles along the way. Somewhere In Queens is a light drama about the peril of basing personal happiness on your children's success, with Romano leveraging his cosy likability to play a sad-sack father who is far more manipulative than he wants to admit. The film takes commendable tonal chances, but too easily succumbs to easy jokes and unconvincing plot twists.
As a filmmaker, Romano seems to be interrogating the concept of the "good guy"
Appropriately for its New York setting, Somewhere In Queens will be premiering at the Tribeca Festival, and familiarity for audiences with Romano should help entice buyers. The picture's small-stakes story may make it a natural at-home viewing option, though, with theatrical release less certain.
Romano plays Leo, an ineffectual husband and father who works for the construction business his Italian-American family own, where he is picked on by his father Pops (Tony Lo Bianco) and bullying brother Frank (Sebastian Maniscalco). But Leo finds solace in watching his high-school son Sticks (Jacob Ward), who is otherwise awkward and quiet, dominate on the basketball court, attracting interest from a college recruiter. Leo wants Sticks to get an education so his boy doesn't end up like him, but when the relationship between Sticks and his sunny girlfriend Dani (Sadie Stanley) takes a surprising turn, Leo decides to intervene to ensure a promising future for the teenager.
Mixing in familiar scenes of Leo's rambunctious extended family alongside a more thoughtful look at a profoundly unsatisfied patriarch, the picture boasts the same low-key charm that has defined Romano's onscreen persona. As usual, he is portraying a painfully regular guy, although the script (cowritten by Romano and Mark Stegemann) tries to subvert expectations, pointing out why Leo has no one to blame but himself for his discontent.
Consequently, the film is both sympathetic to and critical of a man who has often felt sorry for himself rather than trying to change his circumstance. As becomes evident quickly, although Leo wants the best for Sticks — a nickname given him in childhood because of his long legs — he is also hoping to live vicariously through the possible basketball stardom of his son. (Ward is quite touching as this shy, sheltered teenager whose emotional issues keep him stuck inside his head.) The more time we spend with Leo as he starts scheming to get Sticks a scholarship — and interfere with his son's dating life — the more Romano lets the more pathetic, needy qualities of his character come to the fore.
There are attempts to flesh out Leo's colourful working-class family — especially his long-suffering, cancer-surviving wife Angela (Laurie Metcalf), who is immediately suspicious of Sticks' well-to-do girlfriend — but the performances tend to be broad and schtick-y. And when Leo springs into action, overstepping his bounds to protect Sticks, who suffers from anxiety and doesn't handle adversity well, from potential heartbreak, Somewhere In Queens goes in an intriguingly darkly comic direction that is not especially believable. As a filmmaker, Romano seems to be interrogating the concept of the "good guy" — the idealistic notion that fathers would do anything for their sons — but the picture's dramatization of Leo's deluded belief that he is actually helping Sticks prepare for a better life lacks much insight or cutting wit.
Of the supporting cast, Stanley does what she can as the idealised girlfriend who makes a choice about halfway through that comes out of nowhere, while Jennifer Esposito has the thankless task of playing Pamela, a friendly widow who has hired Leo's company to refurbish her home — it is fairly predictable why her character is really part of the narrative, though. Somewhere In Queens has plenty of sweetness to go along with its wistful air, fitting for a story about basically decent people navigating regrets and nagging fears. But much like Mark Orton's intrusive score, the picture strains to achieve its emotional effects, missing the nonchalant gracefulness Romano usually brings to his work.
Production companies: Bona Fide, Papa Al
International sales: ICM, jessica.lacy@icmpartners.com
Producers: Albert Berger & Ron Yerxa, Ray Romano & Mark Stegemann
Screenplay: Ray Romano & Mark Stegemann
Production design: Annie Simeone Morales
Editing: Robert Nassau
Cinematography: Maceo Bishop
Music: Mark Orton
Main cast: Ray Romano, Laurie Metcalf, Jacob Ward, Sadie Stanley, Jennifer Esposito, Sebastian Maniscalco, Tony Lo Bianco