A daring mosiac which floats like a butterfly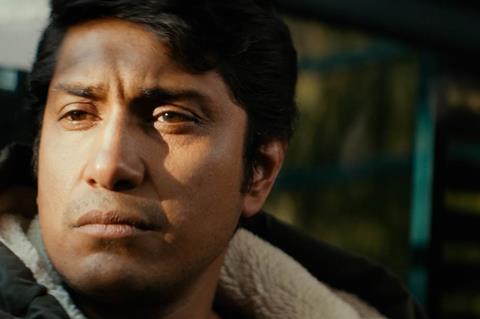 Dir. Alexis Gambis. Mexico/US. 2020. 97 mins.
Rather like the butterfly wings that are its central metaphor, Son of Monarchs is deceptively fragile-seeming, yet robust, structurally complex and vibrantly hued. Written and directed by French-Venezuelan Alexis Gambis (2014's The Fly Room), himself a biologist and founder of the Imagine Science Film Festival, Sons of Monarchs spins an elaborate skein of themes including identity, immigration, tradition and the connections between humanity and the natural world. It sometimes comes across as being too dense, and indeed somewhat precious at points, but is undeniably individual and ambitious. Receiving its international premiere in the NEXT category in Sundance – where it is the winner of the Alfred P. Sloan Feature Film Prize for scientifically-themed work – Son Of Monarchs is likely to score modest art-niche sales while generating attention both for Gambis and Mexican lead actor Tenoch Huerta Mejía.
A visually flamboyant film, sometimes mesmerizingly so
Essentially a melodrama of family tensions and personal conflict, the film is centred on Mendel, played by Huerta. Named after pioneering geneticist Gregor Mendel, he is a Mexican biologist based in New York, where his research involves optics, pigments and genetic modification and involves the evolution of butterfly wings. Zigzagging between past and present, New York and Mendel's home town of Anguangueo in the state of Michoacán, the film begins with the childhood of Mendel and his older brother Simón (played as an adult by Noé Hernández) as they wander through the forests, home to vast masses of Monarch butterflies, a natural phenomenon for which Michoacán is renowned.
Returning home for a funeral, Mendel reconnects with family members, but finds his relationship with Simón strained by his brother's resentful and judgmental attitude. By the end of the film, we learn – following a thread of impressionistic flashbacks – that these tensions stem from the deaths of their parents.
Much of the drama follows Mendel in New York, working in a research team led by researcher Bob (William Mapother); starting a relationship with American paralegal Sarah (Alexia Rasmussen), whose sideline as a trapeze artist knits into the film's densely woven flight imagery; and in a strange personal experiment, siphoning the Monarchs' vivid orange pigment for an arm tattoo.
The narrative is constructed as a mosaic, but the film is less focused on story than on channelling its diverse themes through the sombre, consciousness of Mendel – played altogether compellingly by the saturnine Huerta, from Alonso Ruizpalacios's Guëros and Netflix's Narcos: Mexico. Those thematic threads include questions of national and familial identity, tradition and innovation – contrasting Mendel's hi-tech pursuits with the spiritual explorations of his old friend Vicente (Lázaro Gambino Rodriguez). Those latter strands are seemingly brought together by a scientific researcher into trees, seen at a conference presenting her findings in the form of interpretative dance (it's hard to know quite how ironically this is presented, and given the film's mystical slant and sometimes earnest register, you have your doubts).
In the wake of the recent abuses of the Trump regime and its animus towards Mexico, the film also focuses on frontier crossings, with references to the US border wall interfering with the mating patterns of wild cats, and the fact that the Monarchs are inveterate flouters of border rules in their migrations between Mexico, the US and Canada.
This is a visually flamboyant film, sometimes mesmerizingly so, from the macro to the micro level: Alejandro Mejía's Scope photography spans from spectacular landscapes to the microscopic imagery of the wings themselves, often playing hypnotically with shifts of colour. The chromatic play runs from the atmospheric purple of a lab wall at night to the iridescent patterns that Mendel's hand traces on a window in a striking piece of CGI. The film's most dazzling effect, however, is strictly natural: the forest air filled with countless butterflies in the Michoacán scenes.
For all its visual and thematic intensity, however, this serious-minded, somewhat novelistic construction is not easy to engage with emotionally, partly because the mosaic structure makes it hard for us to get a purchase, partly because so many characters flit in and out – notably Mendel's family members, and the somewhat underdeveloped figure of Sarah. The tension between Mendel and Simón is explained a little awkwardly in a climactic moment of truth, before an oddly abrupt ending – although conversely, what seems inconclusive might also be read as a determined refusal to provide facile catharsis.
Frustrating as it sometimes feels, Son of Monarchs is nevertheless an adventurous attempt to combine heavyweight ideas with an ideal of fluttering lightness. Cristobal MarYán's sparse score, performed by Cuarteto Ruvalacava, helps keep it all aloft.
Production company: Imaginal Disc, Labocine
International sales: The Film Sales Company, contact@filmsalescorp.com
Producers: Abraham Dayan, Maria Altamirano
Screenplay: Alexis Gambis
Cinematography: Alejandro Mejía
Editors: Elia Gasull Balada, Alexis Gambis
Production design: Sofia Guzmán
Music: Cristobal MarYán, Cuarteto Ruvalcaba
Main cast: Tenoch Huerta Mejía, Alexia Rasmussen, Lázaro Gambino Rodriguez, William Mapother