Strikingly beautiful, Pat Collins' unconventional portrait of a traditional sean nós singer is shot mostly in the Irish language.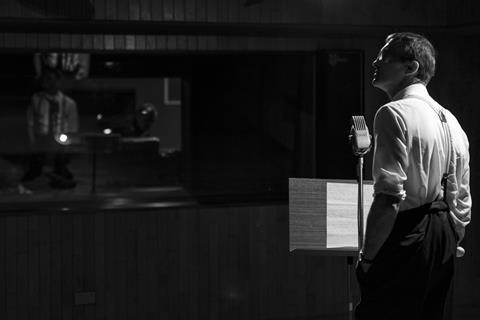 Dir. Pat Collins. Ireland/Canada 2017, 98 mins.
In an era of safe film-making, even – or especially - within the art-house sector, it's rare to view a title as formally audacious as Song of Granite, the latest from director Pat Collins and a thematic extension of his 2012 film Silence. Shot in black-and-white and mostly in the Irish language, this is a soulful, austere piece of auteur film-making which shirks narrative convention for a story told through haunting sound and fleeting impressions. Layering the life of Irish folk singer Joe Heaney through a flickering lens and leaning on the natural, unadorned voice of the sean nos [old style] singer, this doc/feature hybrid film isn't perfect, but it is quite perfectly-made.
There's a stirring song of the exile here for those attuned to Pat Collins' hymn
Collins' decision to shoot in monochrome, particularly with opening images of the far West of Ireland in the 1940s, immediately and no doubt purposefully recalls the neorealist movement, and Song of Granite can also verge on the ethnographic in its approach. Audiences will naturally be limited as a result, yet this should play well on the festival circuit following its SXSW launch, with additional interest from museums and music-related events. Those who responded well to recent features by Ben Rivers, or to Notes on Blindness, might hop on board. Picked up by Soda for the UK, this is set for release in Ireland through Wildcard, which handled The Young Offenders last year, and the US/Canada through Soda. The Irish diaspora, particularly in the US where Heaney was feted towards the end of his life, should warmly embrace a wholly unique, if obstinately oblique picture.
Collins first settles his camera in Heaney's birthplace of Carna in county Galway – a remote part of Ireland known the Gaeltacht where Irish is spoken (though, as the film notes, English is used at the schoolhouse to teach Catholic dogma). Heaney, shown here as a schoolboy, will eventually move on, but Richard Kendick's camera will never feel so rooted or steady again as it is in the Connemara landscape, surveying its defiant wildness and the rough, basic cottages of a population which ekes a living from fishing and potato farming, digging peat from the bog for fuel.
Young Joseph (a striking performance from Colm Seoighe) is a reserved boy, taught to sing by his father and mother. There's a calm here as, clad in an ill-fitting tweed suit, the shy schoolboy hammers for cockles, dances in the bay, and listens to local folklore. When he exits this first third of the film to become a man and a perpetual exile (played in turn by singer Mícheál Ó Confhaola and Macdara Ó Fatharta), the sense of loss is palpable, even though the story in essence ceases to be linear and the film breaks apart into beautiful fragments.
At this point, Sylvain Bellemare's exceptional sound work comes to the fore, complemented by Delphine Measroch's symbiotic score. And, of course, the songs themselves. Archival footage flashes in to suggest the exile's life at work in the shipyards of Glasgow, while brief, silent interludes show an absentee and enigmatic father who only comes alive when he sings the songs of his childhood. Collins diverts his camera from Heaney's work as a doorman in Canada to lengthy vocal interludes, from renditions of well-known songs such as Rocky Road to Dublin and Rosin Dubh to lesser known purely vocal pieces. He also guides the wheel of his film full circle, confronting young Joseph with the older man, repeating imagery from the first part as this audiovisual essay comes to an end.
It is believed that Heaney, who died in 1984, knew 500 songs, the legacy of life in Carna which has ceased to exist. (Sean nós is a blanket term to refer to unaccompanied singing, of which Heaney is an undisputed master). He himself turns up briefly in archive footage, a tantalising glimpse from Newport 66. This is perhaps as far from the traditional biopic as film is ever likely to stray, but there's a stirring song of the exile here for those attuned to Pat Collins' exceptional hymn.
Production companies: Marcie Films, Amerique Films
International sales: Marcie Films, alan@marciefilms.com
Producers: Alan Maher, Jessie Fisk, Martin Paul-Hus
Executive producers: Philip King, Tina Moran, Keith Potter
Screenplay: Pat Collins, Eoghan Mac Giolla Bhríde, Sharon Whooley
Cinematographer: Richard Kendrick
Editors: Tadhg O'Sullivan
Sound Designer: Sylvain Bellemare
Music: Delphine Measroch
Main cast: Macdara Ó Fatharta, Mícheál Ó Confhaola, Jaren Cerf, Pól Ó Ceannabháín, Colm Seoighe