Sega's famous hedgehog Sonic returns to the big screen with even more meta humour in this high-octane sequel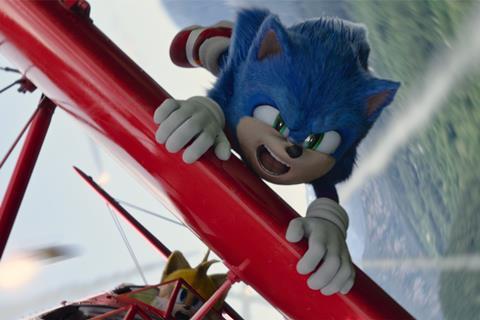 Dir: Jeff Fowler. US. 2022. 122 mins.
In Sonic The Hedgehog 2, the feisty interstellar critter has to learn to grow up, but this sequel remains proudly juvenile, filled with jokey humour and incessant wisecracks pitched to younger viewers. The follow-up to the 2020 hit runs about 30 minutes longer and amplifies the spectacle and stakes, but those additions mostly accentuate the series' continued weaknesses — namely, the thin characters and the story's derivative nature. Even Jim Carrey, who was a highlight of the first chapter as a knowingly over-the-top villain, seems less inspired this go-round.
The film is consistently undercut by how familiar its construction is.
Paramount releases the sequel in the UK on April 1, with the US rollout occurring a week later. Sonic The Hedgehoggrossed approximately $320 million, a splendid haul considering it arrived just before Covid began to take hold. Carrey reunites with co-stars James Marsden and Ben Schwartz (who voices Sonic), and Idris Elba joins the ensemble as a fearsome new foe for our fleet-footed protagonist.
Still living with loving married couple Tom (Marsden) and Maddie (Tika Sumpter), the young Sonic (Schwartz) enjoys using his powers to fight crime, but Tom warns him that he needs to mature before he can be a true hero. On cue, the nefarious Dr. Robotnik (Carrey) returns from the far-off planet to where he had been banished at the end of the last film. Vowing revenge — and now accompanied by Knuckles (voiced by Elba), who has super-strength — Robotnik goes in search of the Master Emerald, a magical gem that will make him all-powerful.
Director Jeff Fowler is back for the sequel, which like the original is based on the Sega video game. Sonic The Hedgehog 2 is more of a high-octane action-adventure picture than its predecessor, sending Sonic (alongside another new character, the loyal flying fox Tails, voiced by Colleen O'Shaughnessey) on a journey to locate the Master Emerald before his enemies can. But this emphasis on gaudy set pieces diminishes one of the original film's strongest elements, which was the byplay between the exasperated Tom and the sarcastic Sonic. Marsden is largely side lined for this sequel, his boyish charm much missed.
Meanwhile, Carrey, who gave the first instalment a jolt of goofy weirdness as the eccentric Robotnik, relies on shtick here. One can feel the veteran comic's strain as he tries to generate laughs from a mediocre screenplay, contorting his rubbery face to little effect. Slightly more successful is Elba as Knuckles, a humourless echidna with personal reasons for destroying Sonic — even though he doesn't realise that his overly dour demeanour often makes his stern proclamations unintentionally funny.
The film is consistently undercut by how familiar its construction is. Aggressively referencing everything from Ghostbusters to Transformers, Sonic The Hedgehog 2 is a mishmash of other event pictures, with Fowler trying to make a joke of the story's obvious cinematic benchmarks. (During one action sequence that heavily borrows from Raiders Of The Lost Ark, Sonic coyly declares that he does not want to die in such a derivate way.) But the meta humour, alongside the same stale quips as in the first film, does not make the sequel any wittier because of its self-awareness.
Once again, comedian Schwartz plays Sonic as if the character is a stand-up delivering putdowns and one-liners. Sonic The Hedgehog 2 wants to inject a little poignancy by suggesting that this diminutive rapscallion has evolved into a de-facto son for Tom and Maddie, who do not have children of their own. But the attempts to create a father-child relationship between Tom and Sonic fizzle, and when the finale builds to a lumbering, elaborate action sequence that puts all their lives in danger, there is very little resonance from the supposed bond they share.
From a technical standpoint, Sonic The Hedgehog 2 is fairly impressive in its merging of live-action and animation, a reminder of the technological advancements since the days of Who Framed Roger Rabbit. Too bad it is in service to one more story of a scrappy young male hero on a search for powerful talismans in order to defeat increasingly more formidable villains. For a film about a character who is incredibly speedy, this sequel feels behind the curve, chasing after blockbuster trends but only falling farther behind.
Production companies: Paramount Pictures, SEGA Sammy Group, Original Film, Marza Animation Planet, Blur Studio Production
Worldwide distribution: Paramount Pictures
Producers: Neal H. Moritz, Toby Ascher, Toru Nakahara, Hitoshi Okuno
Screenplay: Pat Casey & Josh Miller and John Whittington, story by Pat Casey & Josh Miller, based on the SEGA video game
Production design: Luke Freeborn
Editing: Jim May
Cinematography: Brandon Trost
Music: Tom Holkenborg
Main cast: James Marsden, Ben Schwartz, Tika Sumpter, Natasha Rothwell, Adam Pally, Shemar Moore, Colleen O'Shaughnessey, Lee Majdoub, Idris Elba, Jim Carrey