Christophe Honore returns with a tale of an HIV-positive writer in nineties Paris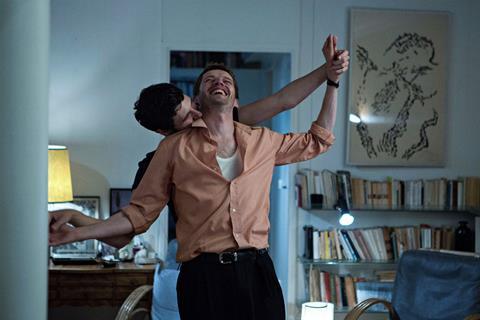 Dir/scr. Christophe Honore. France, 2018, 132 mins
Competing at Cannes for the first time in over a decade, author/playwright/film-maker Christophe Honore delivers a lengthy, loose and loquacious story about a HIV-positive writer suffering from AIDS in 1993 Paris and the (mostly) men who come into his orbit — from his dying former lover to a new, perhaps final, boyfriend he picks up in a cinema on a trip to Rennes. The French title, Plaire, Aimer et Courir Vite makes more sense when it comes to deciphering this personal jumble; a film without highs or lows, a collection of people and thoughts and dialogue which can get lost in translation.
Sequences are stretched out to the point where even the dramatic eventually can become banal
The story of an older man and a younger boy who are two sides of the same person, Sorry Angel is sexually frank without being explicit. It also comes dressed in wide-ranging artistic, philosophical and literary references as Honore questions the losses of the past. The terrain is somewhat familiar from last year's BPM, but with a decidedly auteur spin: Sorry Angel marches to Honore's rhythms, which may come across as somewhat freeform, but they're also uncompromising. As such, the film may fare best with LGBTQ audiences. Although his output has been uneven, Honore's name is revered for such landmark contributions as Love Songs and Dans Paris and his cachet should be enough to tempt select audiences.
The film, which begins with dynamically-cut credits which belie what lies ahead, opens in Paris (or, to be more accurate, a series of rooms in Paris) where Jacques (Pierre Deladonchamps, solid) is having dinner with Jean-Marie, a jittery former rent boy he's been seeing on and off for the last five years, although they have no solid relationship. The period setting is an excuse for everyone to smoke heavily, and the film is swathed in tobacco fumes and a blue, industrial patina. The timeframe is established by posters on the wall, or cinema outings (The Piano). We cut to back to Jacques' apartment, where he takes recreational heroin with his older gay journalist neighbour (an incongruous Denis Polalydes), to be interrupted by his young son Lolou.
Jacques isn't in the market for a new relationship, he's HIV-positive and working through how he might now live his life as his former lover slowly dies. Thus sequences are stretched out to the point where even the dramatic eventually becomes banal, admittedly with some exceptions – Jacques' pivotal meeting with Arthur (Vincent LaCoste), which comes an hour into the film, is enjoyably played out as he encounters and reluctantly falls for a man who is so similar to his younger self. But mostly it's as if Honore is seeing where it all goes, playing on riffs, using the subject to figure out his own and his characters' attitudes towards mortality, as well as rubbing on wounds and losses from the distant past.
Arthur, an aspiring fillm-maker, is into books but he isn't as literate as Jacques, who brings him up to speed with pleasure. Arthur, who runs kiddy camps in his spare time, also loves cottaging, whether it be in pissoirs or in a local basketball court at night, and falls in love with Jacques, dumping his kill-joy girlfriend. "It's already too late to die young," intones Jacques as Arthur heads up to Paris, detouring via Truffaut's grave.
(Rarely has a child been so ill-serviced by a screenplay as poor Lolou – no backstory, no character – is randomly dropped in and out of scenes including his father and former lover Marco, suffering from full-blown AIDS, sharing a bath and having a bitchy argument. When Jaques agonises over whether he's been a good father, the answer would seem to be debatable.)
A lot of these scenes, ripped from the notepads as they appear to be, are clearly personal – the writers, the sex, cinema, literature, the young and the older and the differences between them. Yet setting Sorry Angel in 1993, during the AIDS crisis, sets it apart from those questions which exist today between that generation and now. It floats by itself. This, like Call Me By Your Name, is a picture of the past: an innocence lost, but with serious consequences. Whether it's a self-portrait, a series of sketches, an artist who is continuously working over a painful loss, Honore's film betrays mixed emotions that may never be resolved as he carries the losses of that time with him forever.
Production companies: Les Films Pelleas
International sales: MK2 intlsales@mk2.com
Producers: Philippe Martin, David Theon
Screenplay: Christophe Honore
Editing: Chantal Hymans
Production design: Stephane Taillasson
Cinematography: Remy Chevrin
Main cast: Pierre Deladonchamps , Vincent Lacoste , Denis Podalydès, Adèle Wismes, Luca Malinowski