Fascinating documentary about the self-proclaimed "good Nazi" Albert Speer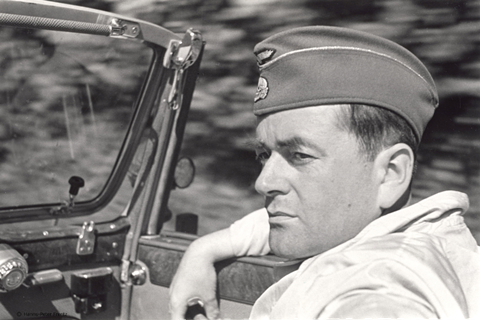 Dir/scr. Vanessa Lapa. Israel. 2020. 97mins
If history is written by the victors — a sentiment voiced by, among others, Hermann Goering during the Nuremberg trials — then fellow Nazi minister Albert Speer clearly considered himself among the Second World War's select German winners. As detailed in Vanessa Lapa's comprehensive documentary, the architect-turned-Reichsminister of Munitions claimed ignorance of the Third Reich's worst horrors, became the highest-ranked party member to avoid a death sentence, and spent his post-imprisonment years reshaping his own narrative. His best-selling memoir 'Inside The Third Reich' sold his claim as "the good Nazi" to millions, and copies flew off shelves when it was published in 1970. Hollywood soon expressed an interest in examining his claims.
A horrifying yet bleakly fascinating picture of a man doing something that remains thoroughly relevant today: spinning fake news
Nearly four decades after his death, Speer's spurious position no longer goes unchallenged, nor does his wartime command over 12 million slave labourers go unacknowledged, and Lapa's documentary lays bare the falsehoods in a dense, sober and compelling fashion. After delving into Heinrich Himmler's letters and diaries in 2014's The Decent One, the Israeli writer/director draws upon a treasure trove of rare archival footage — 47 visual sources and nine audio sources — to juxtapose Speer's glossily varnished account of his life with his reckoning at Nuremberg. Cutting back and forth between the two may be a blunt tactic but it is effective, and should give the film staying power among factual programmers.
As per its title, Speer Goes to Hollywood devotes the bulk of its focus to its subject's 1971 discussions with screenwriter (and Stanley Kubrick protégé) Andrew Birkin, in preparation for Paramount Pictures' then-slated, later-abandoned adaptation of 'Inside the Third Reich'. Birkin recorded over 40 hours of their talks as they chatted through drafts of the script which Lapa has reconstructed with voice actors which depict him probing for further details about the events captured within the book's pages. They show Speer to usually have an answer that excuses himself from blame and even knowledge of the Nazis' worst acts.
British filmmaker Carol Reed becomes the documentary's vocal counterpoint. His disbelief at Speer's protestations of innocence and obliviousness bristles with clear-eyed fury; a tone that Lapa's film adopts as its baseline.
Speer Goes to Hollywood doesn't skimp, stepping through Speer's massaged recollections spanning his entire career from joining the National Socialist party to earning recognition, promotions and praise by Hitler and attempting to rebuild Berlin as the world's new capital via the hard labour of concentration camp internees. Still, his damning answers to Birkin's questions might have threatened to become repetitive if they didn't paint a horrifying yet bleakly fascinating picture of a man doing something that remains thoroughly relevant today: spinning fake news.
As Speer keeps revising his history, Lapa pairs his chatter with candid visuals from before, during and after the war, including black-and-white footage of Speer with his wife, with Hitler and taking his job immensely seriously. As is to be expected, however, the documentary's most powerful sights belong to its Nuremberg sequences, which ripple with the kind of unfettered truth that Speer obviously hoped to whitewash away.
Production company: Realworks
Contact: Realworks, tomer@realworks.bz
Producers: Vanessa Lapa, Tomer Eliav
Screenplay: Vanessa Lapa, Joëlle Alexis
Editing: Joëlle Alexis
Music: Frank Ilfman