Steve Coogan and John C. Reilly star as one of comedy's greatest-ever double-acts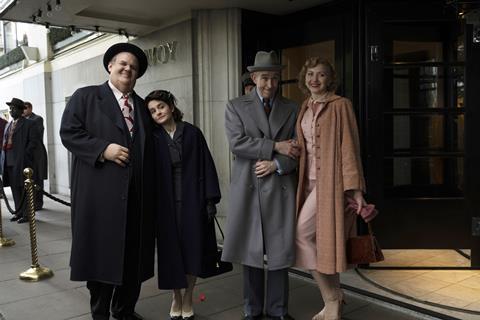 Dir. Jon S. Baird. UK. 2018. 97 mins
Attempting a biopic of a comedian can be a risky proposition. Comics are not traditionally a happy breed, making them less than engaging company off stage, and the inference that new audiences will find them funny can easily end in tears. On paper, Stan & Ollie takes those drawbacks and multiplies them – by considering one of the greatest comedy double acts in history and hoping that filmgoers 80 years away from their peak will, indeed, still get the joke.
A new generation of fans awaits
Happily, the film flies in the face of such pitfalls. Featuring uncanny and hugely personable performances by Steve Coogan as Stan Laurel, and John C. Reilly as Oliver Hardy, and a smart script by Jeff Pope (Coogan's co-writer on Philomena) that delivers laughs from both familiar and unexpected quarters, this is a fond, frequently very funny homage to an act that has lost none of its genius. A new generation of fans awaits.
After his scabrous, drug-fuelled, politically incorrect Irvine Welsh adaptation Filth, director Jon S. Baird may seem a surprise choice to helm such gently bitter-sweet fare. But he's clearly a showman, who revels in his characters' innate ability and desire to entertain. And with cinematographer Laurie Rose and his team, Baird opens proceedings with a flourish of his own – a six-minute tracking shot that introduces Laurel and Hardy at the height of their fame.
It's 1937 Hollywood. The pair journeys through the Culver City studio lot, passing Romans, cowboys and dancers, camera crews, extras and numerous sets. They constantly quip on the way to work, Laurel telling his hard-up friend to "lay off the horses and don't get married again." As they pass fans, Laurel plays inimitably with his hair, Hardy twiddles his tie. As well as a cute snapshot of the era, the sequence offers a key component of their personalities: not only do they play constantly (and happily) for the crowd, but also for each other.
But they're heading for a fall. A contract dispute with producer Hal Roach (Danny Huston), with Laurel the more vociferous in wanting a better deal, leads to a rift between the performers and lays the ground for future financial problems. It's a cruel reminder that however brilliant an artist might be, if they don't have a business plan they'll still have to work till they drop.
And so, in 1953, the now-ageing pair is on a humiliating, low-rent tour of English provincial theatres. Norman Wisdom is the new sensation in the musical halls, Abbott and Costello in the cinemas. Everyone thinks that Laurel and Hardy have retired, and even their small venues are half empty. The film project that brought them to the UK in the first place has gone cold. Nevertheless, those audiences who do turn up can't stop laughing. And when the pair's cheeky, cheapskate impresario Bernard Delfont (Rufus Jones) persuades them to do some publicity for the tour, the simple reminder that they're still alive works a treat for the box office.
Inspired by the book Laurel and Hardy: The British Tours by A. J. Marriot, Pope's script focuses on this one period at the end of their careers, demonstrating the tension between the continuing desire to perform and the pressures of age, health and professional disappointment. And with Stan and Ollie – one the writer and task master, the other naturally talented but less fastidious – this tension is exacerbated by old resentments.
While all of that comes to the boil, the predominant tone remains light, founded largely on the pair's engaging inability to turn off the tap. They perform when they're checking into a hotel, when they're welcoming their wives from the airport, when they're walking in the street. They constantly discuss new gags, and the fact that they make each other laugh has an incredibly infectious effect. Baird also conducts a clever trick of introducing some of Laurel and Hardy's most famous visual jokes into incidental action, the best being when they've dragged a mighty suitcase up a train station staircase, only to see it roll all the way back to the bottom.
The result is humour both on stage and off. Coogan and Reilly reproduce their characters' iconic slapstick routines to perfection, offering a reminder that impeccably timed physical comedy need never does get old (credit should also be given here to director of movement and choreography Toby Sedgwick). In the wings, Rufus Jones has fun with Delfont, a future giant of British showbusiness. And Nina Arianda and Shirley Henderson offer a delicious double act of their own as, respectively, Ida Laurel and Lucille Hardy – the one a brusque and vainglorious Russian who boasts of having been a dancer for Preston Sturges, the other a former script girl justifiably concerned about Ollie's health.
These two bicker in defence of their husbands, while throwing barbs at each other across the language divide. "You are the epitome of Hollywood," says Lucille, a disingenuous compliment wholly lost when Ida barks, "Don't you pity me."
The stars hold it all together with career-high performances. Coogan bears more of a natural resemblance to Laurel, while Reilly necessarily relies on the make-up and costume departments to achieve Hardy's girth. Both find that perfect balance between impersonation and original characterisation, and between deep-seated friendship, even love, and present animosity. They also convey that supportive "show must go on" mentality, never more poignantly than when Laurel advises his partner: "After the curtsies, knees bend, then turn and shake."
Production companies: BBC, EOne, Fable Pictures
International sales: Sierra/Affinity
Producer: Faye Ward
Screenplay: Jeff Pope
Production design: John Paul Kelly
Editing: Úna Ní Dhonghaíle, Billy Sneddon
Cinematography: Laurie Rose
Music: Rolfe Kent
Main cast: Steve Coogan, John C. Reilly, Nina Arianda, Shirley Henderson, Rufus Jones, Danny Huston