It's a dog's life for everyone in this award-winning doc set on the streets of Istanbul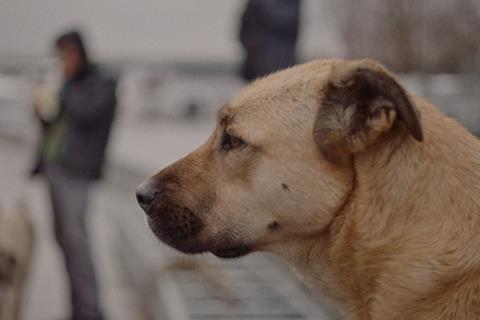 Dir/scr: Elizabeth Lo. US. 2020. 72mins
There's something strangely beautiful about short filmmaker Elizabeth Lo's concise, allegorical debut feature documentary, which starts off as a fly-on-the-fur exploration of Istanbul's stray dog epidemic and becomes a lament about the difficulties of finding somewhere to belong in an increasingly fractured, and fractious, world.
Boys are treated no better than the dogs they adore
Running at a brisk 72 minutes — Lo thankfully understands just how far this concept can be stretched — Stray may well turn festival interest (prior to London it won Best International Documentary at Hot Docs, and will go on to IDFA in November) into wider success. While its dogs' eye view may make it something of a curio, a savvy distributor or streamer should be able to market that angle, not to mention its adorable canine stars, to an appreciative audience.
Director Lo also takes on editing, producing and cinematography duties, and keeps her camera low to the ground from the moment we meet striking golden-haired female dog Zeytin, who will be our primary guide through the film and the streets of Istanbul. The camera stays close to Zeytin as she dodges cars on the freeway, climbs mounds of rubbish and rubble, and weaves amongst indifferent legs in the city's thronging streets. (The documentary was shot pre-pandemic, between 2017 and 2019).
Zeytin is not alone in her wanderings. As we are informed by an early caption, Turkey has a huge problem with stray dogs and, over the years, has attempted several culling programmes; human protests against that cruelty have seen it be made illegal to kill or capture these animals. Yet, no-one, it seems, is willing to give them a home. So, they run in packs, congregate in public squares, raid the city's bins, drink from its fountains. Some of the Istanbul's inhabitants — like the men who guard the shuttered construction site where the dogs seek shelter — treat them with empathy and kindness. Others ignore them, and some are violently hostile.
These dogs are, however, afforded rather more humanity and protection than the (predominantly Syrian) refugees who come to Turkey seeking sanctuary from the ongoing war. Zeytin and fellow dog Nazar (and, later, adorable puppy Kartal) have been somewhat adopted (or, in the case of Kartal, stolen) by a group of such refugees; a pack of upsettingly young, dirt-streaked boys who, like the dogs, are struggling to survive on Istanbul's anonymous streets. The animals bring them comfort and joy, moments of contact and affection whose importance to these far-from-home lads cannot be overestimated.
Zeytin and Nazar also act as silent witnesses to the struggles these boys face in a city that doesn't ever acknowledge their existence. By keeping her focus on the dogs as the boys talk and beg and sniff glue around them, Lo doesn't need to hammer her point home; she lets it creep into the narrative. The boys are treated no better than the dogs they adore; worse, in many respects. (This contrast between the treatment of animals and humans has been similarly explored in Gabrielle Brady's documentary Island Of The Hungry Ghosts, which sees the indigenous crabs of Christmas Island treated with reverence and respect, while human asylum seekers languish, forgotten, in the island's detention centre.)
As befits her subject, Lo's filmmaking is simple but effective. Working with additional editor Matt Kazman, she has shaped the film in such a way that we feel we come to know these dogs, to understand their relationship to the boys, the city, each other. Sequences are punctuated by pointed quotes about dogs from ancient philosophers like this from Diogenes; "Human beings live artificial and hypocritically and would do well to study the dog." These are rare moments of rather on-the-nose messaging in a film that otherwise is powerful for its restraint.
Production companies: Molj, Periferi Film, Intuitive Pictures
International sales: Dogwoof, luke@dogwoof.com
Producers: Elizabeth Lo, Shane Boris
Editing: Elizabeth Lo
Additional editing: Matt Kazman
Cinematography: Elizabeth Lo
Music: Al Helnwein