Past and present are linked in this intriguing feature debut from Qiu Sheng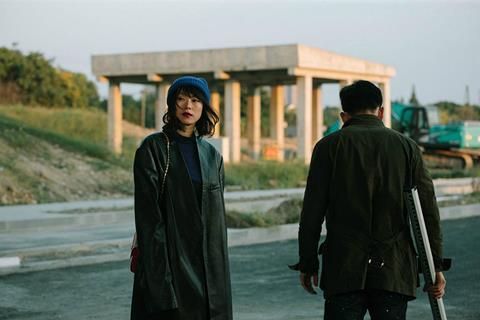 Dir/scr: Qiu Sheng. China. 2018. 118mins
This pleasing, if perplexing, feature debut from Qiu Sheng takes an agile and experimental approach to structure, as two story strands glance off each other, and occasionally intersect. The first centers on a team of surveyors who are trying to calculate the extent of, and the reason for, the subsidence which has tipped an entire neighbourhood off kilter. The second is an appealing account of the friendships between a group of pre-teen children. Both feature characters called Xiahao, played as an adult by Lee Mason, and as a child by Gong Zihan. It's tempting to assume that they are the same person, but Qui's screenplay is teasingly non-committal. The resulting film is temporal and thematic puzzle to which there are no easy solutions.
More abstract is the sense of the passing of time, and of memories eroded along with the landscape
There is a kinship here with the enigmatic, looping storytelling of Hong Sang Soo and with compatriot Gan Bi, whose Long Day's Journey Into Night demonstrated a similar commitment to formal experimentation. As such, it's a picture which is ideally suited to the adventurous tastes of festival audiences — Suburban Birds plays in competition in Macao after winning Best Narrative Feature at Xining First Films Festival — but could also achieve modest arthouse success for any distributor willing to rise to the marketing challenges of a film which resolutely defies easy categorisation or explanation.
The film opens with a disorientating distortion of both image and sound. We are looking, it is revealed, through the lens of the theodolite employed by Xiahao and his colleagues to map the land. Disconcerting, abrupt zooms in the photography of this story strand are perhaps intended to echo the functionality of the gaze through this piece of equipment. The working party includes his boss, Han (Xiao Xiao), who disagrees with Xiahao's theory of a water table anomaly; junior worker Ant (Deng Jing) and a portly local official, Officer Jiang (Wang Xinyu), who is more interested in orchestrating the evening drinking bouts than he is in the geological disturbances. At night, Xiahao strikes up an offhand relationship with Swallow (Huang Lu), a young woman who finds herself in the same sterile hotel as him, having been evacuated from her dangerously unstable apartment building.
The ostensible link between past and present story strands is a diary that Xiahao finds in a now abandoned school building. But there are other echoes and thematic threads which ribbon through the film; not least the sense of disruption and change in the backdrop. While Xiahao and his colleagues are hoping to sign off so that an underground train project can continue, the children play in condemned neighbourhoods which have been earmarked for redevelopment. Other links include stray dogs which are adopted by female characters, a pair of binoculars and passenger trains which dissect the frame.
More abstract is the sense of the passing of time, and of memories eroded along with the landscape. The children embark on a journey to find one of their number, affectionately nicknamed Fatty (Chen Yihao), who has decided to stop attending school. Along the way, the children disappear, one by one, peeling off from the story in a way which seems to be symbolic of the process of growing up and shedding the trappings of childhood. Later, the adult Xiahao is presented with a birthday cake; his melancholy response is not that of someone who has come to terms with the passing of the years.
Production companies: Chan Films, Flashforward Entertainment
International sales: Luxbox info@luxboxfilms.com
Producer: Patrick Mao Huang, Chen Jingsu, Zhang Zhaowei
Editing: Liao Qing Song, Jin Di
Cinematography: Xu Ranjun
Music: Xiaohe
Cast: Lee Mason, Huang Lu, Gong Zihan, Deng Jing, Xiao Xiao, Wang Xinyu, Liu Mulligan, Qian Xuanyi, Xu Shuo