Multiple prize-winner at Karlovy Vary is set in a Brazilian holiday resort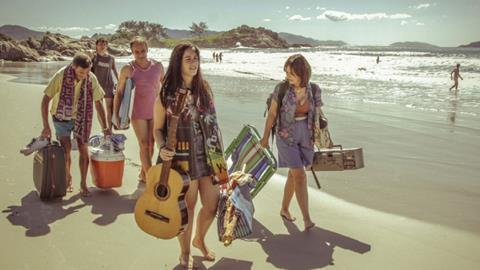 Dir: Ana Katz. Argentina/Brazil/France. 2018. 106 mins
The winner of the Special Jury Prize in Karlovy Vary, with a best actress gong for Mercedes Morán, is a perplexing affair. It promises to be another in that fine tradition of Argentine minimalist drama, one that has something quietly profound to say about love and desire in middle age; yet ultimately it fails to generate much of a pulse, playing as a cute, contrived holiday adventure that offers some gentle comedy and lovely locations but no great insight.
While it's tempting to draw parallels with Éric Rohmer's vacation-based films, the dialogue lacks the Frenchman's erudite wit
The Karlov Vary prizes (it was also awarded a Fipresci) and Argentine director Ana Katz's reputation at home may well guarantee a theatrical showing for Latin audiences, though the film may lack the frisson or resonance to travel much further.
Morán plays Lucrecia, who with her estranged husband Pedro (Gustavo Garzón) and their teenage kids Julián and Flor, drives from Buenos Aires to the Brazilian coastal resort of Florianópolis for a long summer vacation. The couple has been living apart for some time, and will use the holiday as an opportunity to "think things through". Shared laughter, the evident shorthand that comes of a long marriage and the fact that en route they sneak some sex when their kids aren't looking all suggests that a reconciliation isn't entirely out of the question. However, the resort will pose a serious distraction.
The film's opening section covers holiday details: breaking down on the road, the shock of discovering that the place you've booked is a hovel, the excitement of relocating somewhere new – all of which feels like an amiable and relatable preamble, until the never-ending walk through the resort to the home of new host Marco (Marco Ricca) offers an early clue that the film itself will feel like a long haul.
The fact that quiet, watchful Lucrecia and grumpy Pedro are both psychologists is a nice touch, though more could have been made of it; the shared patient who appears at the resort simply disappears without any of the potential amusement. At least there's the thought of years of bedroom analysis, which would explain why each is receptive to the more laid-back pleasures that Florianópolis has to offer.
These are conveniently close to hand. With his dyed hair, tight trunks and well-oiled, touchy-feely civility, Marco is a lothario host who likes to throw in extras to the holiday deal; his ex-girlfriend Larissa (Andréa Beltrão) is an equally hippy spirit who runs the karaoke bar on the beach. Over the course of the summer, Lucrecia will gravitate towards Marco, Pedro towards Larissa, and Flor towards Marco's son César. One can't help feeling that Julián has the right idea, by leaving as soon as he can for another beach.
While it's tempting to draw parallels with Éric Rohmer's vacation-based films, the dialogue lacks the Frenchman's erudite wit, and the plotting – even the couple's affairs – poses none of his moral questions. Equally, Morán's presence is a reminder of her two great collaborations with Lucrecia Martel, La Ciénaga and The Holy Girl, whose portraits of family life are spikier and far more memorable than the one presented here.
Production company: Campo Cine, Prodigo Films
International sales: Film Factory Entertainment, info@filmfactory.es
Producers: Nicolás Avruj, Beto Gauss, Camila Groch, Diego Lerman, Ana Katz, Francesco Civita
Screenplay: Ana Katz, Daniel Katz
Production design: Gonzalo Delgado
Editing: Andrés Tambornino
Cinematography: Gustavo Biazzi
Music: Maximiliano Silveira, Beto Villares, Erico Theoboldo, Arthur de Faria
Main cast: Mercedes Morán, Gustavo Garzón, Marco Ricca, Andréa Beltrão