A lengthy re-imagining of Dario Argento's classic horror from Call Me By Your Name's Luca Guadagnino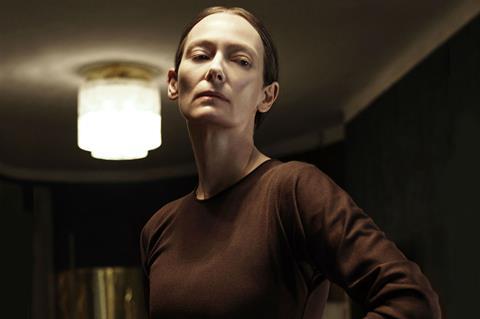 Dir: Luca Guadagnino. Italy/US. 2018. 152mins
A sensuous experience designed to provoke — whether it be rapture, outrage or eye-rolls — Luca Guadagnino's remake of Suspiria is a feast of excess, carrying with it all that's both enticing and frustrating about such a strategy.
Suspiria tries to do much
Almost an hour longer than Dario Argento's original — but equally unapologetic about swerving between psychological horror and high melodrama — the film demands the viewer's indulgence, repaying that patience with a story that can be rhapsodic in its tonal command but also cheekily campy. Ultimately, though, Suspiria's inconsistencies, flashes of brilliance and irritating pretensions all feel part of the same package. Like the movie's avant-garde dance numbers, Suspiria reaches for greatness, and the whirlwind of that effort is sometimes more stunning than the execution.
This Venice world premiere comes to select US theatres on October 26 and the UK on November 16. Fans of the cult original will be intrigued, and a cast that includes Dakota Johnson and Tilda Swinton will tempt art-house crowds. But Suspiria is decidedly not for all tastes, and so the uniformly excellent reviews of Guadagnino's far milder Call Me By Your Name are unlikely to be repeated here.
Set in 1977 in Berlin, the film follows Susie (Johnson), an American dancer who has been accepted into a prestigious academy guided by the demanding Madame Blanc (Swinton, taking several roles here). The school has been disrupted by the mysterious disappearance of a talented, troubled pupil named Patricia (Chloë Grace Moretz), but although Susie quickly takes the lead in the academy's latest production, there is a growing suspicion that something malevolent is afoot.
Whereas Argento's 1977 film hid its dark revelations, Guadagnino tips his hand early that the school is a secret coven. It's but one of many instances in which this Suspiria goes its own way, expanding the original's scope and focusing more on the dynamics between characters. (In addition, a crucial new subplot concerning an aged therapist, played by Lutz Ebersdorf, adds extra dimensions to this tale of witchcraft and terror.)
Guadagnino and screenwriter David Kajganich have envisioned Susie as a bold, enigmatic prodigy, and her meteoric rise — and its attendant horrors — will probably call to mind 2010's Black Swan, an equally florid examination of art and ambition. Argento's giallo classic played up the shocks and atmosphere, and while the new Suspiria is more muted and leisurely paced, the remake can be equally disturbing without copying the original's narrative, vibrant colour palette or anxiety-inducing Goblin soundtrack. (Thom Yorke's score is more mournful, while cinematographer Sayombhu Mukdeeprom prefers browns and greys to Argento's vivid reds and blacks.)
As the mystery begins to unfold, Suspiria proves better at crafting dread than accentuating its characters. Swinton is chilling as Blanc, her pale skin and long, straight hair hinting at the menace lurking beneath the surface, but the Oscar-winning actress is so severe in her portrayal that it often feels mannered. Meanwhile, Johnson radiates both innocence and insidiousness, an indication that Susie's sheltered upbringing (which is revealed in flashbacks) has left lasting harm. Still, Susie doesn't drive the story as much as she navigates through Guadagnino's dense thematic patchwork, which combines body horror, supernatural elements, psychological underpinnings, a complicated investigation of motherhood, and a treatise on the power of the past to shape the present.
Suffice to say, Suspiria tries to do much, culminating in a finale that's almost laughably over-the-top. But the passion of Guadagnino's messy vision — the swirl of emotions he conjures on this grand canvas — has a forcefulness that mostly transcends its sizable flaws. Consequently, Guadagnino pays the ultimate compliment to Argento: rather than slavishly reproducing Suspiria, he reimagines it from his own perspective, finding a new way to submerge the viewer in a lurid dream state.
Production companies: Amazon Studios, K Period Media, Frenesy Film Company, Videa SPA, Mythology Entertainment, First Sun, Memo Films
International sales: FilmNation Entertainment, nyoffice@filmnation.com
Producers: Marco Morabito, Bradley J. Fischer, Luca Guadagnino, David Kajganich, Silvia Venturini, Fendi Francesco, Melzi d'Eril, William Sherak, Gabriele Moratti
Screenplay: David Kajganich, based on the original screenplay by Dario Argento and Daria Nicolodi
Production design: Inbal Weinberg
Editing: Walter Fasano
Cinematography: Sayombhu Mukdeeprom
Music: Thom Yorke
Main cast: Dakota Johnson, Tilda Swinton, Mia Goth, Lutz Ebersdorf, Angela Winkler, Ingrid Caven, Elena Fokina, Sylvie Testud, Renée Soutendijk, Christine LeBoutte, Małgosia Bela, Fabrizia Sacchi, Jessica Harper, Chloë Grace Moretz