Mahershala Ali is a heartbreaker in Irish director Benjamin Cleary's directorial debut for Apple TV+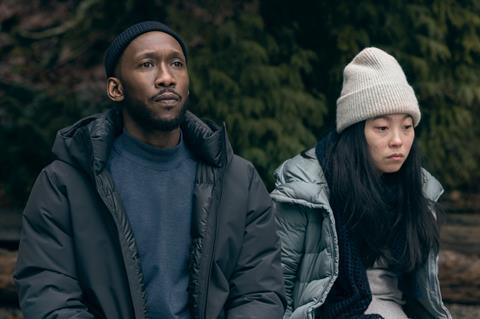 Dir/scr: Benjamin Cleary. US. 2021. 113 mins.
For his feature debut, Irish writer-director Benjamin Cleary has crafted a tender, modest sci-fi drama about focusing on what is important in life. Mahershala Ali gives a layered performance as a family man with a fatal condition who goes to unexpected lengths to keep his diagnosis a secret from his wife and son, cloning himself in the hopes that his loved ones will never notice the switch. Boosted by a warm performance from Ali's Moonlight costar Naomie Harris, Swan Song proves to be a rather straightforward tearjerker, but it earns its sentiment thanks to the thoughtful approach from its cast and crew. Premiering at AFI Fest, this Apple TV+ release arrives on the streaming platform December 17 where it will undoubtedly attract fans of low-key, cerebral sci-fi, further boosted by a superb supporting cast that includes Awkwafina and Glenn Close.
One of Swan Song's strongest attributes is its resistance to predictable plot twists
Set in the near future, Swan Song stars Ali as Cameron, a graphic designer who feels stuck professionally but adores his music-teacher wife Poppy (Harris) and young son Cory (Dax Rey). However, Cameron has kept something from them: he has been diagnosed with an unnamed terminal illness. In secret, he visits Dr Scott (Close), who is pioneering a "regeneration" programme in which a perfect replica of a person can be created — minus the terminal illness — without family or friends realising the exchange.
Cleary, who won an Oscar for his 2015 live-action short Stutterer, sidesteps some of the logistical and ethical questions surrounding his conceit while presenting a clear narrative hook: Cameron will spend a week at Dr Scott's secluded, woodsy facility with his clone, which they name Jack (also Ali), as they prepare to make the transition. Jack is fully cognisant that he's a clone with the same feelings and experiences as Cameron, but after about two weeks embedded at home with Cameron's family, his memory of his time at the facility will evaporate. As far as Jack is concerned, he will then be Cameron — with the original Cameron living out the rest of his days at the facility.
Swan Song is shot by Masanobu Takayanagi, who emphasises the realism of this fantastical scenario, an approach matched by the script's muted high-tech gadgets. (The self-driving cars are utilitarian, and people's ability to record their daily activities through their contact lenses is treated nonchalantly.) Cleary is far more interested in Swan Song's emotional and philosophical underpinnings once Cameron comes to grips with his decision. Not wanting to upset Poppy and Cory by telling them he is dying, he has chosen instead to construct an artful deception to spare their feelings — even though he realises he will never see his family again.
There's an inherently disturbing undercurrent to a story in which a loving wife is duped into believing a clone is her husband, but Cleary never investigates what is potentially creepy or provocative about his premise. That said, any possible discomfort is mitigated by the strength of Ali's dual performance, with both Cameron and Jack so concerned about breaking Poppy's heart — as we'll learn, she has suffered enough trauma recently — that they elect to undergo this radical alternative.
Harris and Ali share a wonderful rapport, with their characters depicting a marriage that has weathered some rough spots. (Nyasha Hatendi touchingly plays Poppy's twin brother, who holds the key to the couple's past pain.) Indeed, Poppy and Cameron's enduring love is so believably rendered that we can appreciate why Cameron is willing to lie to her, although Jack's arrival into his life forces this family man to reflect on the many mistakes he has made. (As it turns out, keeping other things from his wife has led to the problems he is now facing.)
One of Swan Song's strongest attributes is its resistance to predictable plot twists. Close's kindly Scott is not, in fact, a mad scientist with an evil agenda, and Jack doesn't start behaving in strange, sinister ways. There is no big surprise in store: Cleary feels confident that Cameron's dilemma will be enough to engage audiences. And as we spend more time with him — especially when he's with Kate (Awkwafina), another of Scott's terminal patients whose clone replaced her weeks ago — we become more aware of the unfinished business any of us would confront if we suddenly needed someone to take over our lives. Even more poignantly, no one will mourn Cameron — nobody will even know he's dead. Swan Song is about recognising that the world will go on without us, letting Poppy's lack of awareness about the tragedy strike a bittersweet chord throughout the film.
Production companies: Know Wonder, Anonymous Content, By Ghost
Worldwide distribution: Apple TV+
Producers: Mahershala Ali, Rebecca Bourke, Jonathan King, Jacob Perlin, Adam Shulman, Mimi Valdes
Production design: Annie Beauchamp
Editing: Nathan Nugent
Cinematography: Masanobu Takayanagi
Music: Jay Wadley
Main cast: Mahershala Ali, Naomie Harris, Adam Beach, Nyasha Hatendi, Awkwafina, Glenn Close