Bromance about a group of male friends who have never grown up aims for summer counter-programming status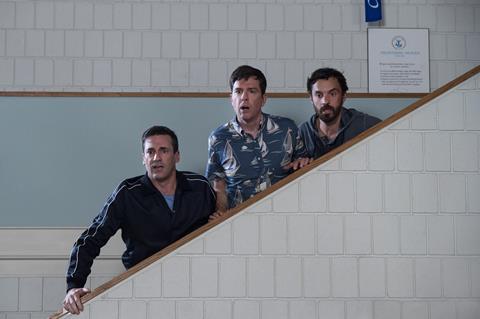 Dir: Jeff Tomsic. US. 2018. 100mins
Boys will be boys, even when they're grownups: that's the lesson learned in Tag, a draggy comedy that lazily leans on familiar themes of arrested adolescence and male bonding rituals. Based on the true story of adult friends who have played the same game of tag for decades, the film brings together a talented cast including Ed Helms and Jon Hamm but only rarely reaches for the truly sublime or ridiculous in its humour. As a result, Tag is all strained sentimentality and obvious observations about men's inability to leave childish things behind.
Tomsic and his cast indulge the characters' tiresome immaturity in order to portray them as dim-witted but lovable
Opening June 15 in the US before a global rollout through Warner Bros. this release is the only R-rated comedy in the marketplace, which may help it stand out in a sea of action blockbusters even though it is timed during the World Cup. Helms, Hamm and Jeremy Renner should boost commercial visibility although Tag looks to be only a modest performer, with digital and on-demand prospects just as attractive as theatrical.
Tag follows a group of male friends who have known each other for 35 years. Every May, they resume their on-going childhood game of tag — if you're touched by the person who is "it", then you have to tag someone else — which has allowed these friends an excuse to spend time together even though they now live in different parts of the country. Businessman Bob (Hamm), veterinarian Hoagie (Helms), stoned loser Chilli (Jake Johnson) and depressed Sable (Hannibal Buress) are thrilled to reunite, but they agree to work together to tag their friend Jerry (Renner), who has never been "it" because of his quick thinking and cat-like reflexes. They plan to strike when he least expects it: his wedding weekend.
Making his feature debut, television director Jeff Tomsic mixes bromance comedy with surreal asides. Tag is funniest at its weirdest, especially when it's mocking the slow-motion theatrics of action-thrillers during scenes when these friends try to tag Jerry. (Like a spoof of The Equalizer, Tag shows suave Jerry narrating each of his moves and countermoves as he deftly avoids his buddies' flailing hands and lunging bodies.) But on the whole, the film fails to fully mine the comic potential of this absurd real-life tale.
The problem is largely Rob McKittrick and Mark Steilen's screenplay: each of the buddies is a dull type, and the film's inconsistent tone veers wildly from mawkishness to gallows' humour. (Beware "outrageous" jokes about waterboarding and dead spouses.)
Tag's irreverent appeal is meant to stem from the fact that these adults are still basically kids who believe that their decades-long game helps connect them to their youthful vitality. But their pathetic attempt to hold onto childhood isn't skewered sharply — Tomsic and his cast indulge the characters' tiresome immaturity in order to portray them as dim-witted but lovable.
Also frustratingly, the film sidelines its talented female performers. Annabelle Wallis plays a Wall Street Journal reporter working on a story about this bizarre game of tag, but the actor mostly just sits in the background reacting to the tomfoolery. As Hoagie's supportive, ultracompetitive wife Anna, Isla Fisher sporadically demonstrates the unfiltered intensity that has made her such a funny presence in movies like Wedding Crashers. And Rashida Jones sparkles briefly as a former love interest of two of the characters before being relegated to the margins.
As for their male counterparts, it's pretty standard man-child antics. Helms conveys some of his usual sweetness, while Hamm hints at vulnerability beneath his character's assertive veneer. But when Tag tries to introduce genuine emotion — health scares pop up, as well as a general acknowledgement of how much these men mean to each other — the touchy-feely sentiment proves to be unearned. That's especially true when the film occasionally uses heartfelt moments to trick the viewer into thinking something poignant has occurred, only to reveal a gimmicky twist. It's a cliché that some men have trouble expressing how they feel, but Tag's macho childishness lacks the wit or wisdom to make us care whether these friends ever grow up.
Production companies: New Line Cinema, Broken Road
Worldwide distribution: Warner Bros.
Producers: Todd Garner, Mark Steilen
Screenplay: Rob McKittrick, Mark Steilen
Production design: David Sandefur
Editing: Josh Crockett
Cinematography: Larry Blanford
Music: Germaine Franco
Main cast: Ed Helms, Jake Johnson, Annabelle Wallis, Hannibal Buress, Isla Fisher, Rashida Jones, Leslie Bibb, Jon Hamm, Jeremy Renner