Dir. Brilliante Mendoza. Philippines, 2015, 97 mins.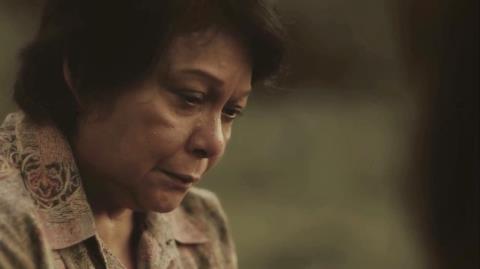 TTyphoon Haiyan was one of the most devastating tropical cyclones ever recorded. It made landfall on the coast of Leyte island in the Philippines on 7 November 2013, and in the resulting storm surges and winds of over 300km per hour, over 7,000 people died or went missing. Prolific Filipino director Brillante Mendoza takes the first anniversary of the disaster in late 2014 as the jumping-off point for Taklub (Trap), a choral film shot in urgent, handheld, docu-drama style that illuminates the tragedy and its aftermath via an intertwined series of personal stories.
In a place that has suffered a collective trauma, everyone is wrapped in their private grief
Despite its religious overtones (the film closes with the famous lines from Ecclesiastes about there being "a time for all things"), Taklub is no long lament. It's as much about moving on as looking back – or rather, it's the tension between the two impulses that turns what at first feels like a choppy, disjointed mosaic into a quietly moving journey. That said, without the anchor of the typhoon to give emotional heft to the stories, this loose-limbed collection of survivor narratives would feel a little slight: it's nowhere near as cathartic or incisive as the director's fine 2009 drama Lola. Widespread theatrical action looks unlikely, but its Cannes Un Certain Regard debut is sure to be the first in a long string of festival bookings.
Footage of flattened buildings and UNHCR tents in and around the city of Tacloban, one of the worst hit areas, sets the scene for a film that explodes into urgent drama when one of the tent shelters burns down in a kerosene-lamp accident, killing a mother and her five children.
Bebeth (veteran Filipino star Nora Aunor), a sixty-something woman, joins the futile rescue attempts, then returns home to the cafeteria she runs with the help of her young daughter Angela. From a series of name mugs (a subtle touch), we realise what is never stated outright – that Bebeth had three other children who all perished in the typhoon. This, we gradually realise, is the aim of the DNA tests she and her ex-husband submit to: matching relatives with the remains of children that are still unaccounted for.
The same reticence runs through the stories of Larry (Diaz), who has found solace, or perhaps an escape from reality, in the daily processions of a robed Catholic group who carry a huge cross around city streets, and fishermen brothers Erwin (Rivera) and Marlon (Mallari), who live with their little sister in a shack by the seashore. Only slowly do we learn about the loss each of them has suffered.
In a place that has suffered a collective trauma, Brillante and screenwriter Alipo suggest, everyone is wrapped in their private grief – indeed, the urban hustle and bustle that surrounds the three main groups of characters as Bebeth serves breakfast to hungry male customers and bus passengers listen to a local radio music duo is not so much healing process as life simply going on, challengingly indifferent.
Shot in Mendoza's trademark handheld style, with some lovely shallow focus framings, the film's cine-verite style contrasts with its emotional soundtrack of electronic chords. Just occasionally, there are shades of the public service broadcast in a film that is credited as having been made "with the support of Senator Loren Legarda", a prominent Filipino politician and environmentalist (for example, in scenes in which a minor typhoon prompts an evacuation to a nearby sports centre). At the same time, the director is acutely aware of the way official attempts to do the right thing – for example, by enforcing a no-build zone 40 metres back form the shore – have little purchase on people who have, quite literally, nowhere else to live.
Production companies: Center Stage Productions
International sales: Films Distribution, info@filmsdistribution.com
Producer: Larry F. Castillo
Screenplay: Mary Honeylyn Joy Alipo
Cinematography: Odyssey 'Odie' Flores
Editor: Kats Serraon
Production designer: Dante Mendoza
Main cast: Nora Aunor, Julio Diaz, Aaron Rivera, Rome Mallari, Shine Santos, Lou Veloso, Ruby Ruiz