Amazon's unusual sci-fi series stars Jonathan Pryce and Rebecca Hall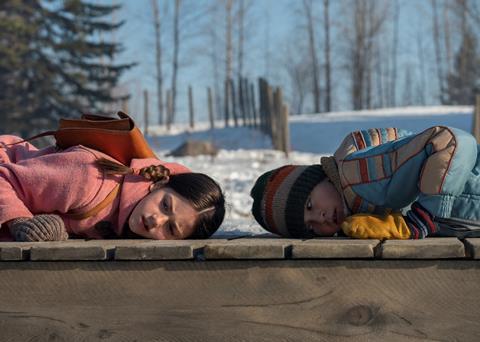 Tales From The Loop, an 8x50+ minute series from showrunner Nathaniel Halpern based on the conceptual artbook by Swedish artist Simon Stalenhag, promises a sci-fi-tinged TV drama set in small town Americana in the mid-1950s. Watching it slowly, delicately, unravel feels oddly as if you'd placed an order having read that description on Amazon Prime only to open up the delivery box and find a intricately crafted piece of high-art instead. It's certainly more than you expected, but also, sometimes, not exactly what you wanted.
Tales From The Loop is no X-Files or Black Mirror, but more of a gentle, sedate use of sci-fi conventions to look at the human condition, a fact which will disappoint some viewers but may intrigue many others.
Tales From The Loop is sophisticated television, each episode leaning into its artistic origins with an unhurried rhythm. Stalenhag's book, which also became popular as a role playing game (TTRPG), imagined a Norman Rockwell-like town built around and above a mysterious place called The Loop, the subterranean home of an entity called The Eclipse. Anachronistic robots and out-of-time junked machines litter this ultra-normal modernist suburban landscape. Halpern's series has replicated the artist's images faithfully and built eight stories around them. (Amazon made episodes 1, 4 and 6 available for review purposes prior to an April 3 TX date.)
Tales From The Loop is no X-Files or Black Mirror, but more of a gentle, sedate use of sci-fi conventions to look at the human condition, a fact which will disappoint some viewers but may intrigue many others. It's quite beautiful, but it's also very singular. Every tech credit is carefully arranged and sedately dropped into a precise space. A box set binge seems unthinkable given each episode is clearly made to be deliberately savoured.
The specs are strong enough here to attract directing talent such as Jodie Foster (she helms the series finale); music from Philip Glass (a recognisable score on the first episode with Paul Leonard-Morgan); and production design by Phliip Messina (again setting the tone on episode 1). Rebecca Hall and Jonathan Pryce head the cast. Each show uses twists of the supernatural to hone in on a deeply human story – of love, loss, and loneliness.
Halpern sets out his stall in the series opener. Russ Willard (a younger version of the Jonathan Pryce who will appear later on) introduces the Mercer Centre for Experimental Physics in Mercer, Ohio, known locally as The Loop, sometime in the 1950s (Stalenhag's book is set in a rural Sweden of 1954). Here we meet young Loreta (Abby Ryder Fortson), who, in this first tale of the unexpected, is followed home from school by a gangly machine straight from Stalenhag's artwork. She lives with her distracted mother Alma, a scientist at the Loop who has stolen a piece of "The Eclipse". This, we are told, is "the beating heart of The Loop". When she refuses to give it back, Alma and her house vanish and Loreta is left to roam the suburban landscape in search of her mother.
Followed tentatively by the robot, who peers shyly from behind the trees in this snowbound landscape, Loreta eventually finds a young boy, Cole, who brings her back to his G-Plan house and his similarly distracted and Loop-obsessed mother, played by Rebecca Hall. Cole's father George (Paul Schneider), a mysterious presence, has an artificial arm that seems at odds with the setting. Subsequently episode 4 will bring the viewer back to Cole's grandfather, Russ (an older Pryce), as he prepares for his own death, and episode 6 to Gaddis (Ato Essandoh), the hopelessly lonely gay security guard at the Loop. Cole's older brother Jakob (Daniel Zloghardi) also seems as if he has a larger part to play.
Tales From The Loop is palpably circular in the way it relates its stories, both individually and across the series, but also in the way the camera itself approaches the town. Machines, mostly broken-down, yet oddly futuristic, litter the landscape, while the Loop's cooling towers with their neon stripes watch over this strange place like extra-terrestrial sentries. Cole's house is a textured ode to modernism, and each shot is savoured: some are there for a reason – they'll connect up to something later – while others are there just for the joy of observing something so redolent. This is unusual for TV, where momentum is everything.
Its constant probing makes Tales From The Loop a potentially apt fit for a time when the world itself has stopped moving so quickly and there's an opportunity for self-reflection. It is, undeniably, an investment. Yet whether or not viewers stay seated for the full rotation of this slow Loop, there are unlikely to be many complaints about the quality of the transport.
Production companies: Fox21 Television Studios, Amazon Studios in association with 6th and Idaho and Indio Studio
Creator, writer, executive producer: Nathaniel Halpern
Inspired by the book of the same name by Simon Stalenhag
Music: Philip Glass, Paul Leonard-Morgan
Executive producers: Nathaniel Halpern, Mark Romanek, Matt Reeves, Adam Kassan, Rafi Crohn, Mattias Montero, Samantha Taylor Pickett, Adam Berg, Simon Stålenhag
Main cast: Rebecca Hall, Paul Schneider, Daniel Zloghardi, Duncan Joiner, Jonathan Pryce, Ato Essandoh