Documentary exploring the changing world of Indonesian dangdut music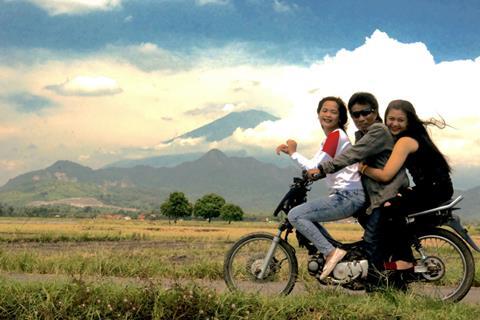 Dir: Ismail Fahmi Lubish. Indonesia. 2017. 114mins
It is a crying shame that Indonesia cannot enter the Eurovision Song Contest. Traditional tarling dangdut music could be a perfect fit for the competition with its elaborate guitar riffs, lewd lyrics and gyrating female performers clad in sparkly hot pants.
The slow-building tensions between old and new lie at the heart of the film
The latest documentary from Ismail Fahmi Lubish celebrates a "low class" musical form that is both adored and reviled in a country that seems increasingly less tolerant of its more unsavoury aspects.The subject matter could attract some limited festival interest, but Tarling Is Darling is too niche and meandering to connect on a wider level.
We are initially informed that Indonesia is a country with one of the biggest Muslim populations in the world. Throughout the documentary there is a sense that attitudes towards tarling dangdut performers and their music are reflective of a nation moving towards a more conservative future. In a poor country, performing tarling dangdut is one of the few routes for a woman to earn some money, and there seems to be an endless succession of candidates willing to be "mentored" by an older man. Their reward is a chance to sing at public events, where sozzled men join them on stage to show off their dance moves and dispense bank notes like confetti. The song lyrics tell of faithless husbands, cheating hearts and selfish lovers.
The future of dangdut is viewed through a number of lives including that of Jaham, a famous performer attempting to ride the wave of change by applying the old dangdut magic to songs that promote Allah. He struggles to find the right lyrics and approach that will appeal to the genial Islamic boarding school principal Uki Marizuki, who has commissioned the work. At the same time, Jaham is still flirting with the young women seeking singing lessons and advice, much to the distress of his wife Maya.
The slow-building tensions between old and new lie at the heart of a film that focuses on Jaham, veteran singer Nano Romanza, who is determined to make a star of his seventh wife, and a music promoter who loves to drench himself in a fragrance called Sexual.
There are interesting elements at play, as the film contemplates an industry coping with changes in technology and piracy alongside a country in transition, but they are either underdeveloped or sidelined. Director Ismail Fahmi Lubish is more interested in observing individuals than drawing out the lessons from their lives, and is also a lot less critical of a misogynistic music world than many viewers might like. His slightly toothless approach allied to a lengthy running time can only blunt the film's appeal.
Production companies: Lubis Team Worker, Super 8mm Studios, Synchronized Sound
International sales: Lubis Team Worker soetomo.dria@gmail.com
Producers: Dria Soetomo, Wiwien Wijayanti, Leonard Retel Helmrich, Oyjai Nanta
Cinematography: Ismail Fahmi Lubish
Screenplay: Ismail Fahmi Lubish, Oyjai Nanta, Dewi Alibasah
Editor: Dewi Alibasah
Music: Dewi Kirana Group, Kany Jaham
Featuring: Jaham, Nano Romanza, Uki Marzuki