An Iran/Israel collaboration results in a first-class bout with politics in this tense judo drama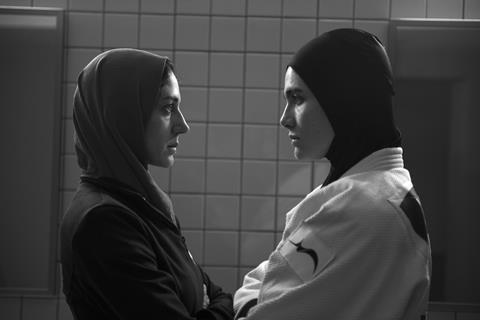 Dirs: Guy Nattiv, Zar Amir. US/Georgia. 2023. 105 mins
The cost of following your conscience weighs heavily on Tatami. A unique collaboration between an Iranian and an Israeli filmmaker – Zar Amir (who starred in Holy Spider and also co-stars here as well as co-directs) and Guy Nattiv (Golda) – it transforms an initially straightforward scenario into an increasingly tense, involving drama. An effective addition to the ranks of films dealing with the pressures on athletes caught in the crosshairs of international politics, it should follows the likes of Slalom (2020) and especially Olga (2021) in attracting festival programmers, while its elegant black-and-white 4:3 lensing will only gild the lily for potential distrubutors.
Unflinching and convincing
Tatami takes its title from the name of the mat used in judo competitions. Leila Hosseini (Arienne Mandi) is a star player in the Iranian judo team. She arrives at the world championships in Tbilisi, Georgia, convinced that she stands a good chance of a medal and perhaps even her country's first gold. We witness her determination as she fiercely peddles on a bike, pushing herself to lose precious grams and make the 60kg weight category. She is accompanied by head coach and former competitor Maryam (Amir).
Cinematographer Todd Martin (2021's The Novice) shoots in a dense, shadowy black and white that emphasises the closed world of the judo championships venue. Cut off from the outside, the warren of long, sparsely lit corridors, offices and training spaces seem to represent something claustrophobic and suffocating. There is also the suggestion of a connection to post-War American black and white boxing films like Body And Soul (1947) and The Set-Up (1949), in which prize contenders were asked to throw the big fight.
Nattiv and Amir waste little time in setting the scene as we rush through Leila's triumphant early rounds. A good deal of the soundtrack is given over to the commentary of unseen pundits, voiced by real-life commentators Chloe Cowan Vickers and Neil Adams. There is little subtltey in the early parts of the film as we see Leila's devoted family back in Tehran cheering her on, and realise how much victory means to her. "Hosseini of Iran is on fire!" enthuses Neil Adams.
The actual judo bouts are unflinching and convincing with the camera swooping in close to capture the chokes, grips, holds and the gruelling nature of the lengthier rounds. You never doubt Arienne Mandi's commitment to capturing Leila's sporting prowess.
The slightly shaky build-up pays off once it becomes apparent that Leila's progress through the tournament puts her on course for a showdown with an Israeli opponent. That eventuality is politically unacceptable to the Iranian authorities and the country's Supreme Leader. The pressure starts to build as we witness the array of threats and bribes deployed to convince Leila that faking an injury or withdrawing from the competition is her only option.
How Leila deals with the implications for her loved ones, team mates and coach becomes the heart of the film. Nattiv and Amir build the tension as it becomes clear what is at stake and the dilemma for a headstrong Leila. Can she set aside all the hard work, pride and ambition that has taken her to the world championships ? Who will suffer most if she refuses? Nattiv and Amir enhance our understanding of Leila's dilemma through flashbacks that emphasise the loving marriage of equals with her husband Nader (Ash Goldeh) and carefree times with her young son. Both of them are still in Tehran, and likely to be considered collateral damage by the authorities.
Arienne Mandi's imposing physical presence and ability to convey the character's anguish make Leila a highly sympathetic figure. Zar Mir's haunted eyes and concerned looks capture the impossible struggle between head and heart in a character witnessing history repeating itself. Scenes in which the two women collide and seek to bridge their differences are among the best in a film that commendably eschews a triumphalist climax to deliver something more thoughtful and realistic.
Production companies: New Native Pictures, Keshek Studios
International sales: West End Films maya@westendfilms.com
Producers: Adi Ezroni, Mandy Tagger Brockey, Guy Nattiv, Jaime Ray Newman, Guy Nattiv
Screenplay: Elham Erfani, Guy Nattiv
Cinematography: Todd Martin
Production design: Sofia Kharebashvili, Tamar Guliashvili
Editing: Yuval Orr
Music: Dascha Dauenhauer
Main cast: Arienne Mandi, Zar Amir, Jaime Ray Newman, Nadine Marshall